Don't cry for me, I'm running away to Argentina!
How is someecards so brilliant?!
I'm off to South America for a week, but have some awesome guest posts lined up.  Interesting things like wine & food pairings from France, healthy margaritas, and a couple of ass-kicking workouts.  Please come check out my friends!
In effort to use all of my perishables, this What I Ate Wednesday is a total hodge podge of snacky meals.  Once again, Jen read my mind because this month is a snack-theme WIAW: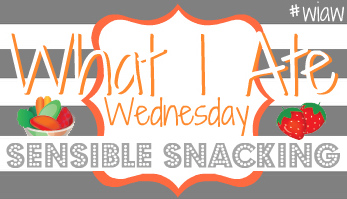 Check out my snacky day below, then click here to hop on to Jenn @ Peas and Crayons to see what everyone else is sensibly snacking on!
---
Breakfast:
I started out with my pre-workout Aminos (and post-workout).  I was still half asleep and forgot tot take a pic though.  Post workout I almost forgot… but caught myself just in time.  Thanks to green smoothies, my 2.5 lb spinach bag is nearly GONE! 
Ginger-Avocado Protein Smoothie Bowl
1 scoop vanilla protein powder
Spinach
1/4 large avocado
1 in piece of ginger
1 tsp cinnamon
6-7 drops liquid stevia (or other sweetener)
Ice + water, to taste
Raw oatmeal, to top
Lunch:
I actually repeated an old recipe!  Sort of.  I needed to use a bunch of carrots, so I made this Carrot Miso Soup.
Some changes:
I did it in the VitaMix so the carrots are technically raw (I did still saute the onion and garlic)
Added 1/2 a jalapeno
Used a couple of fresh mint leaves (I liked the cilantro better, FYI)
Dinner:
This was a serious hodge podge of purple.  Totally appropriate for the Queen's royal jubilee, no?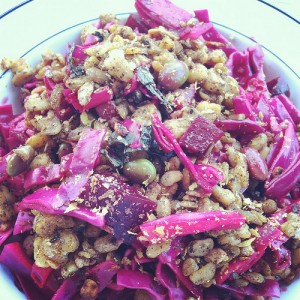 I marinated shredded purple cabbage, edamame, beets, and mint in a mixture of rice vinegar and sriracha for a few hours.  Then I sautéed tempeh in coconut oil, cumin, cayenne, and a pinch of cardamom.  Tossed it all together for a a surprisingly delicious dinner!
PSA: Eating that much cabbage will give you gas.  It could also be the spinach…
Snacks:
Let's be honest – even my meals were snacks today.
Clockwise from the top left: radishes and celery with a peanut flour and sriracha sauce; new favorite yogurt flavor – spiced pear; sprouted adzuki beans and blueberries; protein mess (protein powder, peanut flour, chia seeds, cinnamon, liquid stevia, and water); last bit of homemade strawberry kombucha.
Unpictured: another scoop of Aminos is 1/2 a glass of water before my run with Carol.
Andddddd… I made some airplane-worthy trail mix (thanks for the ideas you guys left in the comments yesterday).  What's better is that I recycled an almost-empty cashew bag making it!  This is a s'mores-inspired mix:
(I Want) S'More Trail Mix
Cashews
Pepitas
Marshmallows
Dark Chocolate
Love Grown Raisin Almond Granola
Cinnamon
***
My fridge-purge was perfectly timed – I have just enough for breakfast and lunch tomorrow, then it's off to the BRAND NEW ATL International terminal and Buenos Aries!
Do you do the fridge clean-out before trips?
What is your favorite "sensible" snack?