My friends and I went crazy.
Monday we kicked off a cleanse.
21 days of veggies, fruits, and protein shakes.  We also get a serving of lentils or wild rice per day, and on day 11 we can add 1 (4 oz) serving of deep sea fish or chicken (I'll be adding tempeh). Yep – I'm bringing back the Standard Process Cleanse and taking my friends down with me.
We have been exchanging smoothie pics (mine are the greenest – bwhahaha!), sending desperate emails inspired by caffeine-withdraw… MMSing refrigerator pics…
We are also planning cleansing group dinners.  Friday is group dinner #1 and game night.  In lieu of wine, I suggested we make grape smoothies.  If we ferment the grapes ourselves, is it cleanse-approved?
Needless to say, this is going to be the cleanest What I Ate Wednesday I've posted in a loooong while. 🙂
AND Jenn read my mind because she's encouraging everyone to post a veggie-centric WIAW.  Check out Jenn's blog to see what everyone else at this Wednesday!

---
Breakfast:
Breakfast is the hardest meal.  There's not a lot of traditional breakfast food that are "approved" other than smoothies and fruit bowls.  Smoothie it is.
This morning was my all-time favorite smoothie: Liquid Sweet Potato Pie.
I do really like protein smoothies, and often eat them for breakfast post-workout… but some days you just want a warm bowl of oatmeal!
Lunch:
I revived an old cleanse favorite from when mom and I did this in 2010.  This is probably my favorite soup ever: Butternut Squash-Apple Soup.
My only tweak was to use fresh basil instead the rosemary… then I added some dried rosemary too 'cause I love it.
Lunch part 2 was a GIANT salad.  I tend to bring these to work to be eaten directly from the plastic container when I have about half of the greens left.
In my salad:
Arugula
Raw asparagus (julienned)
Leftover roasted zucchini
Celery
Broccoli sprouts
Nutritional yeast
Lemon juice + EVOO
Snacks:
Midday veggie break with dip – as much as it may look like a turd, that's eggplant dip.  Veggies dipped in veggies, FTW.
Post-dinner snack dessert was a protein banana softserv.
In my serv:
Frozen banana
1 scoop protein powder
1/4 tsp vanilla
1/4 tsp cinnamon
5-6 drops vanilla stevia
~1/3 C unsweetened vanilla coconut milk
With berries on top
Dinner:
Last night Heather came over for dinner.  She was nice enough to loan me her bike for a bit while my knee heals, and I offered dinner (and wine… which I now can't have) in return.  Luckily Heather is vegan, so my menu options weren't terribly weird to her.
Cabbage with lentils, beets, spinach, and eggplant "bacon."  To be honest, I could eat like this all the time.  
Recipe to come!
In lieu of wine, I sipped on fresh kombucha from a growler of Buchi Fire from Whole Foods' tap.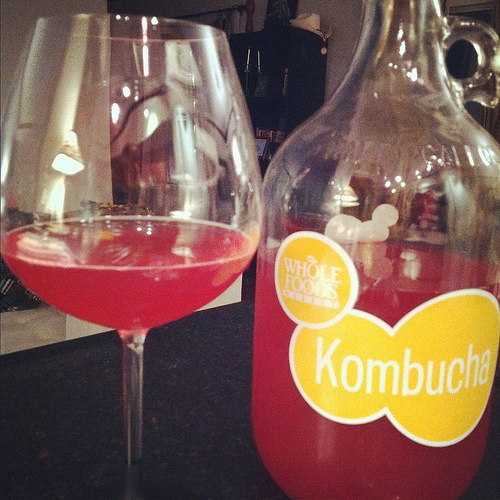 Stellar customer service story – they were having trouble with the tap at my local Whole Foods.  I waited a solid 10 minutes and the bottle would only fill a little over half way.  The awesome guy working the tap got a manager, who COMPED the contents of the growler.  That right – I got it for FREE… plus 2 regular-sized bottles of Buchi Fire to equal a full growler.
I joke and refer to Whole Foods as Whole Paycheck a lot, but they really do offer quality products and a fantastic customer experience.
***
Don't forget to enter to "Be My Veggie Valentine" and win 1 of 3 boxes of heart-shaped veggie cookies from Cookie Underground!  Click here to enter.
I'm seeing a lot of juice cleanses lately – have you done one?
What is your favorite "clean" food?