Are you ever shocked by how interested people are in a recipe?
You guys were all over the Portobello Jerky yesterday!  I'm a little sad that it's all gone.  If you make it, be sure to make 3-4 mushrooms at a time.  1 = gone to fast.
The second most-commented on item was my lunch, a Citrus Chickpea Cilantro Salad that I promised to share today.  Well, I promised to share the recipe today.  If you were here I'd be tempted to share my physical lunch if you had some of Ari's Ding Dongs to trade.
Due a bookmarking addiction, I've had Heather's recipe for Cilantro Lime Chickpea Salad for months.  With a huge bunch of cilantro in my fridge, this was the perfect time to try it out.  As soon as I made this, I emailed the recipe to my mom.  It was that delicious.
With the abundance of delicious winter citrus, I used fresh orange juice rather than sugar to sweeten the vinaigrette.  I also changed up the spices to make this more Indian-influenced.  Use your imagination here – this salad is nice base for a variety of spice blends.
The first serving I ate in a rustic fashion (read: with my fingers right out of the mixing bowl).
The second serving I jazzed up.  I spooned out the salad on top of an eggplant patty and then diced a carrot over the top.  Colorful and delicious!  I love the crunchy carrot against the soft chickpeas and the slight tang of the mustard with the sweetness of the orange juice and fresh carrot.  I also sprinkled a shitload few red pepper flakes on top because I'm not happy until I'm crying.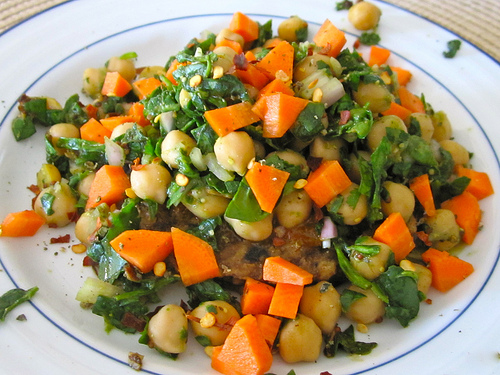 The 3rd serving I added diced avocado and blood orange segments.  Best idea ever.  If you make this, try it at least once with the avocado.  It was phenomenal with the cilantro and the citrus juices – like chickpea chunky guac!  As usual, I got too excited and forgot a pic.
_____________________________________________________________________________________
Citrus Chickpea Cilantro Salad
2 C chickpeas, cooked or canned
2 T shallot, chopped finely
2.5 C spinach
1/2 C fresh cilantro
Zest from 1/2 large lime
Juice from 1/2 large lime
Juice from 1/2 medium orange
2 tsp whole grain mustard
2 garlic cloves
1 tsp extra virgin olive oil
1 tsp garam masala
1/2 tsp cayenne pepper
S+P, to taste
Drain and rinse chickpeas and place in a large bowl with chopped shallot.
In a food processor, pulse cilantro and spinach until fairly finely chopped.  Make sure you don't let it run and turn to mush.  Add to chickpea bowl.
Next in the processor combine the zest, juices, mustard, garlic, oil, and spices.  Adjust spices, salt and pepper to taste.
Pour dressing over the chickpea mixture and stir to combine.  Adjust spices and allow to rest for 15 mins in order for flavors to marry.  
Plate with grains, create a veggie sandwich (awesome in pita pocket!), or enjoy as a side.
Makes 2 mains or 4 sides.
Note: I started with dried chickpeas.  I soaked them in water over night.  The next morning I cooked them in a pot with a bay leaf and 2 garlic cloves over low heat for 3 hours.  The bay leaf and garlic gave them a great, subtle flavor!
***
I am over-the-moon today because yesterday I made the Daily Buzz Top 9 and today I made the FoodBuzz Top 9!  Thank you for the buzz – I'm truly honored. xoxo
Do any of you have that genetic thing that makes cilantro tastes like soap?  You could try this with parsley. 🙂
Make me feel like less of a dork… do you call your mom when you make something really awesome?