Start your day out toasted.
I crack myself up.
When I prep food I usually end up double-cooking it.  You get the groundwork done during your Sunday meal prep, but to keep it tasting fresh and crispy I pop it back in the oven before you eat.  Oven, not microwave.
Double-roasted is my favorite way to eat kabocha, and yesterday morning I did that with my quinoa.  Strange to do with stuff you already cooked, but oh-so-good.
This is really a non-recipe.  There are no measurements, only flavors you should adjust to your liking.  3 simple ingredients: my new English toffee liquid stevia from iHerb (you can use any sweetener), cinnamon, and ginger.
Basically, it tasted like cinnamon toast.  Much healthier than the butter-slathered stuff mom made us.  Add to that some bananas brushed with coconut oil and thrown under the broiler with the quinoa and you'll wonder who put the dessert on your breakfast plate!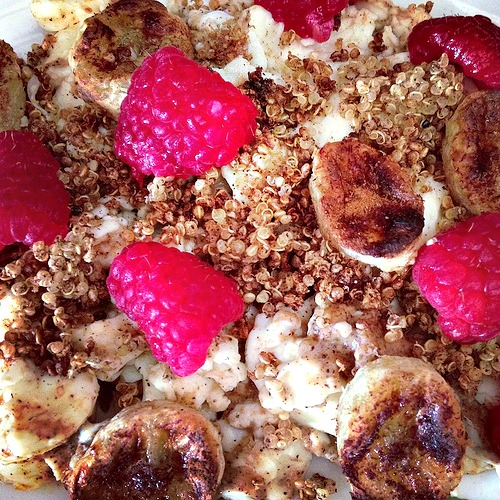 The quinoa was prepped on Sunday (after I burned the beans), making it quick and easy to grab from the fridge to make this.  When you toast already-cooked quinoa, it becomes crunchy and granola-like.  The added texture was amazing on top of my PB eggs!
How do you make PB eggs?  I've posted them a lot in all my "Jegg" creations (there's even a
vegan tofu version), but here's the run down.
Peanut Butter Eggs
Mix peanut flour, cinnamon, butter extract, and a teeny bit of liquid stevia with enough water to make it a runny PB consistency
Prepare egg whites in a small pot until almost cooked
Stir in peanut flour and allow to cook the rest of the way (~30 secs)
PSA: It's also awesome on top of a protein-rich bowl Chocolate Zucchini Bread Batter (this recipe, but with chocolate protein powder).
---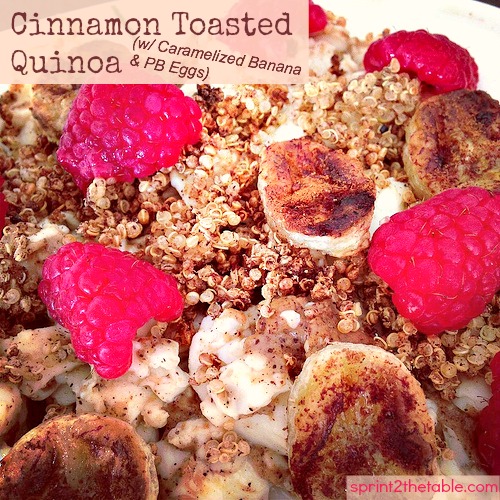 Cinnamon Toasted Quinoa
Quinoa, cooked
Liquid stevia (I used toffee)
Cinnamon
Ginger
Toss together all ingredients and spread evenly on a piece of non-stick foil
Place in over under the broiler until crisp.  Watch closely – it's easy to burn on broil!
Remove from oven, top your eggs (or yogurt, salad, etc).
---
How have you enjoyed making co-workers, friends, or family stare with strange but good creations this week? The link up rules can be found here or by clicking on "Strange But Good" in the menu bar above. In short, I want to see what concoctions have earned you weird looks from co-workers, family and friends! Post your Strange But Good creations, grab the logo below for your blog, and link up here.
Remember to use #strangebutgood in any Tweets and Instagrams of your creations. 🙂
***
There aren't many (any?) things I say this about, but caramelized bananas could honestly replace dessert.
Quinoa for breakfast: yay or nay? Yay!
Have you ever tried peanut butter eggs?  How about just sweet eggs?