Cinnamon rolls kill me.
That smell in the mall… Pavlovian response.
It's been years since I've gotten one, but walking past a certain cinnamon roll chain had me craving a cinnamon roll.  I swear they put crack in those things.
In my shipment from About Time, I received a few proteins to sample.  I decided it was the perfect opportunity for a little mug cake experiment!  Mug cakes may seem normal to many of you… but to the "normal" world I think it qualified as strange.  But good. 😉
When you have a craving, you need to satisfy it immediately if not sooner.  That's what makes a mug cake so perfect.  Less than 5 minutes and you can have cake!
This version was fabulously soft and moist (sorry, sorry…).  However, the best part was the icing.  Just a little coconut oil, cinnamon, and stevia makes for a healthier version of that chain's crack-like sugar bomb.
The cherry on top is optional, but who doesn't like to sweeten the deal?
---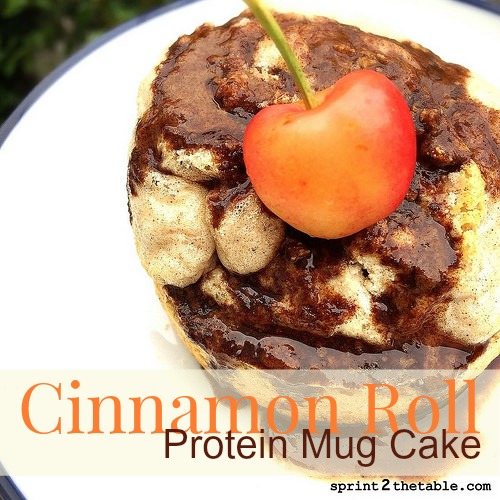 Cinnamon Roll Protein Mug Cake
For the Cake:
1 scoop vanilla protein powder (28g)
1/4 tsp cinnamon
1/4 tsp no sodium baking powder
1/4 C unsweetened vanilla almond milk
1 egg white (46g)
2 T applesauce (no sugar added, can also use pumpkin puree)
1/2 tsp vanilla
Cinnamon Glaze:
1 tsp cinnamon
1 tsp melted coconut butter, melted
5-6 drops vanilla liquid stevia
Place all ingredients in and small bowl and mix until smooth.
Transfer to a large, greased (I use coconut oil) coffee mug and microwave for ~3 mins (mine took 3:15).
Meanwhile, mix together glaze ingredients in a small bowl.
Tip the cake out onto a plate.  Pour glaze over the top.  Devour.
Makes 1 cake.
---
How have you enjoyed making co-workers, friends, or family stare with strange but good creations this week? The link up rules can be found here or by clicking on "Strange But Good" in the menu bar above. In short, I want to see what concoctions have earned you weird looks from co-workers, family and friends! Post your Strange But Good creations, grab the logo below for your blog, and link up here.
Remember to use #strangebutgood in any Tweets and Instagrams of your creations. 🙂


***
I have a feeling after we get back from Greece the next craving will be baklava!
Have you ever made a mug cake?
What smell causes an undeniable craving for you?