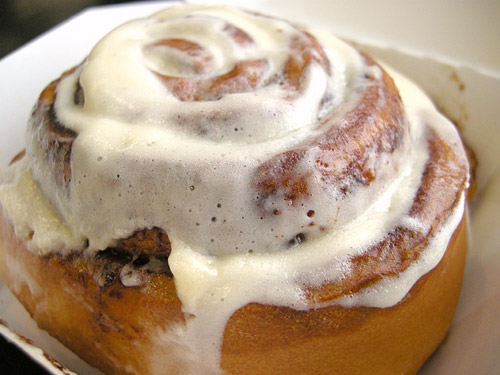 Can't you almost smell it through your screen?
That smell kills me when I'm walking through Terminal A in the Atlanta airport.  It's absolutely intoxicating… and all I can do not to stop and order a dozen cinnamon rolls.
I nearly attacked the man behind me last night… he brought one on the plane and didn't offer a bite.  Cruel.
The only thing that saved this man's life is the fact that I'd had Cinnamon Roll Overnight Oats for breakfast.  Post-run.
Cinnamon Roll Extract was the discovery of a lifetime.  I found the teeny bottle (seriously – this pic is true to size) in a cook's supply store.
It is made by LorAnn Oils and is referred to as a "Super Strength."  If you use this, know that it's VERY concentrated – 3-4x a regular extract.
I only needed to use a couple of drops to achieve that buttery cinnamon roll taste!
These oats pack a ton of protein and nutrients that will keep you full until lunch!  They will also provide you energy as your brush up on wines of Italy… one more week!!!
---
Cinnamon Roll Overnight Oats
1/4 C oatmeal
2 tsp chia seeds
1/4 tsp cinnamon
1/2 scoop vanilla protein powder (I use

Growing Naturals

)
1/4 C Greek yogurt
1/2 C unsweetened almond milk
6-7 drops Vanilla NuNaturals Stevia
1/16 tsp cinnamon roll extract (a little goes a long way!)
In a small bowl, mix together dry ingredients.  Add wet ingredients and stir until combined.
Place in fridge overnight.  Remove in the morning, stir, and enjoy!
Note: These were great cold after a workout, but the same flavors would be fantastic in a warm oatmeal on a cool fall morning.
***
I haven't tied to get oats through airport security yet… I wonder if they count as liquid?!  Will test it out and report back. 🙂
What are you looking forward to this weekend?
Have you found any unique extracts that you love?