You don't realize how much you love something until it's gone.
I only endorse this statement as it relates to food. 😉
This week's diet change s to seriously cut sugar to help my abs come in. *crossing fingers*  This means I go from 3 servings of fruit a day to 1 serving of berries (they are low in sugar) at Meal 1.
Next week I cut fats, which will suck.  I'm cherishing my nuts (#thatswhatshesaid) and salmon while I can this week!
In other news, I finally bought and hung my pull up bar!
  I did 100 pull ups UNASSISTED yesterday.  Don't be too impressed – I did 10 sets of 10 and it took a while. 😉
---
I didn't do so well at making my eats Halloween-themed for  What I Ate Wednesday.  It's getting harder to do anything super-creative, but I did my best!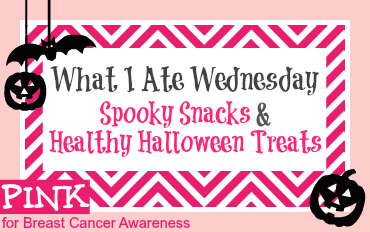 Check out my "special" low sugar, low sodium, high protein, super-clean eats below (it makes me tired just listing all that), and then click here to head over to Jenn @ Peas and Crayons to get to see how normal people ate in spirit of Halloween this week!
---
Meal 1:
I'm repetitive.  Yes, I had my morning cocktail (mix of Apple Cider Vinegar, Glutamine, and Fitmixer Aminos). Followed by TVP Protein "Oatmeal." 
Today's was a vegan version (no egg whites).  To get a little more protein, I used Greek yogurt to make it Strawberries 'n Cream.  All I did was mash up strawberries with the yogurt, stevia, ginger, and vanilla.  Simple and delicious! 
Meal 2:
I made Cinnamon-Flax Chicken!  Does this count as #strangebutgood?  If you don't eat meat, I would bet money that this would be delish with tofu.  Recipe at the bottom of this post.
It was good, but the sides were even better.  Kale chips coated in a sugar-free simple syrup and apple pie spice.  Simple syrup sounds fancier that it was.  I mixed together some sugar-free maple syrup and water so it was thin enough to coat my kale, then added apple pie spice.  I also tossed in some zucchini, which was also tasty!
Meal 3:
Once again… the steak of the sea makes an appearance in my kitchen!  Every Sunday I make a big batch of protein, and Swordfish is my #1 favorite.  It is such a rich fish that it tastes buttered.. but it's not!  This was grilled with Herbs de Provence, garlic, paprika, and lime juice.
Eaten with pre-roasted calabaza squash with sage and onion, portobello slices, and parsnip "rice" with celery leaves. I would eat this competition diet or not!
Meal 4:
I had to attend a conference, so into a cooler went a salmon salad.  This week's salmon was baked with lemon juice, mint, and sage.  I chopped it up and tossed it with chopped celery, beet, and zucchini. 
Meal 5:
It was legs day, so I had a date with my trainer to do my hack squats (blech), followed by posing practice.
I took a liquid dinner to go. This shake is a combo of my Sweet Potato Pie and Carrot Cake shakes.  Sweet potato, carrot, tofu, protein powder, spices… and some celery for good measure.  Oh, and I hand mixed in some oats.  The Vitamix will blend anything.  Literally.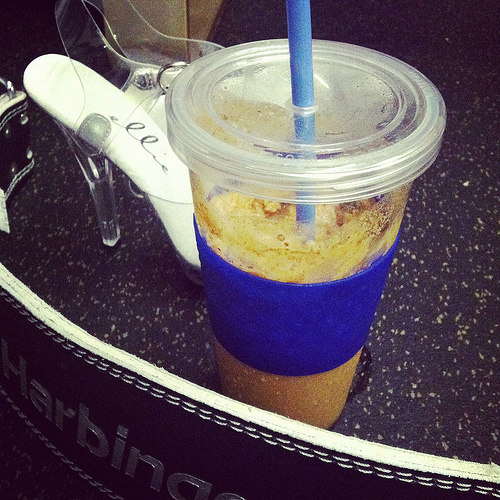 Meal 6:
Is it weird to crave brussels at 9:30pm? That's what I wanted, so that's what I had.  Roasted in a sauce of nutritional yeast, apple cider vinegar, cumin, paprika, garlic, and a little coconut extract.  The coconut was the perfect pair with my (low-fat) coconut-curry marinated grilled chicken.  Fun-flavored protein, ftw. 
Meal 7:
Dessert!  No more fruit at night… I've missed my cherries on top, but this didn't disappoint despite the fact that it looks like a giant poop.
Pumpkin-Chocolate Bread Pudding
1/2 slice no-sodi

um Ezekial bread, ripped into tiny pieces

1/2 C no-salt cottage cheese, 

1T peanut flour

1T cocoa powder

2T pumpkin puree 

1/2 tsp cinnamon

1/2 tsp cocoa extract

1/2 tsp vanilla extract

S

tevia
I added some water to mix it, then microwaved it for a few seconds.  Warm chocolate-pumpkin bread pudding.  It looks odd… but I assure you it tasted incredible.  New protein dessert staple.
---
Cinnamon-Flax Baked Chicken
1 chicken breast
2 tsp ground flax
1/2 tsp cinnamon
1/4 tsp nutmeg
 Pre-heat oven to 375 degrees (I used convection).
Rise your chicken, and place on a hard surface to pound with meat tenderizer.
Mix together flax, cinnamon, and nutmeg.  Coat chicken with the mixture.  It should be wet enough from rinsing for the coating to stick without using an egg.
Place in oven for 8 mins, then flip to bake for an additional 6-8  mins.  If using convection, simply bake ~10 mins.  The chicken is done when it is white all the way through.
Note for my plant-based friends: This would rock with tofu too!
Serves 1, easily doubled (I made 4).
***
The protein count for the day: 170.9g.  The sodium count: 574.9mg.  And my new one to watch – sugar – was 28.6g.
I also want to thank everyone for your encouraging words on Monday's post.  It's a little scary, but all of your support means the world.  I did feel much calmer after your comments and tweets! XOXO
Do you pay attention to the sugars in your diet?
Have you had any delicious Halloween treats yet?  Let me live vicariously through you!