"Everything But the Kitchen Sink" Butter might be a more appropriate name.
Often on cloudy days I get wild hairs in the kitchen.  Today was no exception – for some reason I decided to clean out my nut collection.  Maybe it's all the balls I've been making lately.
This spread was cinnamon-flavored before it the nut butter idea was born.  Someone once told me you can make your own cinnamon powder by grinding up cinnamon sticks.  Fresh cinnamon sounds like a cool idea, right?
Maybe I should have done some research or purchased a VitaMix.  My blender wasn't up to the task.  I shifted gears and eventually used a coffee grinder (which does work, btw), but not before cracking the lid of my blender and adding some groovy permanent cinnamon marks to the bottom.
Anyhow, the cinnamon does taste good.
With a cinnamon-dusted counter top blender in mind, the nut butter idea was born.  Toss in some nuts, blend, and add more cinnamon.  Taste.  Eye coffee grinder.  Stream of consciousness wanders to cacao nibs (they're like coffee beans, no?).
Result?  A winter-y nut butter with cocoa crunches and cinnamon swirls that makes you want to stir it into apple cider.
Perhaps dipping apples into it is a smarter choice… I've had enough kitchen excitement for one day. 🙂
____________________________________________________________________________________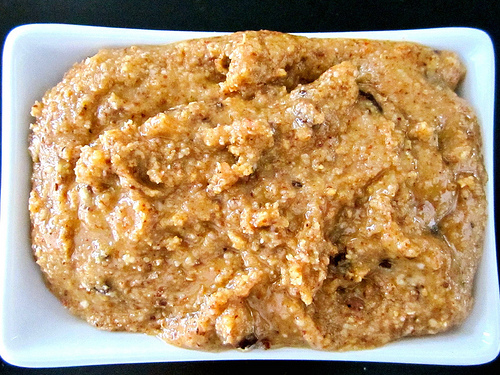 Cinnamon Cacao Nut Butter
4-5 Brazil nuts
1/2 C hazelnuts
1/4 C peanuts (salted)
1/8 C walnuts
2 tsp cinnamon
1 T cacao nibs
Place the nuts in a blender and blend until beginning to become creamy, stopping to scrape down the sides as necessary.  Add cinnamon and continue to blend until smooth,  pausing once or twice to adjust taste as you may want to add salt depending on your preference.
Lastly, add the cacao nibs and pulse just enough to incorporate.  The goal is to have some crunchy bites remaining.
Notes: If your nuts aren't blending into a cream, add a bit of olive, canola, or coconut oil.  You may also use chocolate chips in place of cacao nibs, or omit completely.
***
Every time I make nut butter I wonder why I ever use store bought.  Check out this spiced almond butter for a more savory flavor.
Do you make your own nut butter?
What is your favorite spread?