Two bloggers go food shopping…
I can't even narrow down the punchlines. 
Lucie and I had a food shopping adventure to the Pacific Beach Farmer's Market and then to Whole Foods.  We were actually quite well-behaved!  Even between the two of us we spent less than $100* in Whole Paycheck Foods.
*That's unheard of for me – just ask Vegas.
We did spend $7 on my cherries though!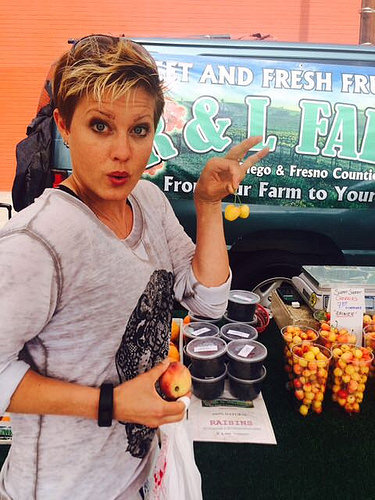 Even at Whole Foods everything we bought fit in one bag… except for Vegas' beer.  But that was for Vegas, so it doesn't count.
Never mind that face that this was (mostly) just for one meal – Lucie's first Cinco de Drinko Mayo!  Apparently it isn't a big holiday in Switzerland.  Go figure.
---
This WIAW I'm stealing borrowing the hostess duties from Jenn again.  Read on for my eats, and then join the party!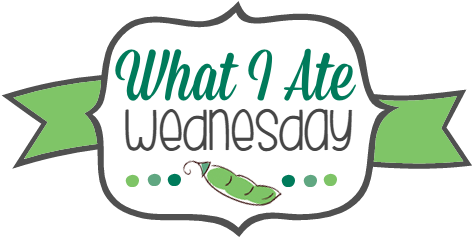 ---
Breakfast:
Vegas and I had our usual morning cocktail.  I had my morning sludge.
Having no food in the house means yogurt breakfast.  Even when the fridge is in a dire situation I have Greek yogurt.  This was mixed with vanilla protein, peanut butter, and cinnamon.  Topped with granola and cranberries.
Lunch:
This was the result of hungry working.  I spent 30 minutes thinking about what I could piece together and then got super excited when I came up with this sandwich: tomato, cheese, and bacon spread.
That's right.  Bacon spread.  Mom gave it to me.  It's going to inspire an "I love my mother" tattoo.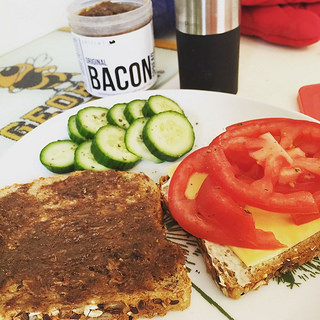 Snack:
A post-workout protein bowl.  Chocolate protein, glutamine, water, and cinnamon.  Topped with peanut flour sauce and banana.
Snack 2:
Lucie and I weren't starving for Cinco de Dinner right when we got home so we made a little pre-game spread.  Cheeses, cherries from the market, zucchini, roasted habanero chips,  and hummus.
I had a Manhattan kombucha. Seriously.  It was a Manhattan-style kombucha shrub by Revive that I found at Whole Foods mixed with a shot of bourbon.  *swoon*
Dinner:
Taco Tuesday fell on Cinco de Mayo.  How could we not go Mexican?
First off, we found these uncooked corn tortillas at Whole Foods.  You simply heat them on the stove top for 30 seconds on each side.  Voilà – fresh corn tortillas!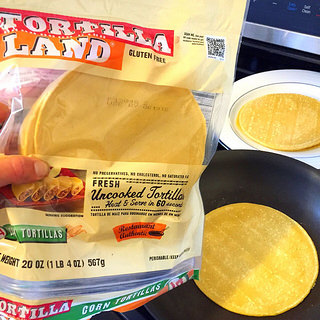 While I cooked the tortillas and sautéed some local 'shrooms, Lucie prepared the rest of our spread.
From the farmer's market we had local avocado, spinach, and mango salsa.  From WholeFoods we had smoked Arctic Char and scallop ceviche.
What resulted was three rounds of tacos and then some of the straggler leftover components.  They were huge and delicious.  Lucie asked me how you eat them and would they just be messy.  I just passed her a paper towel (napkins are above my class-level, apparently).
This one was my first scallop ceviche taco: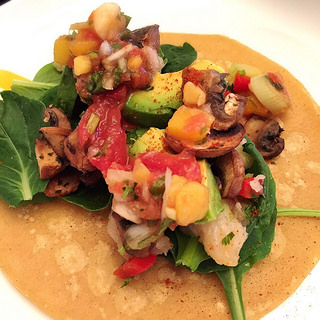 I should have taken a picture of Lucie raiding my protein powder collection.  She went home with multiple baggies of white and brown powder.  Don't tell immigration.
---
And now we're all about those links…
***
We have a special visitor for the next few days… big reveal on Instagram.  Oh, the suspense…
Do you have a favorite farmer's market?
What's always in your fridge – even when you're on empty?