Christmas shopping should be an olympic sport.
Really.  You must prepare in the following ways:
Condition – I spend all year training 😉
Psychological – I stockpiled all my patience that day
Endurance – I'd already been to kickboxing (though I decided to leave the gloves in the car)
I walked into the mall on a mission.  I left victorious.  Sorry mom – not revealing any secrets!
What I can share is the stuff I bought myself.  Anthropologie was having a sale… I couldn't help it!
Guilt of self-shopping must have taken over because I have already wrapped the presents.  This is usually a Christmas Eve activity, as I hate wrapping and procrastinate.
____________________________________________________________________________________
The next party-food chapter is: A Tale of Two Pestos
One bit different, one more traditional.  A little country  and a little rock and roll , if you will.
The second meat dish I served was a chicken pinwheel.  One filled with green pesto and one filled with red.  Festive, right?
I never cook meat at home.  Truth be told, it grosses me out to touching it.  So you can imagine the sight of me trimming and tenderizing $50 worth of raw chicken was comical.  I had chicken spread out on every available surface (on paper, of course).
Needless to say, I sanitized every inch of my kitchen after this. 
After pounding them all, I spread each breast with one of the pestos and shredded mozzarella.
You've actually seen the green pesto before – it's this Basil-Walnut Pesto I posted about last week.
Sneaky me made these in advance and then froze them.  Pesto is convenient like that – you can put it in a container and freeze it forever.  It's a great way to use up excess herbs.
Tip: If you freeze it in ice cube trays, you'll have individual servings you can easily pop out and heat.  If you freeze it in a baggie, you can thaw a batch quickly by placing the bag in hot water.
The red pesto was my favorite with the chicken.  It's base is sun-dried tomatoes, resulting in a stronger flavor that I loved in the two-bite sized pinwheels.
It was also a thicker pesto, which I love.  This is one you can make a spread on a sandwich like hummus.  The sun-dried tang with the nuttiness of the parm and walnuts, combined with the richness from the balsamic was a great blend.  Don't be shy with that balsamic if you're using the good stuff!
Now that I think of it, this would be amazing blended into hummus!
_____________________________________________________________________________________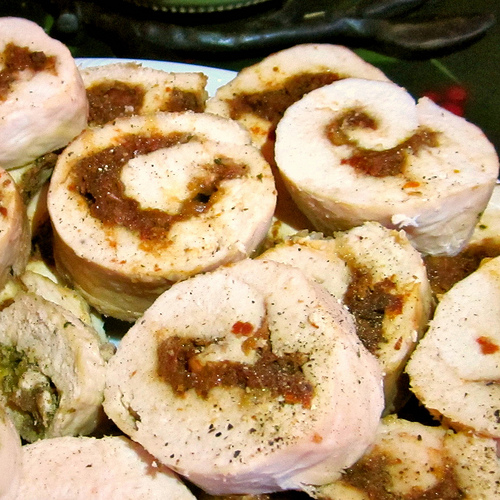 Sun-Dried Tomato Pesto
2 cups chopped sun-dried tomatoes (I used dried, soaked in warm water for 20 minutes.  Be sure to reserve the "flavored" post-soak water)
Zest of 1 lemon
1 T lemon juice
2 cloves garlic
1/4 C yellow onion
1/4 C grated parmesan
1/4 C walnuts, toasted
1 T Balsamic vinegar
1/2 C fresh basil leaves, packed
1/2 C olive oil
S+P, to taste
Combine all the ingredients except the olive oil in a food processor begin to blend adding oil slowly.  Stop to scrape down the sides as needed.  Consistency will be paste-like (you may need to add water or more olive oil).  
Store refrigerated for up to one week or much longer in the freezer.
Makes ~2 cups.
Pesto Pinwheels
Pre-heat oven to 325 degrees.
Pound out chicken breasts until about 1/2 in thick.  Spread pesto evenly over one side of breast.  Sprinkle with shredded mozzarella cheese.
Roll into logs and wrap tightly in aluminum foil.  Place on a baking sheet and cook for 25-30 mins.
Allow to cool a bit before unwrapping.  Remove foil and slice into rounds to make pinwheels (don't worry – the foil wrap will have caused them keep their shape).
Sprinkle with salt and pepper and enjoy!
***
It's hard to believe Christmas is this weekend… tomorrow look forward to the best cookies of the season (as if we all need more cookies).
Are you done with your holiday shopping?
Is anyone else craving matzoh ball soup?!  Happy Hanukkah!