We had a fun Christmas Eve here.  The reports of Christmas Day snow added to the usual excitement.
Baby Sis and I squeezed in a 3.4 mile run.  Good thing – it has been too snowy and icy to go ever since!
Never a fan of traditions, I tried a bunch of new dishes:
Butternut squash gnocchi
Herb-roasted root veggies
Popovers
Chocolate gingerbread cake
Peanut butter fudge
I'm only posting the recipe for the fudge… the rest are still in progress.
The gnocchi was good – I'm happy with it for my first attempt, but I think I handled the dough too much.  It was fun to make though!
We also enjoyed a great Cab by Four Sons.
Family friends came by for dessert, drinks, and a little gifting.
We enjoyed some Liquid Gingerbread.
Check out our dessert spread!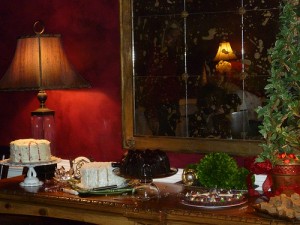 Kathy brought over her famous pretzel sticks.  My sister liked them…
Even Honey the Dog pigged out – she ate an entire bag of bones before we caught her!
This is my new favorite protein-packed dessert:
(Check out the candy-cake in the background!  Ann brought over this sinfulness.  It involved chocolate, Rolos, M&Ms, and other items I'll never admit to eating.)
Back to the fudge.  Read carefully – this is a very complex recipe with super-complex adaptions from Vintgae Sugarcube.
Peanut Butter Fudge
1 Jar whipped butter cream icing
1 Jar peanut butter
1 Pkg semi-sweet chocolate chips
Line a 8×8 dish with parchment paper.  Microwave jar of icing for 50 seconds.  Pour into a medium bowl and mix with the jar of peanut butter.  Fold in the chocolate chips.  Pour mixture into dish and refrigerate overnight or, if you are impatient like me, freeze for ~2 hours.  Cut into small squares and serve!
Store in fridge.
***
Christmas pics to come as soon as I figure out how to load pics onto my new Mac…
Was Santa good to everyone?  What was your favorite gift?