Santa came this weekend. 
And by Santa I mean Vegas. 
We decided to be adults this year and buy ourselves a new couch in lieu of expensive gifts.  Vegas, as per usual, did not follow the rules.
This is what Santa brought me:
A professional series Kitchen Aid with a 6 quart clear glass bowl AND a stainless bowl!!!  Plus the pasta-making attachment.  And the cart to keep it on.  I didn't know what to say!  I've wanted one of these for YEARS.  I wish she's videoed me walking into the kitchen and seeing this.  I'm sure my eyes were HUGE!
Allegedly, Vegas was quite the pasta maker back in the day.  I've yet to witness this, but I'm promised a pasta dinner soon!  For my part, my first project is going to be a Red Velvet Cake.  It's Vegas' favorite. 😉
I obeyed the rules and didn't spend a ton on gifts (sorry Vegas).  I think this one small gift was her favorite.  The Post-Trump Cards Against Humanity expander pack… it even came with 20 pesos and an Obama locket.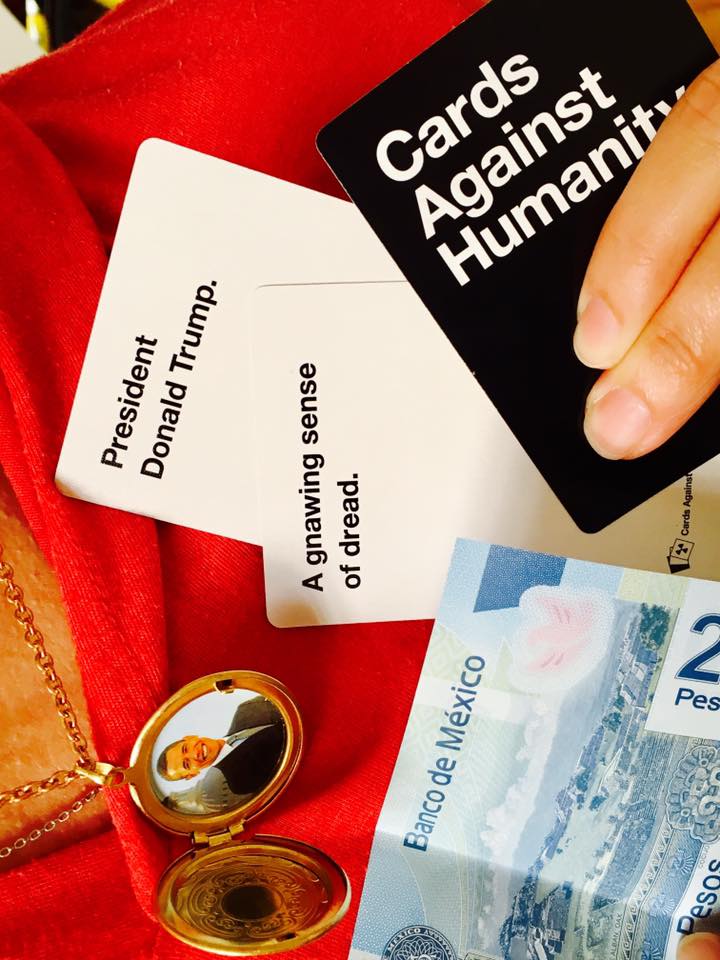 Before we dove into gifts on Christmas Eve, I made an ambitious dinner.  Lobster tails stuffed with shrimp and mushroom-stuffed eggplant.  Both were new-to-me dishes.
I'd just gotten the lobster from Sizzlefish and couldn't wait to try it!  The eggplant was another Julia recipe (it's in the book as Aubergines Farcies Duxelles), so you know that was ambitions.  Thankfully, they both turned out!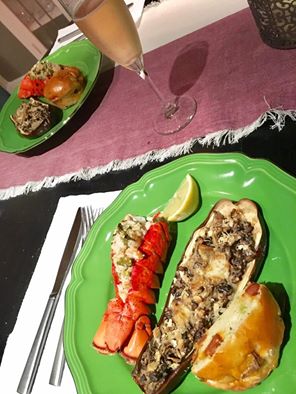 I love Christmas with Vegas.  Not just because she gives good presents!  She is one of the most festive people I know – between the tree, the redneck outdoor lights, the constant Christmas music… it's the sweetest thing.  She makes me more excited!
We even had a fire-ish place.  #hightech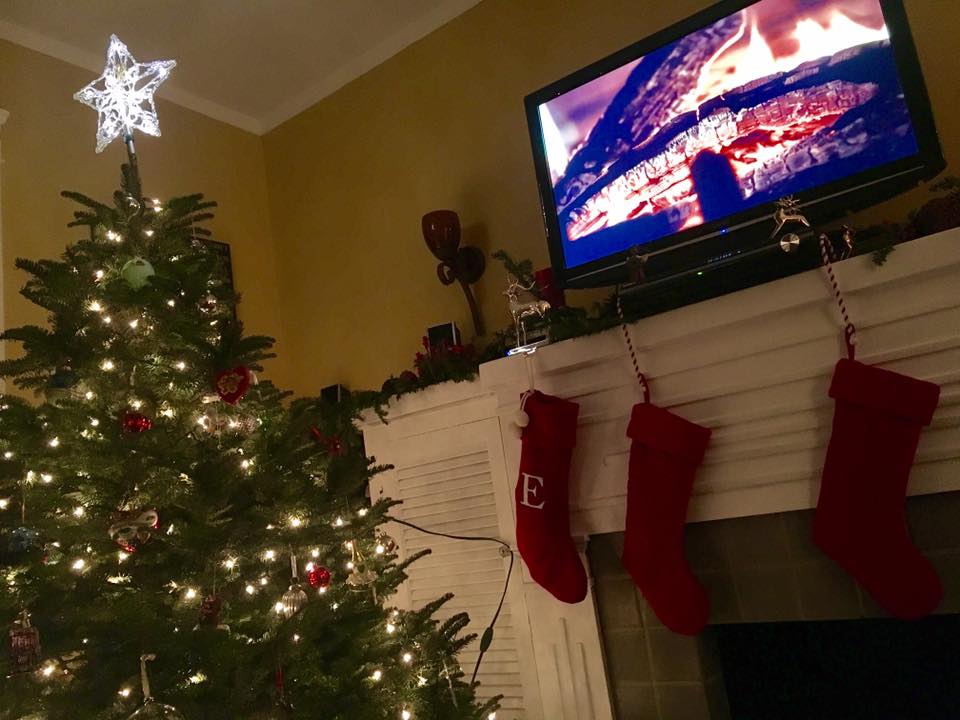 ---
Now for the food.  This day of Christmas eats is only two "meals"… but we basically never stopped eating.  HA!  Read on for my whole day of eats, and link up to Jenn's WIAW baby right here today!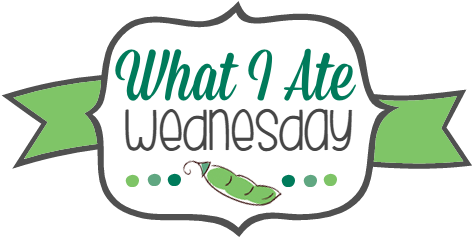 ---
Brunch:
The usual morning cocktail followed by my vitamin gummies.  We actually did this before opening presents!  Granted, it's a little easier when you opened most of them the night before.
Then came the real show.  We had 4 friends join us for brunch.  It was semi-impromptu, so I didn't do anything crazy.  We had French toast, scrambled eggs with Swiss cheese, sausages, bacon, strawberries… and a assload of sparkling wine.  Typical!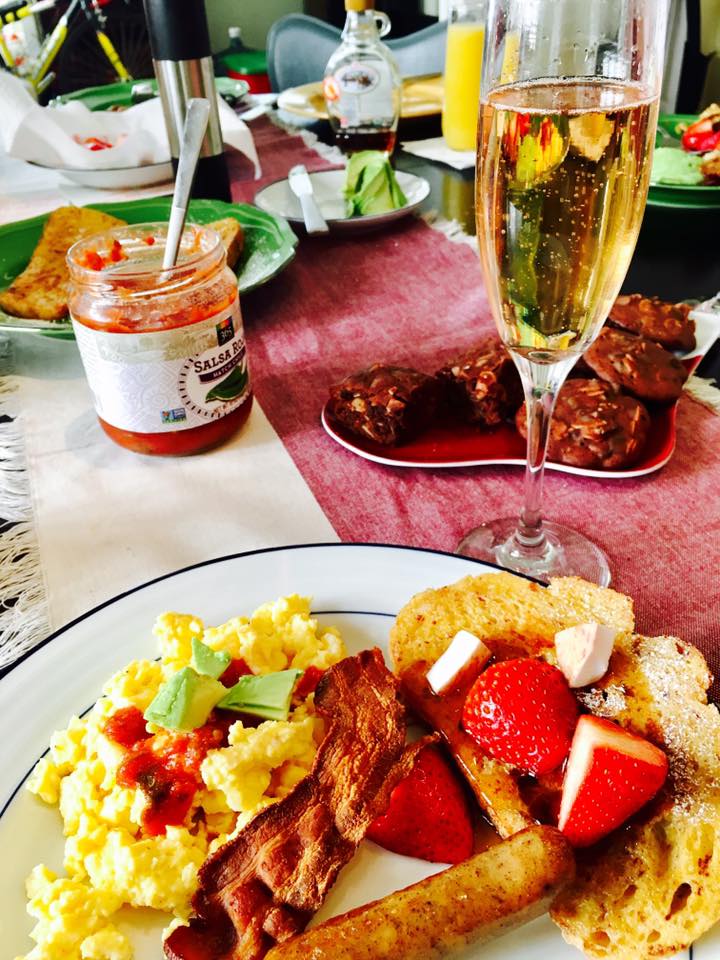 Did I mention this was a pajama-themed party?  It's the only way to brunch!
I wish you could see these mini Polaroids better… I was rocking a leopard onesie.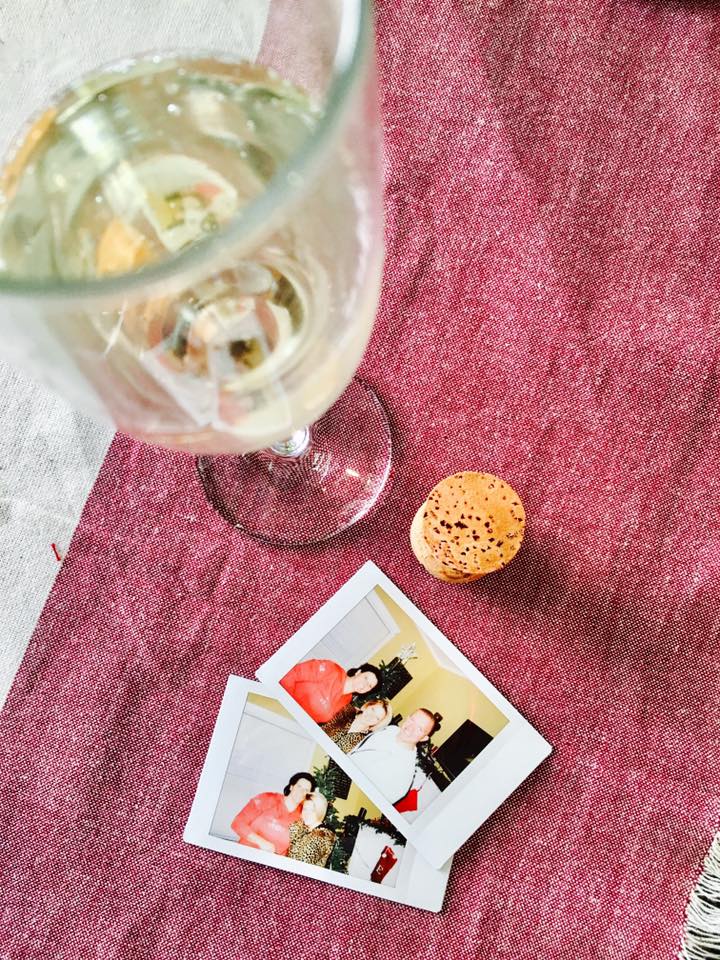 Dinner:
When our friends left, we changed into real clothes and headed to another friend's house for dinner.  We met this rockin' couple in Tulum a few weeks ago… one is a chef and the other is a food-lover and music expert.  Basically, it was a dream dinner party.
We started with cocktails and champagne with a beautiful cheese plate (which I totally forgot to take a pic of).
Then it was on to the main show.  10 of us gathered around the table to enjoy a feast fit for royalty.
The main attraction was a Szechuan porchetta with pickled persimmons and homemade chili oil.  There was also an amazing noodle dish based on a Momofuku recipe.  And tons of veggies.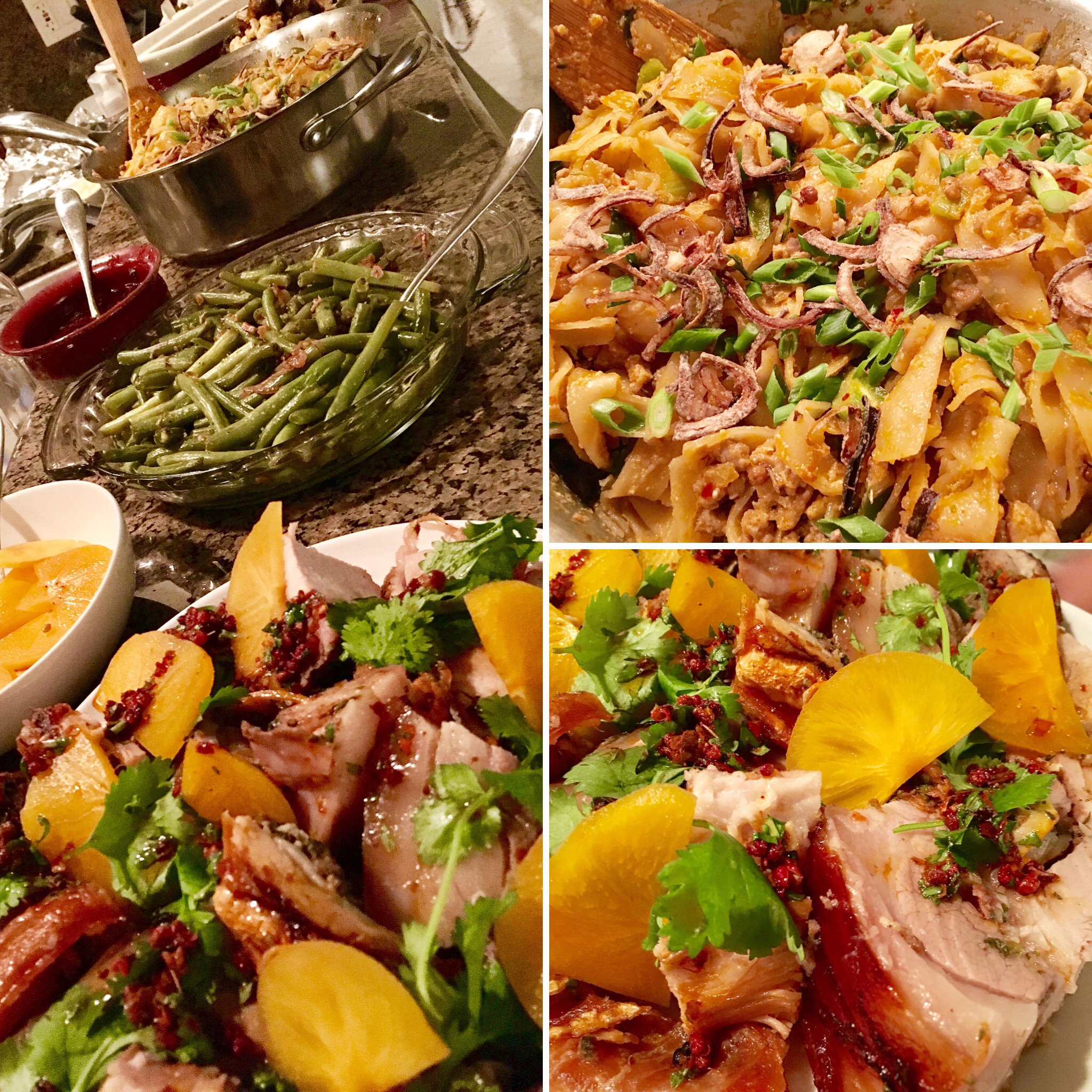 We ate like happy fat kids.  I'd brought a few bottles of a dry German Riesling that went really well with the spicy food.
That crispy pork skin though.  I die.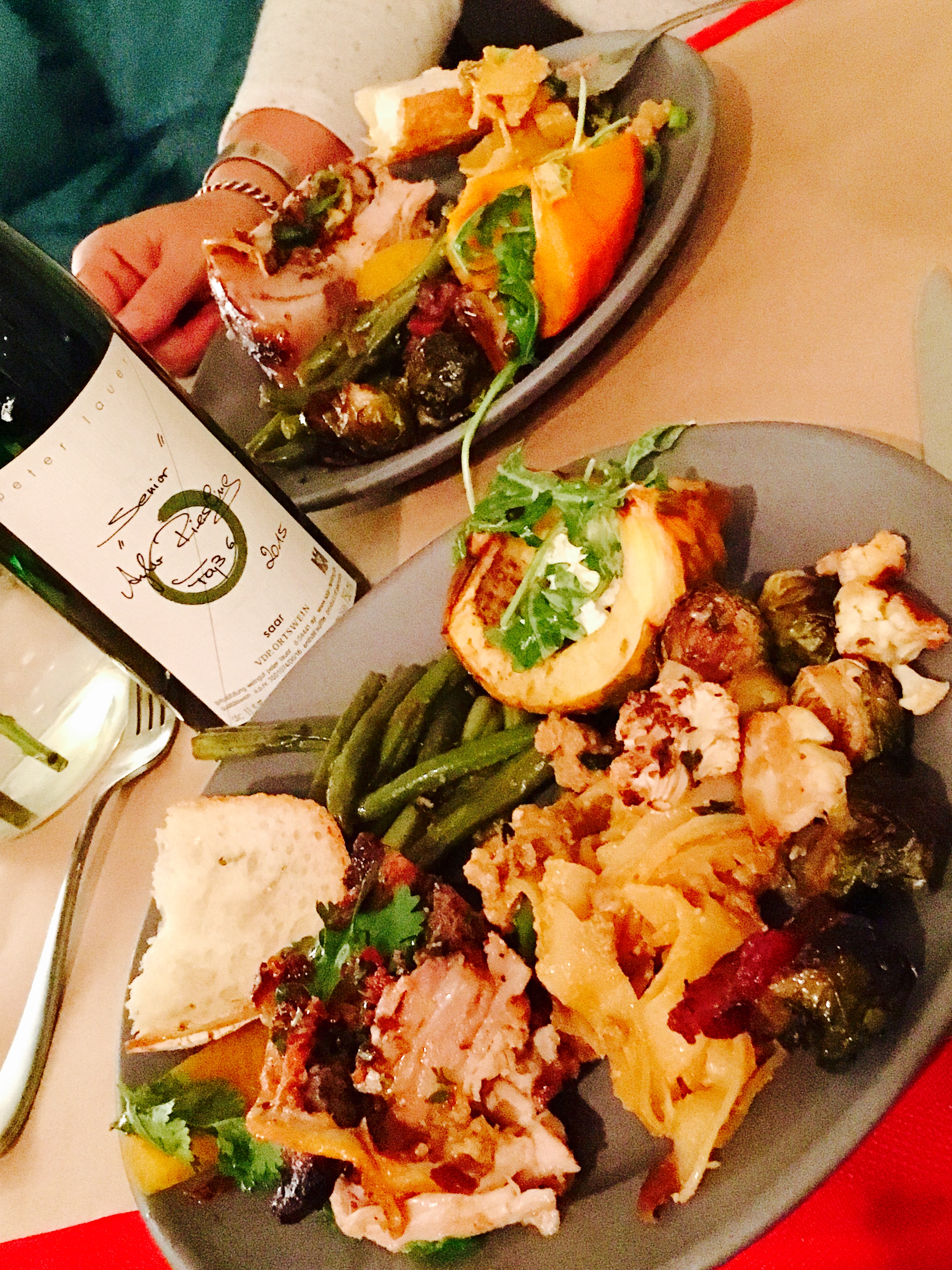 There were delicious salted Nutella and peanut butter cookies for dessert too… I didn't manage a pic, but I did manage to eat two and take 3 home. 😉


***
Now we're off to celebrate the new year and our 2nd anniversary skiing in Colorado!
Do you open gifts Christmas Eve or day?  
What was your favorite gift this year?