It's never going to get easier.
Monday comes every week.  I know it's coming.  And still it's like a cold slap in the face.  Ok, maybe it's not that bad.  But I would prefer to sleep in and leisurely eat omelets every day.
On Saturday I also treated myself with a trip to Atlanta's new vegan bakery and deli, Dough Bakery.  Yup, on cheat day I go vegan… but I made good use of it!
Dough Bakery partnered with Gutenfleischers vegan meats to create a meat counter that is the stuff of dreams.  Check out this selection: 
Of course, I had to get the Cuban sandwich.  Cajun ham, Daiya mozzerella, dill pickles, tomato, lettuce and mustard were pressed between a fantastic Cuban bread (made in-house, of course).  No, it wasn't just like the "real" thing, but OMG it was good.
I typically shy away from the packaged vegan meats found in the grocery store.  They are to processed and sodium-filled for my liking.  Not the case here.  The base of the homemade meats is tofu and vital wheat gluten.  And they use Bragg's Liquid Aminos rather than salt!  it's still sodium, but not as much and the taste is 100x better.
Dessert is not to be missed if you visit Dough Bakery.  They have vegan soft serve. Oh yes.  It's dairy-free, gluten-free, fat-free, and nut-free.  Not sugar-free, but we can't have everything I suppose. 🙂
Creamy, sweet, and even better than the DQ version, IMHO.  Plus you get sprinkles on top!  They also offer a milkshake with cake or brownie mixed in.  I managed to refrain somehow (I didn't see the sign until after I ordered).
I ogled the other desserts – specifically, the banana cake with peanut butter cream cheeze frosting.  This deliciousness had an option on include temph bacon on top.  Someone happened to order a slice while I was there… there happened to be a spoon and knife dirtied with the remnants of the slice.  I happen to be shameless.
I asked the very nice lady behind the counter if I could lick the spoon…  AND SHE LET ME!!!  It made my day.  Next time I'm there, I'm ordering the cake.  That's the cake I want for my birthday next year, and every year after that.  With the bacon, please.
All of this ties in perfectly with the title of this post…
________________________________________________________________________________________
Everything was do good that I had to call my vegan friend and former Atlanta resident Heather @ Better With Veggies to tell her all about my new vegan find.
Here is the tie in: Heather is hosting a new round-up called Meatless Mondays from A-Z.  This is the first week and the theme is Artichokes.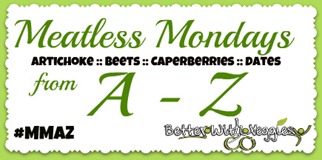 After perusing Whole Foods for inspiration, I settled on the idea of a quinoa stuffed artichoke.
Preparing a whole artichoke can seem daunting, but in reality it's not difficult.  The first step is to choose your victim.  Look for artichokes that are firm with a dark green color.  The heavier the 'choke, the fresher it is.  Stay away from the blooming artichokes because the leaves will be tough.
Once you have your artichoke, you just need to prep it and drop it into boiling water (more detailed instructions with recipe at the end).
I stuffed my artichoke with pre-cooked quinoa.  I had beet juice left over from making Lauren's Beet Burgers, so I soaked my quinoa in that for added flavor and color.  You could also use vegetable broth or any vinaigrette mixture to accomplish the same thing.
Finely chopped fennel, red onion, and tarragon also went into the mix.  I didn't saute the fennel in advance, as I like the added crunch.
After stuffing my now cooked artichoke, the whole thing went into the oven for 15 mins.  Simple, right?
Artichokes alone are gorgeous flowers, but with the red-tinted quinoa, this dish was almost too pretty to eat.
I loved the earthiness from the beet juice combined with the licorice taste of the crunchy fennel.  It created a flavorful journey as I ate my artichoke one leaf at a time.
Check out my artichoke recipe below, and hit up Heather's site for everyone else's (meatless) Artichoke creations!
______________________________________________________________________________________
First a workout recap!  Despite being a long, tiring week at work it was a fantastic week for workouts.  I hit a few PRs on leg day, and managed to push myself to lift more than ever in nearly every exercise.  Move over, gym rat boys.
I really want to do my first competition in November, so I really need to buckle down and grow.  It's a little disappointing that despite my muscle gain and the increase in weight I can move, my weight is the damn same.  We're going to give it another week before making adjustments to my diet.  I'm hoping it's just a beginner thing where I'm shredding fat  while gaining muscle so it's evening out my lbs for now.  Either way, there's a little back definition peaking out!
Workout Recap (7/30 – 8/5):
Monday – Back/Triceps, Calf raises
Tuesday – Shoulders/Glutes, 2 mile walk
Wednesday – Chest/Biceps, Calf raises, 2 mile walk
Thursday – Legs (with trainer), 2 mile walk
Friday – Back/Triceps, Calf raises, 2 mile walk
Saturday – Shoulders/Butt, 100 push-ups
Sunday – Chest/Biceps, Calf raises, 1 mile walk
______________________________________________________________________________________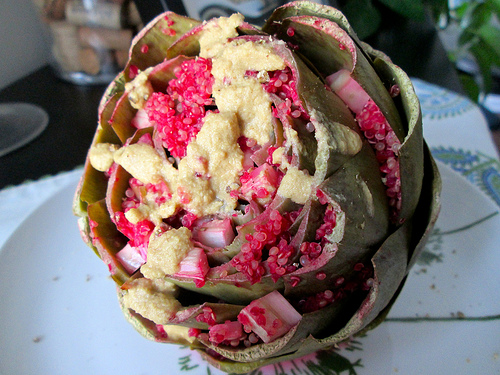 Quinoa Stuffed Artichoke
1 Artichoke
2 cloves fresh garlic, chopped
Juice of 1/2 fresh lemon
1/2 C pre-cooked quinoa, tossed in dressing of you choosing
1/4 C fennel, finely chopped
1 T red onion, diced
1 tsp dried tarragon
1 T nutritional yeast
1 T apple cider vinegar
S&P, to taste
Boiling a pot of water (enough to just cover your artichoke).  
Trim the stem off the artichoke, making sure it is level to stand up in the baking dish later.  Pull off the smallest leaves around the stem and cut about 1/2″ off from the top of the leaves.  With kitchen shears, cut the thorny tips off of the remaining leaves around the tip of the artichoke.
Drop the artichoke in the now boiling water with garlic cloves and lemon juice.  Boil for ~20 mins, until tender and darkened in color.
Meanwhile, toss quinoa in the dressing of you choosing with fennel, onion, and tarragon.
Pull your cooked artichoke out with those tongs and place on cutting board.  Use a spoon to spread the leaves gently out, blossoming like a flower.  Pull out  the thin inner leaves and scoop out the choke (the furry stuff in the core) with a spoon.  Be careful not to burn yourself!
Begin stuffing the mixture into the hollowed core.  Then, stuff remaining mix between the outer leaves.
Carefully lace the stuffed artichoke into a baking dish.  Fill with ~1 inch of water so that it doesn't dry out.  Place in oven for 15-20 mins, until the leaf tips are just roasted.
Meanwhile, in a small bowl mix together nutritional yeast and vinegar.
Once the stuffed artichoke is baked, drizzle with nooch sauce and enjoy!
Makes 1-2 servings.  Recipe easily doubled.
***
No rest day this week because I'm actually going to take it on Thursday due to work travel.  Hotel gyms can go either way and I don't want to risk it not having what I need.
What are your thoughts on vegan "meats?"
What is your favorite way to eat artichokes?