These are a few of my favorite things…
Really.  How can one possibly go wrong with chocolate, peanut butter, and salt?
Side note: the best thing about vegan cookies is the fearless eating of batter… not that egg in batter ever stopped me before.
The site of the flaky fleur de sel and crunchy pretzel bits poking out of fudgy dough may tempt you to eat an entire scoop raw. *Please tell me I'm not the only one that does that*
February is the month of foil-wrapped chocolates, Hallmark cards, and over-priced flowers.  I beg you, this Valentine's Day skip the artificial red colored stuff and go straight for the dark chocolate treats.
No one will miss the boxes of processed chocolates and Forrest Gump metaphors for life..  I promise.  
At the very least they won't be able to protest with their mouths full. 😉
____________________________________________________________________________________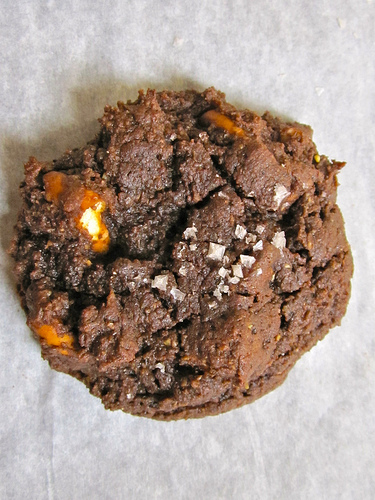 Chocolate Peanut Butter Pretzel Cookies
2 T softened butter (or Earth Balance)
2 T unsweetened applesauce
1/4 C light brown sugar
1/4 C xylitol
1/4 C peanut butter
1 tsp vanilla
1 egg (or flax egg)
1 T unsweetened almond milk (or other liquid)
4 T cocoa
1/2 C all-purpose flour
1/4 C whole wheat flour
1/2 tsp baking soda
1/2 tsp baking powder
1/2 C crushed pretzels
Fleur de sel (or other high-quality flaky salt)
Pre-heat oven to 350 degrees.
With a hand mixer, cream together butter, applesauce, sugars, and peanut butter.  Add in milk, vanilla, and egg.
Sift together remaining ingredients (except pretzels) and incorporate into butter mixture.  Fold in pretzels.
Scoop dough in ~2T balls onto parchment-lined baking sheet.  Lightly flatten with palm and sprinkle with fleur de sel.
Bake for 8-10 mins.
Makes 15 cookies.
Note: My peanut butter was really thick, so I needed that 1 T of milk.  Depending on what you use, you may not – use your judgment here.
***
I'll be lucky if I even get cole in my stocking.  Wait.  Wrong holiday.
Would you rather have chocolate or cookies?  Something else?
***
February is #chocolatelove month! I am excited to be co-hosting this month's lovebloghop for the first time.  Please check out my co-hosts' posts too:
A Little Bit of Everything ~ Roxana ~ @RoxanaGreenGirl
ASTIG Vegan ~ Richgail ~  @astigvegan
Badger Girl Learns to Cook ~ Kimberly ~ @BdgrGrl
Baker Street ~ Anuradha ~ @bakerstreet29
Baking and Cooking, A Tale of Two Loves ~ Becky Higgins
Baking Extravaganza ~ Samantha
BigFatBaker ~ Erin ~ @BigFatBaker 
Bon a croquer ~ Valerie ~ @Valouth
CafeTerraBlog ~ Terra ~ @CafeTerraBlog
Cake Duchess ~ Lora ~ @cakeduchess
Cakeballs, Cookies and More ~ Sue
Cooking with Books ~ Marnely ~ @nella22
Creative Cooking Corner ~ Karriann ~ @KarriannGraf
Easily Good Eats ~ Three Cookies
Elephant Eats ~ Amy
Georgiecakes ~ Georgie ~ @georgiecakes
Hobby And More ~ Richa ~ @betit19
Java Cupcake ~ Betsy ~ @JavaCupcake
Kitchen Belleicious ~ Jessica ~ @kbelleicious
Mike's Baking ~ Mike ~ @mikesbaking
Mis Pensamientos ~ Junia ~ @juniakk
No One Likes Crumbley Cookies ~ TR ~ @TRCrumbley
Oh Cake ~ Jessica ~ @jesshose
Rico sin Azucar ~ Helena ~ @ricosinazucar
Savoring Every Bite ~ Linda ~ @Spicegirlfla
Simply Reem ~ Reem ~ @simplyreem
Smart Food and Fit ~ Lisa ~ @LisaNutrition
Soni's Food for Thought ~ Soni ~ @sonisfood
Sprint 2 the Table ~ Laura ~ @Sprint2theTable
Teaspoon of Spice ~ Deanna ~ @tspbasil 
That Skinny Chick Can Bake ~ Liz ~ @Thatskinnychick
The Dusty Baker ~ Jacqueline ~ @dustybakergal
The More Than Occasional Baker ~ Ros ~ @bakingaddict
The Spicy RD ~ EA ~ @thespicyrd
The Wimpy Vegetarian ~ Susan ~ @wimpyvegetarian 
Vegan Yack Attack! ~ Jackie ~ @veganyackattack
Vegetarian Mamma  ~ Cindy ~ @VegetarianMamma
You Made That? ~  Suzanne ~ @YouMadeThatblog
Join us in the #chocolatelove fun by linking up any chocolate recipe from the month of February 2012. Don't forget to link back to this post, so that your readers know to come stop by the #chocolatelove event!  The Twitter hashtag is #chocolatelove.