I'm sorry.
I've been teasing you with this recipe for over a week.
It had to be tweaked!  Judging from the reaction these chocolate muffins got at this week's dinner party, I found the right combination of ingredients.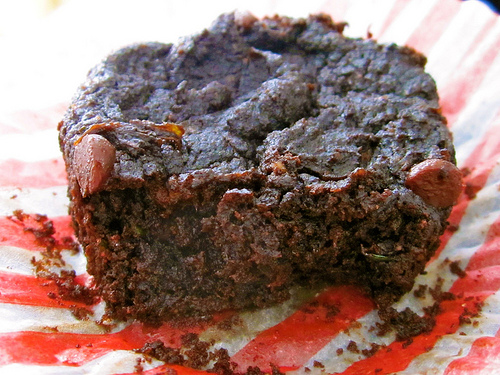 Chocolate-y and moist, these are muffins you could chow on for breakfast without guilt.  Why guiltless?
Because you would be starting out your day with veggies!
The "secret" ingredient in these is zucchini!  Fool your kids, your partner, your co-workers… yourself… you cannot detect a trace of the veggie.  I'd put money on it.
I've made them as small muffins and as minis.  I think the minis are the best way to go because they rose better.
Adapted from Leanne @ Healthful Pursuit's Double Down Chocolate Muffins, I took her zucchini-filled treat and made them vegan.  They are also gluten-free, almost sugar-free and 100 calories!  Life doesn't get any better.
I realize the ingredient list is long… but it doesn't take much time to throw it together and the end result is well worth it!
---
Chocolate Zucchini Muffins
1/4 C cocoa or cacao powder (I used half each)
1/4 C coconut flour
1/2 tsp baking soda
1/2 tsp baking powder
1/4 tsp guar gum (or cornstarch)
2 T Xylitol
2 T NuNaturals Fiber Baking Blend (or other sweetener)
1/2 tsp instant coffee
Shake of salt
1 flax egg (1 T ground flax + 3 T water)
1/4 C unsweetened vanilla almond milk (or other milk substance)
2 T C coconut oil
2 T unsweetened apple sauce
1 T almond butter (or other nut butter)
1 tsp vanilla extract
1/2 C shredded zucchini
1/4 C chocolate chips
Pre-heat oven to 350 degrees.
Whisk together dry ingredients in a large bowl.  Set aside.
In a small bowl mix egg, milk, oil, nut butter, and vanilla until well-combined.  Pour the wet mixture into the dry and stir until just combined.
Squeeze out zucchini to remove excess moisture, then add to batter along with chocolate chips.  Gently fold to combine – don't over-mix!
Place 12 muffin liners in a muffin pan (or lightly grease a mini muffin pan) and spoon the mixture into each tin so they are about 1/2 full.
Bake on the middle rack for 10-15 mins, or until a toothpick comes out clean.  Remove from the oven and allow to cool completely before serving.
Makes 12 small muffins or 24 minis.
Approximate Nutrition for small muffin: 100 calories, 7.4g fat, 9.5g carbohydrates, 3g fiber, 2g sugar, 1.5g protein
Notes:
I have tried this with a full 1/4 C of coconut oil (rather than 2 T oil and 2 T apple sauce) and found it to be too greasy, but you could try it either way
You could also leave out the guar gum; however, it helps the muffins to stay together better (coconut flour can result in crumbly baked goods)
If you can't find Xylitol or the Baking Blend, you can use any sugar/sugar-replacer
***
Thank you, thank you, thank you for all the Buzz… my "Beefy" TVP Chili made the FoodBuzz Top 9 today!  Check out the Top 9 line up here.
How do you sneak veggies in?
If you have worked with coconut flour, what's your favorite use/recipe?