Remember the bake sale I participated in to raise money for Team in Training?  Thanks to everyone who bid, Steph's Bite by Bite raised $729!!!
I hope my winning bidder enjoys these as much as I do! 🙂
Today I am FINALLY posting the recipe for my contribution – Chocolate Sea Salt Cookies.  This sweet and salty treat is worth the wait, I swear!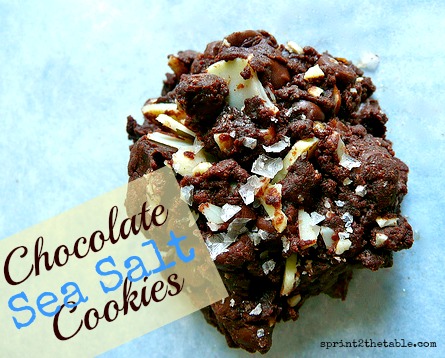 These are amazing.  I'm not exaggerating.  They take my love of sweet + salty and bring it to a whole new level with almonds and dark chocolate.
The dough is enough to make you forget any fear of raw egg-induced salmonella.
The key is to use a high-quality, flaky fleur de sel.  You want the cookies to have a crunch followed the delicious melting of a salty flake on your tongue.  Not the time for table salt, guys.
I use the pink-tinted, super-flaky Murray River Australian Flake Salt.
Also be sure to use good chocolate.  I will often use a semi-sweet bar for melting and get the Ghirardelli dark chocolate chips to stir in.
Taking pictures of dark brown items is hard.  More proof that Indian food and dark chocolate were meant to be eaten straight-away.  Sans photo shoot.
---
Chocolate Sea Salt Cookies
Prep Time: 15 mins
Cook Time: 12-13 mins
Keywords: bake dessert chocolate salt almonds cookie
Ingredients (24 cookies)
2 C semi-sweet or dark chocolate chips/chopped bits, divided
1/4 C unsalted butter
3/4 C brown sugar
2 eggs
1 ½ tsp vanilla extract
1/2 C flour
¼ tsp baking powder
1 C slivered almonds
Instructions
Place 1 C of chocolate chunks in a large bowl and melt in microwave (or over a double boiler if you're fancy like that). Stir in butter.
Whisk together eggs and vanilla extract. Add brown sugar (take care to ensure there are no clumps), egg and vanilla mixture to the chocolate mixture. Stir until well-combined.
Sift together flour and baking powder. Add flour to the chocolate mixture, stirring just until smooth.
Fold in remaining 1 C of chocolate and almonds. Refrigerate at least 2 hours or overnight. Or place in freezer for 30 mins if you're impatient like me.
Preheat oven to 350 degrees. With a spoon, scoop a heaping tablespoon of the dough on to a parchment-lined baking sheet. If desired, gently flatten with the palm of your hand (I like mine better in "globs"). Sprinkle with fleur de sel, patting lightly.
Bake for ~12-13 mins. Allow to cool as best you can before devouring with an icy glass of milk.
***
In a matter of hours I will be all dressed up to attend the first Atlanta Food & Wine Festival event! 
What are you doing this weekend?
What is the best dessert you've ever made?