Treat 'yo self.
That is my favorite saying from my friend Sarena.
This weekend I (rice crispy) treated my self and my friends!  My best friend's favorite treat is the crispy variety.  In honor of the holiday weekend, I decided to make her a batch.  Of course, I couldn't just follow a recipe… regular 'ol rice crispy treats have been done before!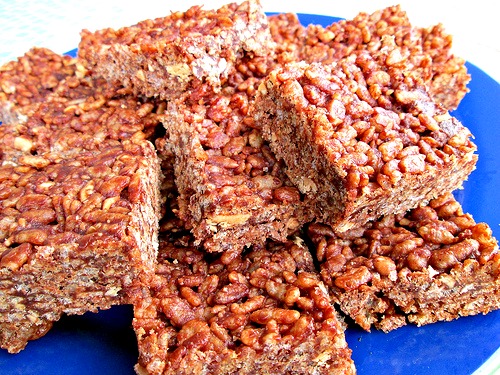 What I came up with was a chocolate and peanut butter crispy treat.  While these will never be a health food, they are slightly cleaner than the treats of your youth (recipe at the bottom).  Here are a few of the cuts/subs I made:
C

ut the amount of marshmallows and butter in half by using natural peanut butter
Replaced the bit of butter with coconut butter
Used brown rice crispy cereal rather than the usual snap, crackle, pop brand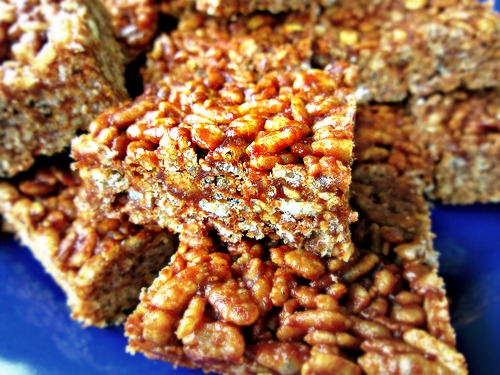 One of my favorite things about these bars is that they aren't as sticky-sweet as the traditional treats.  Cutting back on the marshmallows really helps!
Before taking them to my friend's house, I had to share then with a couple of my favorite people: Lee and Carol!  We ran the Peachtree Road Race (the world's largest 10K) together on July 4th.  Clearly that deserved treats!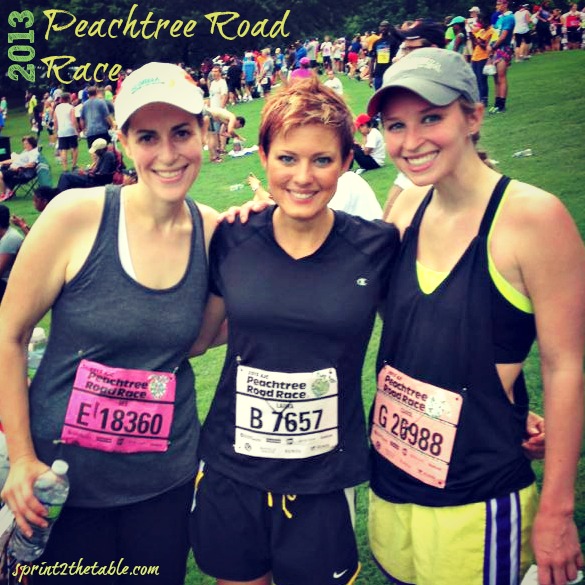 Lee and Carol both gave me the thumbs up, so I bought the concoction to the bestie's house for dinner that evening.  They received a stamp of approval there too – from 4 adults, a 2-year-old, and a couple of crumb-eating dogs.
Bonus: they paired really well with a certain impulse buy (thank you, Whole Foods):
Chocolate, Peanut Butter Banana Beer from Rogue.  I figured it would be really good or repulsive.  The taste was quite layered – chocolate up front, then a hint of peanut butter, and finally the banana came on the end.  Surprisingly it wasn't too sweet, but there is no way I could have drunk a bottle.  We split tastes between 4 people – it was just the right "side" with the chocolate peanut butter rice crispy treats.
As you might imagine, it was a pretty marvelous 4th of July.  Head over to Katie's link up to see what everyone else is smiling about today!
---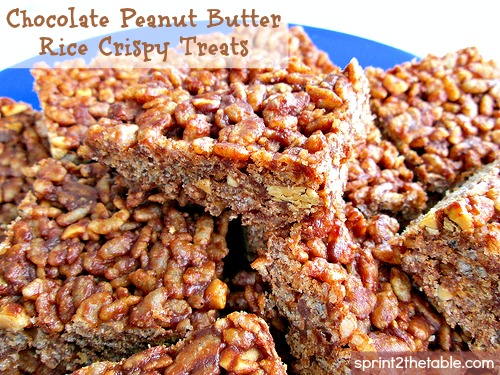 Chocolate Peanut Butter Rice Crispy Treats (Lightened Up)
4 C marshmallows
2 T coconut butter
1/2 C crunchy peanut butter
1/2 C semi-sweet chocolate chips
1 tsp vanilla 
1 tsp cinnamon
4 C brown rice crispies
Place marshmallows, coconut butter, peanut butter, and chocolate chips in a non-stick pan and melt over low heat, stirring constantly to prevent burning.  Add cinnamon and vanilla, stirring to combine.  (Note: if it is too thick, stir in almond milk 1T at a time.)
Quickly add rice crispies and stir to combine.  Press mixture into an 11 x 13 pan.  
Cover and chill in the refrigerator for at  least 2 hours to set.
Remove from fridge and cut into squares to serve.
***
After a holiday weekend of eating out, I'm looking forward to more home cooked meals this week!
Did you run any races this weekend?
Are you a rice crispy treat fan?  What fun flavor would you like to try?