Walking makes me happy.
Having a sprained ankle does not.
When I hurt my ankle, I was shocked when people told me it would have been better to break it.  Apparently sprains take forever to heal.  This is perfect, since I'm so extremely patient. *dripping sarcasm*
This weekend I was back at it with walking though!  I didn't push it too much, must it was really nice to be able to walk my errands again!  You see so many fun things on foot…
Like giant knit pinwheels along Atlanta's Beltline!
Or a random vegetable along a trail.  Most cities have old beer cans littering paths.  We have broccoli.  Atlanta is a healthy city.  I could have used it for a Veggie Trail Mix!
Is that you, Broccoli?
One of my favorite weekend morning activities is to visit the farmer's market in the park across from my house.
I always buy local eggs – they're no cheap, but it's unreal how much better they taste!  These made an appearance in the following recipe hack.
I may not eat fast food (why waste a meal on that crap?!), but I have a "trashy" food guilty pleasure.  Waffle House.  It's the greatest place.  They will make anything you want, any way you want it.  You can actually get a healthy meal there – egg whites, chicken… whatever.  They'll make it clean and hold the oil/butter/salt if you so desire.
My typical order is not so clean.  After every show and if I've had a few to many to draaaank I order the same thing: a chocolate chip waffle with an egg over easy on top.  The #yolkporn becomes the syrup, filling the crevices of the waffle with deliciousness.
In this version, I kept it clean(er).  I didn't sacrifice on the flavor though!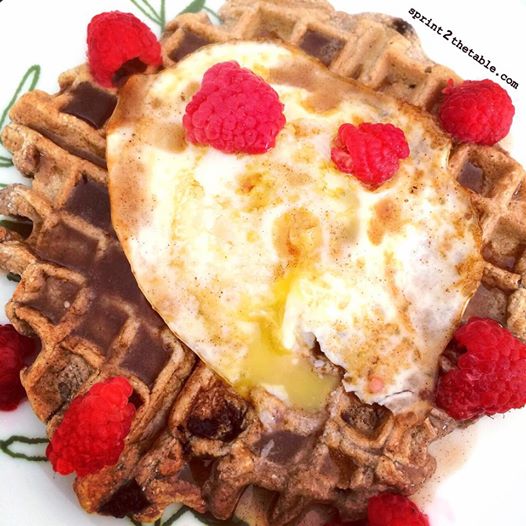 If you don't do the egg thing, you can eat these with plain syrup.  The waffle itself is like a fluffy chocolate chip cookie.
But trust me.  That egg topping is the jam.
---

Chocolate Chip Waffle
1 T coconut flou

r

1 T spelt flour

1/4 tsp cinnamon

2 egg whites (6T)

1 T lite coconut milk

1/4 tsp vanilla

5-6 drops vanilla liquid stevia

Chocolate chips


Toppings: whole egg, syrup, raspberries
Pre-heat waffle iron.
In a small bowl, mix the dry ingredients together.  Add wet ingredients and stir to combine.
Allow batter to sit for 2-3 mins to thicken before pouring into waffle maker.  While cooking, prep your egg to desired level of done-ness. 
Plate waffle, top with egg and other toppings as desired.
Makes 1 waffle.
***
Having a waffle maker is the most marvelous thing ever.  
How do you top your waffles?
What's your "trashy" food pleasure?