Chocolate excites me.
Could this be why I'm hopelessly single?!
Heather's MMAZ ingredient next week is Dark Chocolate.  It was like a sign from God telling me it's time to get back in on the Meatless Monday action!  Obviously I wanted to keep it strange but good, too.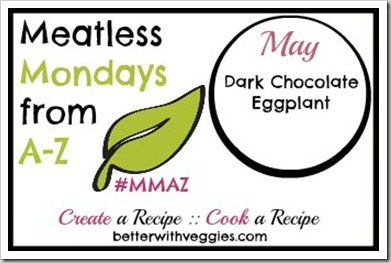 After the success of my "A" recipe for MMAZ – Blood Orange Avocado Scones – and then seeing Lindsay's Peanut Butter Avocado cookies, I knew exactly what I would make.  Chocolate Avocado cookies!
I have a lot of gluten-free friends, so I decided to use coconut flour to make these edible for my favorites.  I love the rich smoothness avocado lends to baked goods.  That, combined with coconut flour's unique texture, makes these cookies like eating chocolate silk.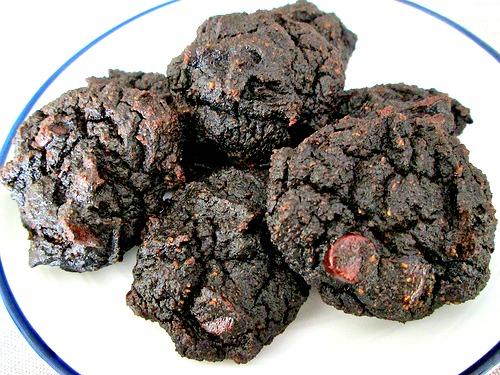 In addition to all that fabulousness, each cookie is only 52 calories and has less than 2g of sugar.  And so I ate 5.
I'm told they look like coal or turds.  This is due to the cocoa powder used.  Don't be scared.  The dark color hides the green avocado, which would be even more weird.  It also is a big reason I was able to keep the sugar low.  Using cocoa powder instead of melting chocolate saves a ridiculous amount of calories, fat, and carbs… and it ADDS protein.
Note: As a general rule, you can sub 3T of cocoa powder + 1T of fat (plus whatever sweetener you want to add) for 1 oz of chocolate.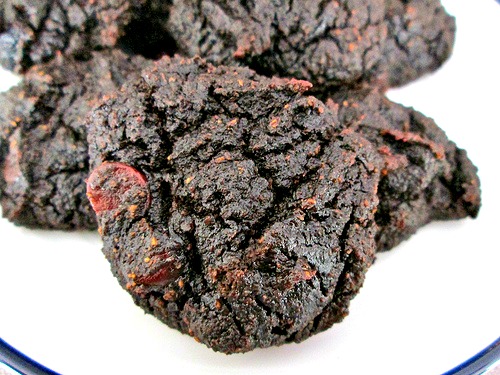 I took these to a girls dinner on Tuesday night and they have NO idea that a) these are pretty healthy and b) there was avocado in them.  Score one for the sneaky #strangebutgood!
---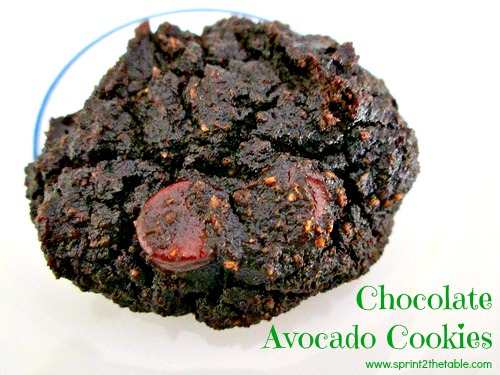 Chocolate Avocado Cookies
1/4 C milk  (I used unsweetened vanilla almond milk)
2 eggs (or flax eggs)
1 tsp vanilla extract
1/4 C mashed avocado
1/4 C coconut flour
1/4 C

Tagatose

(or other sweetener)
2 T unsweetened cocoa powder
1 tsp cinnamon
1/2 tsp baking powder
1/8 C dark chocolate chips
Preheat oven to 375 degrees.  Line a baking sheet with parchment paper.
In a large bowl with a fork, beat together the milk, eggs, and vanilla.  Add mashed avocado, stirring together with fork.  
In a small bowl, combine coconut flour, cocoa powder, cinnamon, and baking powder.
Add dry ingredients to wet, stirring to combine.  Fold in chocolate chips.
Scoop cookie dough onto a baking tray, about 1 heaping tablespoon per scoop.  Place in oven and bake ~10-12 mins.
Makes 12 cookies.
Approximate Nutritionals (for 1 cookie): 52 calories, 2.7g fat, 29.3g sodium, 8.3g carbohydrates, 1.6g fiber, 1.6g sugar, 1.8g protein
---
How have you enjoyed making co-workers, friends, or family stare with strange but good creations this week?
The link up rules can be found here or by clicking on "Strange But Good" in the menu bar above. In short, I want to see what concoctions have earned you weird looks from co-workers, family and friends!
Post your Strange But Good creations, grab the logo below for your blog, and link up here.
Remember to use #strangebutgood in any Tweets and Instagrams of your creations. 🙂



***
I realized while chowing down on one of these that they are a lot like my Chocolate Zucchini Muffins.  I must have a thing for green + cocoa…
Oh!  And don't forget to click here to enter the giveaway for the Bose Headphones!  Winner announced Monday!!!

What is you favorite strange baking ingredient?  Untraditional flours?  Applesauce?  Others?
Do you ever fool your friends or kids by sneaking healthy ingredients?  I'm sure these would pass the kid test too!