I am a bad Southerner.
Most southern foods, I do not like.  This includes fried okra, green bean casserole with those crispy onion things on top, sweet potato casserole, honey-baked ham… and deviled eggs.
However, a wedding shower on Easter weekend with Southern-themed food all but requires deviled eggs be served.  I had to suck it up and learn (quickly) how to do deviled eggs right.
Round 1 was a spicy version that I sort of liked.  More proof that if you make anything spicy, I'll eat it.
The family shot it down.  Mom reminded me that not everyone likes to have their mouth on fire, and that most people like a traditional "like your momma made it" deviled egg.
Traditional isn't something I do well, but I did compromise.  I ditched the heat, opting for a caper and chive version.  That with some mustard and plenty of mayo made for a flavorful yellow filling.  A little lemon zest added a brightness that shouldn't be skipped.
These eggs were the first thing to go at the shower!  Even with a double batch of the recipe, they were gone in an hour.
Who knew 48 deviled eggs could be eaten so fast?!
I learned that the most challenging part about deviled eggs is the hard-boiling and peeling of the eggs.  After couple of "oops" moments, I've found the perfect technique.  If you follow the recipe below, I promise you will have easy-to-peel hard-boiled eggs, free of that icky grey color.
________________________________________________________________________________________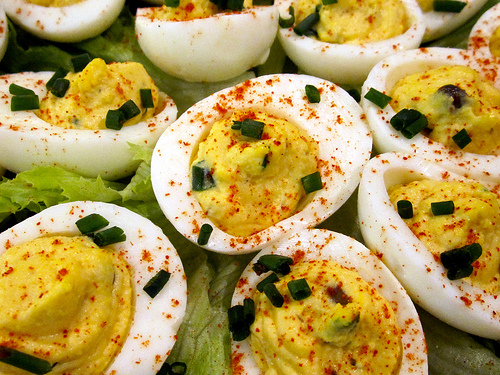 Chive and Caper Deviled Eggs
1 dozen hard-boiled eggs
2 T dijon mustard
1/4 C + 2 T mayonnaise
3/4 tsp dry mustard
1/2 tsp salt
1 tsp freshly ground black pepper
3 T minced fresh chives, plus additional for topping
3 T capers
Zest of 1/2 large lemon
Smoked paprika, for topping
Place the eggs in a large pot and add just enough cold water to cover.  Salt water and bring to a boil.  Once the water is boiling, allow to cook for 30 seconds.  Remove the pot from the heat, cover, and let stand for 15 minutes. 
Remove the eggs from the pan and place in a bowl of ice water until cooled (5-10 mins).  Roll each egg on the counter, applying moderate pressure in order to crack.  Carefully peel the eggs, getting just under the first thin layer of membrane.  Rinse as necessary to remove any remaining shell bits.
Cut the eggs in half length-wise. Remove the yolks and place in a medium bowl, mashing with a fork until yolks are as smooth as possible.  Set the whites aside.
***At this point, I placed the whites in baggies with paper towels to be assembled the next day.  Everything is fine refrigerated overnight.***
When you are ready to assemble eggs, add the remaining ingredients to the yolks.  Using a fork, mash together until the mixture is smooth and fluffy. 
Place yolk mixture in a plastic baggie.  Cut the tip off of the baggie to pipe into whites (you can also just spoon it in).  Pipe or spoon 1 heaping teaspoonful of the yolk mixture into the cavity of each egg-white half, mounding it slightly.  Arrange the filled eggs on a plate and sprinkle with paprika and remaining minced chives.
Serve immediately, or cover and refrigerate for up to 6 hours.
Serves 20-30.  (Can easily be doubled.)
***
I did try one… and they weren't bad for deviled eggs.  I do love mac and cheese… that one is coming tomorrow! 😉
Is there a "traditional" food from your region/culture that you don't care for?
What one dish did/would you HAVE to have at your wedding or wedding shower?