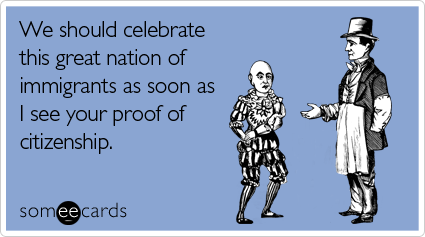 This weekend is going to be already hella awesome.
Last night I tried a new restaurant – Escorpian – before going to see Florence and the Machine.
My chicken con red mole and grapefruit was tasty (aside from an incredibly salty side salad). I really liked how the tart grapefruit played with the heat of the red mole.
The stars of this meal were the beverages.  Escorpian's mixologist has put together a creative, fresh bar menu. I can't wait to go back and try more!
The El Chamuco consists of blanco tequila, ginger, blackberries, lime, creme de cassis, and sage.
I did NOT try my friend's appetizer: octopus ceviche (she claims it was fantastic).
Would you have eaten that?!
Florence and the Machine put on an amazing show.  Florence's voice is massive.  Her tiny self filled the room and had us mesmerized for close to 3 hours.
---
Today I am headed to the lake with a couple of treats to share on the boat.
In honor of the 4th of July (and my love of hummus), I decided to turn grilled corn on the cob into hummus.  Who doesn't like a little smoky-sweetness to their hummus?
Since my building doesn't allow grills I had to cheat a bit.
I bought the grilled corn from the counter at Whole Foods.  It was advertised as being cilantro-lime grilled corn… but it really didn't have much flavor.
After I turned it into hummus it didn't suffer from a lack of flavor!  This will knock your socks off.
The chipotles are especially good with the sweetness of the corn.  Add the chipotles and adobo sauce one at a time to adjust the spice-level to your taste (you guys know how I am with the heat!).
---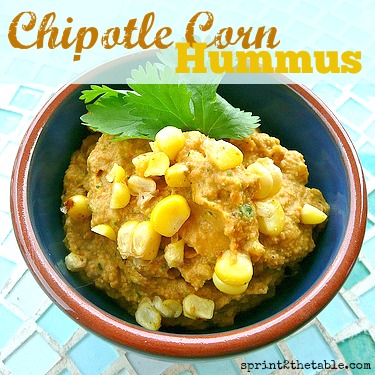 Chipotle Corn Hummus
2 ears of grilled corn
1 C chickpeas
2-3 T adobo sauce
3 chipotle peppers
1 serrano pepper
Juice of 1/2 large lime
1T tahini
2 green onions
1/3 C cilantro
2 cloves garlic
1 tsp cumin
1/2 tsp cayenne
S+P, to taste
Put it all in a blender and mix until smooth.  You may need to scrape down the sides periodically or add a bit of liquid (water or olive oil) if it isn't mixing well.
Serve with your favorite chips, celery, carrots, or other fun veggie sides.
***
I'm looking forward to running Atlanta's massive Peachtree Road Race (the largest 10K in the world!) Monday with 60,000+ of my closest friends. 🙂
Is anyone else running a race?
What are your big plans for fireworks this weekend?