Dry is the new fry.
I had never even HEARD of such a thing until a recent dinner out at The Lawrence.  One bite of their Salt & Pepper Tofu and I knew it must be mine.
Dry fried tofu is an interesting dish.  You pan fry pressed tofu without any oil, leaving it more dense and pleasantly crisp.  It's almost creates a tofu version of  fried chicken – though much less greasy.  The trick is to cook it slowly to remove the water from the tofu without burning it.  The dried tofu soaks up marinades more effectively, making it incredibly flavorful.
Faux fried rice was almost an after thought to this one.  I was concocting my tofu recipe and eyed a box of Kamut® Khorasan Wheat I received to sample.
Asian dishes need fried rice… this isn't exactly rice, but it worked.  I think it is better because I do not like especially like rice, and thanks to this box I discovered that I DO like Kamut.
Kamut has crazy-high amount of nutrients vs. other wheats, and has selenium, fiber, and… drumroll please… a good amount of protein (7g per serving)!  Kamut sent me flour, pasta, and berries.  The Kamut Berries* (sold under the Bob's Mill Label) are what I used here.  It was my first time cooking them myself and I was quite pleased.  The package suggests soaking them over night, but I ignored that little detail and they turned out just fine.  Wheat berries have long been my favorite carb on the hot bar at Whole Paycheck Foods, and these Kamut berries are very similar.  They are fairly large in size (think large pearl couscous), chewy, nutty, and a little on the sweet side.
*Yes, I received this for free.  No, it didn't affect my opinion… I had a hard time keeping my mouth shut if I don't like something. 😉
After it as all dried and fried, I marinated my tofu in rice vinegar before coating it in a mixture of rice flour, pepper, and Chinese 5-Spice.  5-Spice is an awesome blend of  fennel, cloves, Szechuan peppercorn, star anise, and cinnamon – encompassing the five primary flavors of Chinese cuisine (sweet, sour, pungent, bitter, and salty).
That peppery goodness with the ginger and sweet red pepper-laced "fried rice" was so good made me wonder how I ever ate Chinese take-out.
________________________________________________________________________________________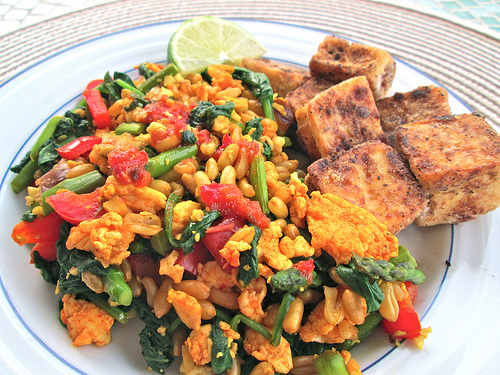 Chinese Pepper Tofu + Faux Fried Rice
For the Tofu:
5 oz tofu, pressed and patted dry
Rice vinegar
2 T brown rice flour
1 tsp corn starch
1/2 tsp black pepper
1/4 tsp Chinese 5-spice
Oil
Cut pressed tofu into cubes or triangles, about 1 inch thick.  Place tofu in a non-stick pan over low-medium heat (my electric stove top was on 4), leaving room between pieces.  Slow cooking important so that tofu doesn't stick or burn before the water has time to evaporate out.  Do NOT use oil – you are trying to leech all of the moisture.
As the tofu cooks, use a spatula to frequently press down on each piece.  Once the bottom sides are firm and golden in color, flip the tofu pieces and fry the other side, again pressing each piece.  They are done when they are golden and firm on both sides.
Place tofu in just enough rice wine vinegar to submerge and stir.  Marinate 10-15 mins.
Meanwhile, mix together remaining ingredients in a small bowl.
Lightly coat tofu in the flour mix.  Lightly spray pieces with oil (I have a can of EVOO from Trader Joe's) and place in pan over medium heat.  Cook until outside are once again golden, turning once.  Note: If you don't have spray oil, just place a small amount of oil in the bottom of your pan.
For the Faux Fried Rice:
1serving (~1/2 C) Kamut (or other grain), pre-cooked
Olive oil
1 clove garlic, minced
1-in piece fresh ginger, minced
Red pepper
Green onion
Shiitake mushroom
Spinach
Egg whites (leave out to make vegan)
1/8 tsp turmeric
Lime wedge
Heat a small amount of olive oil In a wok or skillet, and sauté garlic and ginger.
Add the other veggies (except spinach) and sauté until just softening.  
Add your grain and spinach, stirring to mix it with the other veggies.  When spinach is slightly wilted, add the egg (if using) and turmeric.  Cook until egg is done, ~5 mins.
Plate with your tofu and a twist of lime.
Enjoy!
***
This is a little more time-consuming than my bakedChili Nutty Tofu, but totally worth it!
Have you ever dry fried tofu?
What is your favorite dish at Asian restaurants?