Three days ago it was 70 degrees.
Yesterday morning I braved the airport amidst snow flurries.  Ok, ok, it was more like slightly freezing drizzle.  I hope this doesn't mean we have a crazy, ice-filled winter!
Today I'm lucky because not only is it my favorite What I Ate Wednesday: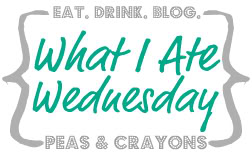 It's also Spicie's Foodie's November Your Best Recipe reveal!  Click here to check out my Red Wine Cake Balls and everyone else's best dish of the month on her blog.
On to the eats!
_____________________________________________________________________________________
Pre-Flight Breakfast:
I love to make muffins, but never am able to eat a dozen alone while they are fresh.  My solution is the freezer.  You can always bet I have 3-4 muffins varieties just 30 seconds away from being breakfast-ready.  Perfect for those of us who aren't morning people.
My pre-flight rush breakfast involved these Pumpkin-Zucchini Muffins (low sugar!) and my recently concocted Cinnamon Cacao Nut Butter.
Scarfed down in the car to fuel a morning jaunt through Concourse A. 🙂
The beverage portion of my breakfast happened in the airport – my traditional Starbucks coffee treat and some water.  Flying dries me out!
Lunch:
Having landed wayyyy before our meeting was to begin, my boss and I stopped in a Starbucks (this time I had an unpictured Orange Blossom tea) to get some work done… followed by a surprisingly delicious lunch near our destination.
Bocci is a new Italian spot in Clayton, MO (a suburb of St. Louis).  Their northern Italian-style soups hit the spot after walking through some serious cold St. Louis wind!
I ordered the Aquacotta – a tomato soup with mushrooms, onions, basil… and a poached egg!  Italian egg drop soup?!  I broke the egg and the yolk ran out, adding a wonderful creaminess to the brothy tomato.  With copious amounts of Bocci's crack foccacia-like bread sticks dipped in olive oil, balsamic, and parm.
Moment of Boss Appreciation: You'll notice I got a pic.  My boss didn't even flinch when I whipped out the camera to go paparazzi on my food.  My job satisfaction went through the roof today.
Dinner:
I made my first chili!  It is a vegan tempeh chili… with 2 "secret" ingredients.  I could have made it hotter, but that's nothing a little Sriracha didn't fix!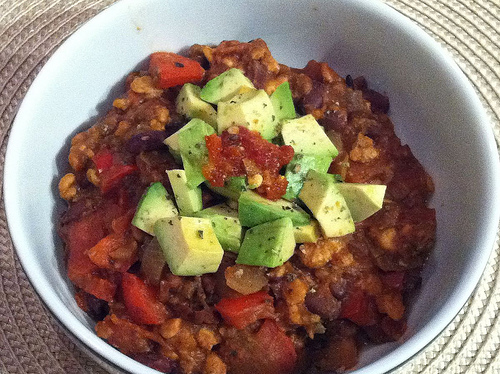 Short on time so the recipe will come tomorrow!
Snacks:
We landed right at dinner time, but I wanted to get a workout in.  I downed a Sweet Tango Apple to tide me over until chili-time.  Sarah introduced me to this variety – if you ever see one grab it immediately!  Of course I had my pretzels on the plane too.
I also had a late-night protein shake for dessert:
Strawberry-Banana Shake
1 C spinach
1/2 banana
1 Strawberry EAS
1 tsp ground flax
1/2 tsp vanilla
1/2 tsp cinnamon
Ice
***
Check out Peas and Crayons to see how everyone else celebrated Hump Day on Jenn's What I Ate Wednesday.
Did you get any snow?
What is the best thing you've eaten post-Turkey Day? (P.S. Quit eating leftovers!  6 day post-meal that meal is growing bacteria!)