It took several days, but we located Chilean food.
As I said in my first recap post, there doesn't seem to be a lot of Chilean food in Chile.
Determined food-lovers, my travel mates and I did mange to find some more "authentic" eats after making our way to the Chilean coastal towns of Valparaiso and Vina del Mar.
For What I Ate Wednesday this week, I am jumping ahead in our travel story to share some tasty Chilean treats with you.  The highlight was an amazing cooking class with the fabulous Boris.  This may not be true snacking, but I eat more snacks than meals when traveling so I can try EVERYTHING.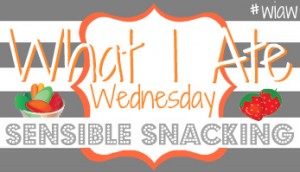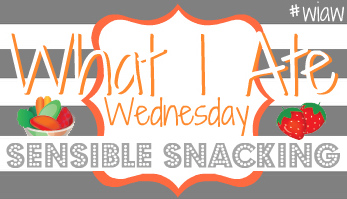 Check out my Chilean eats below; then click here to hop on to Jenn @ Peas and Crayons to see what the rest of the blog world else ate Wednesday!
---
Breakfast:
We stayed at a lovely bed and breakfast in a neighborhood that was right in between Valpo and Vina.  It was built in 1934, and has since been restored to a fabulous accommodation.  Doesn't this looks like a Crate & Barrel magazine? 
Casa Olga provided us breakfast each morning.  We were served strawberry yogurt, pears, passion fruit, bananas, kiwi, cereal, toast, jam, ham and cheese (I passed on this – too much for breakfast!), coffee, and – best of all – freshly squeezed orange juice.
Here is the view we enjoyed every morning:
Their dog, Shay, wanted a seat at the table too!
Funny side note: when I asked for water at breakfast, they asked if I drank too much… they are not accustomed to drinking water in Chile!
Lunch:
This is the experience I have been most excited to share with you guys!
Katherine had to leave early, so Julia and I kept ourselves entertained by taking a Chilean cooking class.  The company, Chilean Cuisine, offers hands-on cooking classes in Valparaiso.  Our charismatic Chilean instructor, Boris, took us to the kitchen to choose the menu before escorting us to the local market to purchase the ingredients.
Much to my surprise, Boris had found my blog via my email signature and read up on it in advance!  He even read the "About Me" section and learned that I do NOT like white potatoes.
Boris lead us through a cookbook to help us choose the menu.  We decided on making cheese empanadas, Chilean pebre (salsa), hake fish terrine with avocado carpaccio, pumpkin and cranberry bean stew… and green chili and basil pisco sours. 🙂
First up, the market.  In the rain.  I don't take public transportation often (Atlanta isn't conducive to that)… and I especially don't take it in the rain.  However, Boris kept us so entertained and energized that I hardly minded!  He also hung our wet jackets and shoes by the fire place to dry while we cooked – thank you, Boris!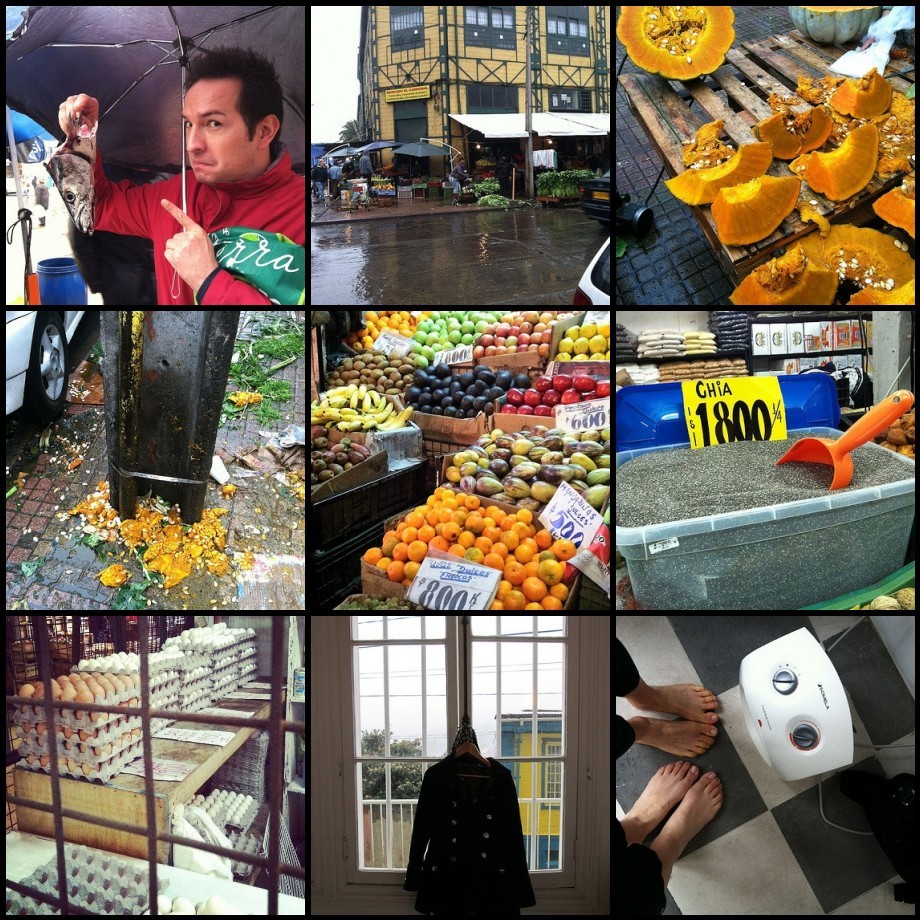 Left to right, clockwise: Boris with a fish head, the market, Calabaza pumpkin, Calabaza trash (it was everywhere!),  fruit stand, a massive bucket of CHIA, eggs for sale, drying my jacket, and thawing our feet
Back at the kitchen, we began to prepare the meal feast.
A few fun highlights:
See my socks in the first pic?  Those were borrowed from the owner, Martin, because our shoes were soaked and it was too cold to cook barefoot.  Thank you again, Martin!
I love empanadas.  I cannot wait to try some fun combos here at home, and to try them baked.  Boris wasn't amused when I started adding ingredients to the cheese… but the chilis and some cumin were really good additions!
We used a lot of merkén.  Merkén is a unique spice blend native to Chile consisting of dried and smoked red chilies (ají cacho de cabra or goat's horn), toasted coriander seeds, cumin and salt.  I loved it and brought home a couple of bags!
The fish terrine was cooked like a poor man's sous vide.  We wrapped the fish mixture (fish, onions, bread crumbs, egg, spices) in plastic wrap and placed it in simmering water for ~10 minutes.  Very cool method – I can't wait to try it with other items.
I was in charge of seasoning the stew.  You all know how I love heat… I added so much merkén that is made Boris tear up… I thought it was perfecto. 🙂
Boris surprised me with beets – he saw me admiring them at the market and snuck them into our bag.  They were wonderful simply boiled with olive oil and salt.
We took a ton of this food to-go to share with our Navy officer-friends.  We were told it was a nice break from ship food. 🙂
Clockwise, Left to Right: Boris (a classically trained dancer) teaching us a dance while shaking chili-basil piscos, raising a glass to surviving the dance, Julia rolling out empanada dough, empanada pre-fry, frying empanadas, the final product (plus some sopapillas), eating our delicious empanada (topped with salsa), fish terrine (pre-slicing), terrines and avocado salad, salsa and beets, pumpkin bean stew (one of the most delicious things I ate on this trip), taking a bite, mas vino, Boris with dessert, dessert – lucuma ice cream with meringue.
Dinner:
I lied.  The Chilean food ends here.  For dinner we met up with the Navy boys for a final farewell.  Dinner was at an Italian Place called Pasta e Vino.  This was the #1 spot recommended to us – by travelers and Chileans alike!
It was quite good!  Those Chileans know their Italian food.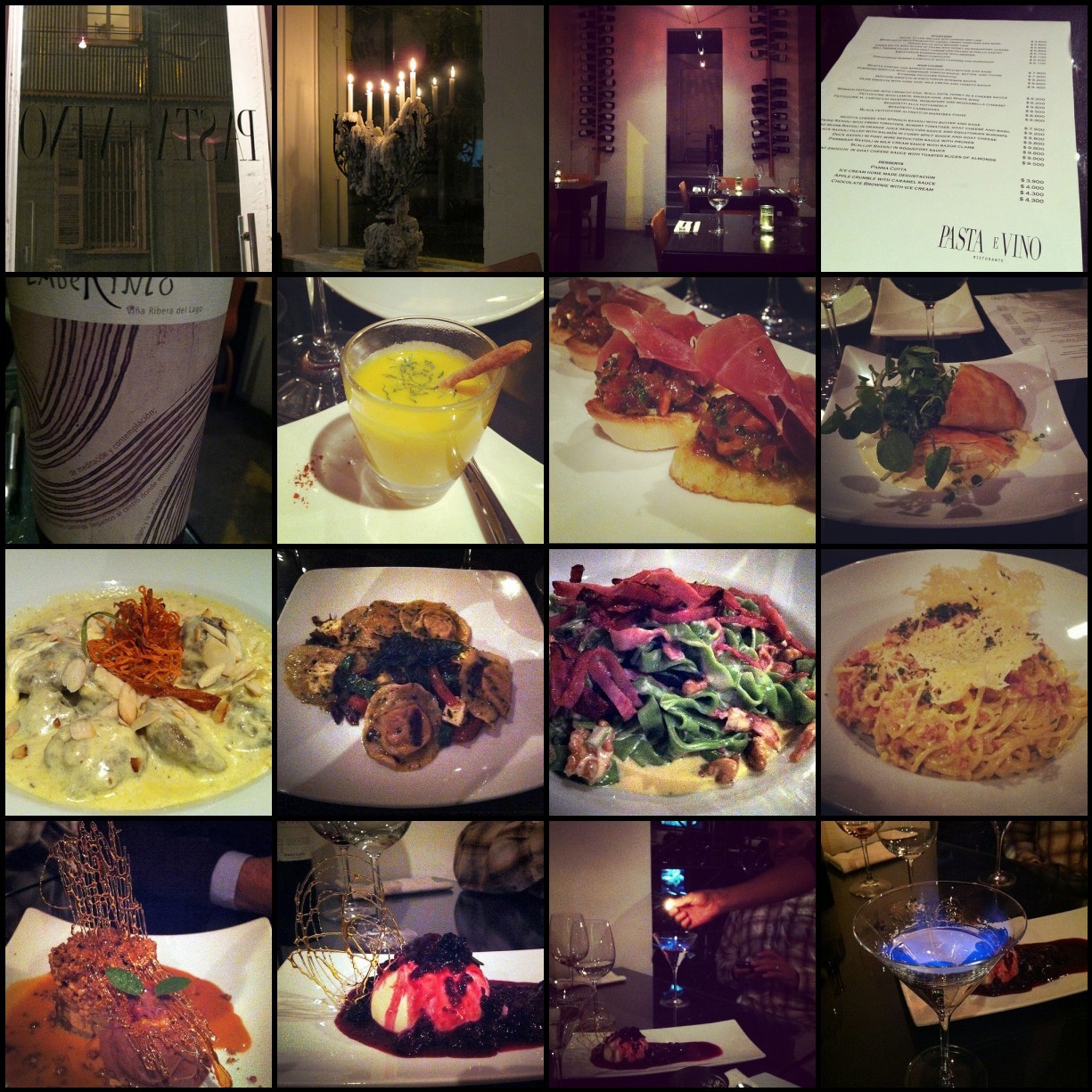 Clockwise, Left to Right: Restaurant window, beautiful candle in the window, the dining room, menu, wine of the evening – a big 2007 Chilean red blend, amuse – pumpkin soup, bruschetta topped with prosciutto, bell pepper filled with goat cheese and prawn and wrapped in phyllo, my entrée: the eggplant gnocchi in goat cheese sauce with toasted almonds, Captain's entrée: pumpkin ravioli with sun-dried tomatoes and goat cheese (my favorite of the night), Julia's entrée: spinach fettuccine with ham and walnut (spelled "wall nut" on the English menu) in a cheese sauce, XO's entrée: fettuccine with ham in a white wine-lemon sauce with parmesan crisps, apple crumble with chocolate ice cream and caramel, panna cotta topped with a berry compote, sambuca en fuego x2.
Snacks:
Like I said, we basically snacked our way through the entire trip.  My favorites?
***
Are you beginning to understand why I had to do a juice cleanse when we returned? 🙂  One more recap to go – the tour of the US Navy ship!!!
Have you ever taken a cooking class in another country?
Do you prefer to stay at hotels or bed & breakfasts when you travel?