Nuggets of gold, I tell you.
Who needs Chick-fil-a?!  These tasty vegan treats all the flavor and finger food deliciousness of the fast food treat, but without the MSG, high fructose corn syrup, ammonium sulfate, yellow 5, blue 1, etc.  (I only wish I were kidding about that ingredient list.)
Maybe they missed the memo:
Isn't this awesome? I ordered this tee from Callie @ Rawxy. Her cookies are good too, IMHO. 😉
Growing up I thought my mom was so mean because we were rarely allowed to stop for fast food.  I wanted a toy with dinner!  Looking back I am grateful – to this day I have never eaten a fast food hamburger!
However, I did enjoy the occasional chicken nugget from a certain Southern chain.  Today I wouldn't dream of buying them, especially when there are clean alternatives like these:
My chick-less nuggets are TVP-based and are vegetarian/vegan.
After a quick pulse in the blender, mix in some chickpea flour and an egg (a flax egg works here) to bind them.  This creates a nugget-like texture that… well… tastes like chicken.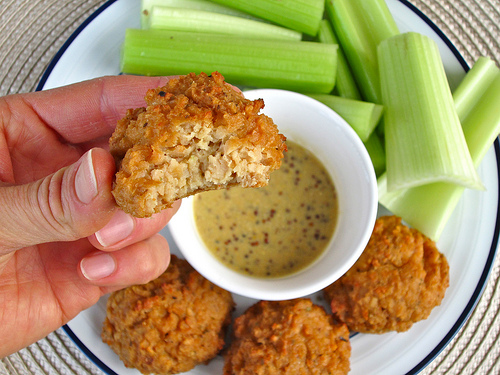 You can make the bites any flavor you'd like, but I went for the classic blend of paprika, red pepper, onion, and garlic.  Lay off the red pepper and these would be ideal for kid meals!  Sorry, toy not included.
Dunked in a healthy, quick sweet 'n spicy mustard sauce, you'd almost swear these were from a drive-thru… a thought you'll quickly push aside because these clean bites are better.
---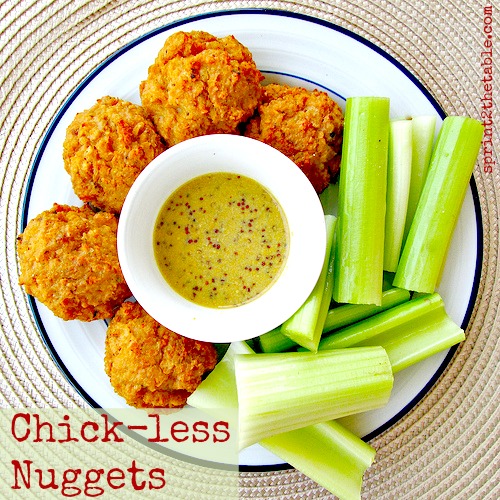 Chick-less Nuggets
1 C water
1 no-meat chicken bullion cube
2 T chickpea flour
1 egg (flax egg or the "real" thing)
1 tsp spice blend (I used a mix of paprika, red pepper, onion, garlic)
Preheat oven to 500 degrees, or 475 convection.
Heat water in medium bowl and stir in bouillon until dissolved.  Add TVP, stir, and allow to stand for 5 mins.
Pulse soaked TVP in food processor; you want larger pieces broken up, but not a puree.  Add egg and flour and mix well.  Season with your favorite spice blend.
Form "nuggets" with the TVP mix (heaping 2T per nugget).  Drop balls onto a parchment-lined baking sheet.
Place in oven and bake for 10 mins, until golden.  Flip nuggets and bake for an additional 5 mins.  Allow to cool slightly before serving.
Makes 10 nuggets.
Note: Use a flax egg to make vegan.
Approx Nutritionals (per nugget): 47 calories, 0.8g fat, 20.7g sodium, 3.7g carbohydrates, 1.7g fiber, 1.4g sugar, 5.8g protein
Sweet and Spicy Mustard Sauce
1 T nutritional yeast
1 tsp mustard
2 T water
2 drops lemon liquid stevia (or sweetener or choice)
Tabasco sauce, to taste
Mix together and dip away!
***
I added a mini "about" section to my side bar with a pic, but am unsure about it… too much?
Do/did you ever like fast food?
What is your favorite dipping sauce?