Chickpeas are the base of this colorful summer salad, which is packed with seasonal flavor.  Serve this simple Cherry-Balsamic Chickpea Salad as a delicious vegetarian side or light meal.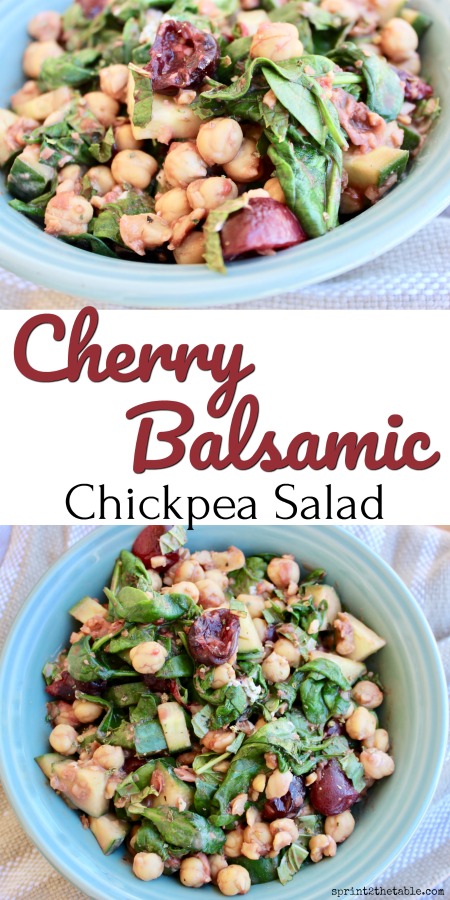 Some of you may recall that back in the early days of this blog, I was (mostly) vegetarian.  *insert look of shock*   This is one of the recipes I used to make quite often back in those days.  It was originally published June 30, 2011, but I've reworked it and taken new pictures for this post.
While I was eating a plant-based diet, the most common question I received was about protein.  As someone who was (and still is) passionate about fitness, and specifically into lifting weights, protein intake is something I'm incredibly conscious of.  I mean… I just wrote a post about how much protein you need post-workout.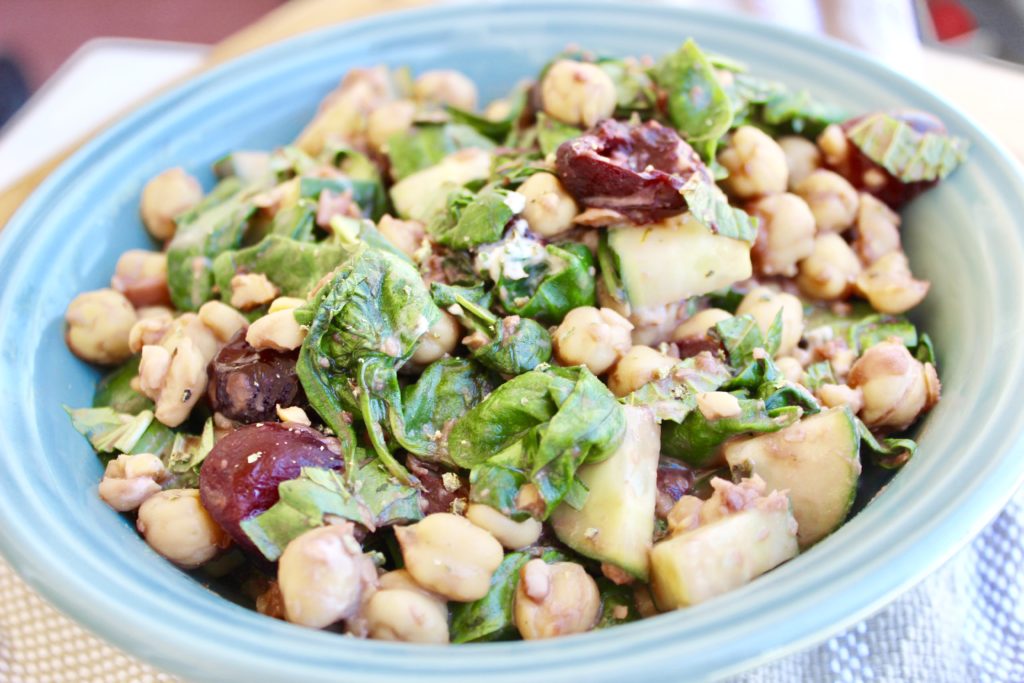 Vegetarian proteins aren't hard to find these days.  My favorites include:
Beans/legumes
Tofu/tempeh
Dairy (Greek yogurt and cottage cheese)
Protein powder
Eggs
One of my go-to sources of protein – vegetarian or not – is the main ingredient in my favorite dip.  BUT chickpeas are good for more than just hummus.  They make a great base for a salad.  Their protein content adds some stay-power to a salad, plus they add texture.  Chickpeas also taste good with just about any flavor combo.  It's like the vegetarian chicken!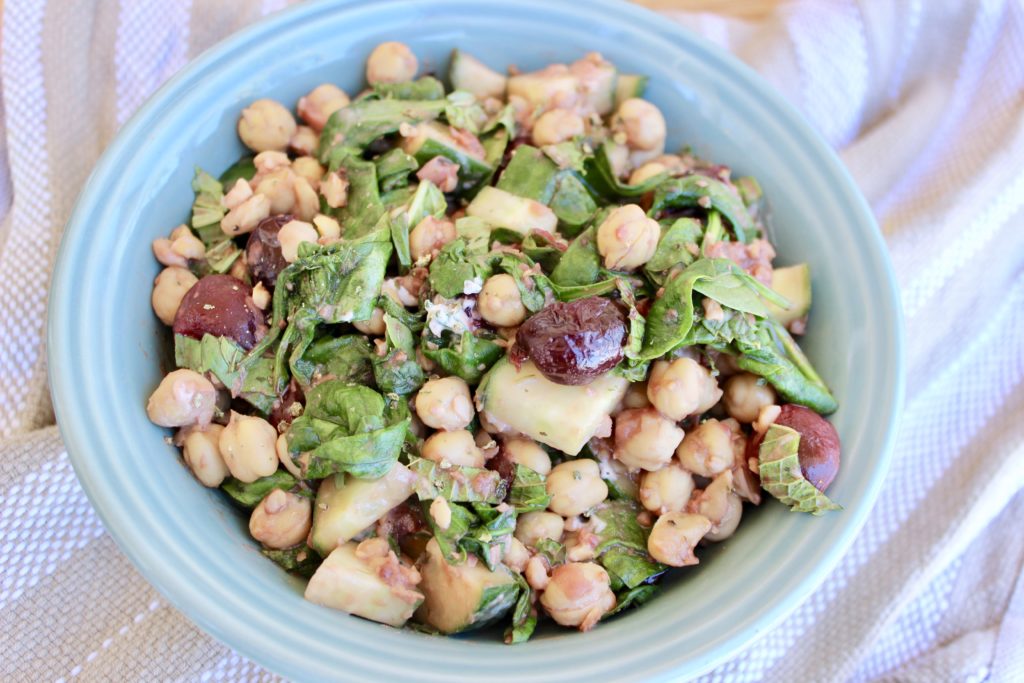 In true #strangebutgood fashion, I created this salad with some unusual flavor pairings – cherries, balsamic, mint, and basil.
Good-quality balsamic vinegar has a tart-yet-rich flavor that makes it a perfect mate to just about any fruit.  In this recipe, a quick simmer in balsamic enhances the sweetness of the cherries, and creates a deliciously syrupy sauce for the salad.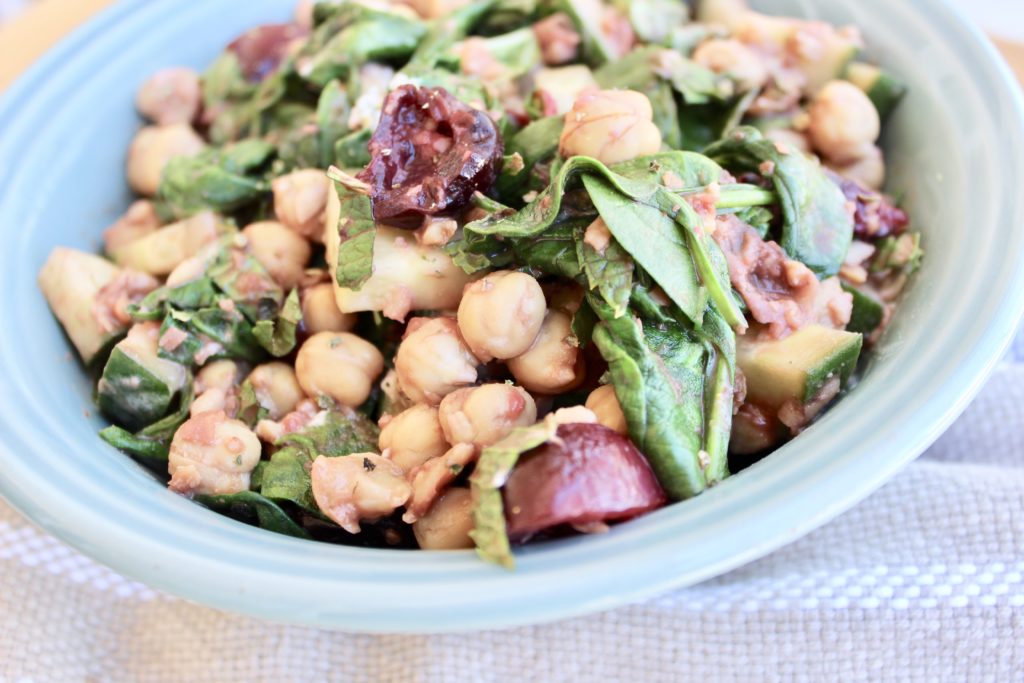 Toss your cherries and chickpeas with some fresh herbs and creamy goat cheese, and this salad will be the most decadent 10 minute lunch you'll ever make.  At least, it's the most decadent 10 minute lunch I've ever made.
This is also easily customizable.  If you don't have cherries, try it with strawberries or peaches.  Want to bulk it up for dinner?  Make extra of the balsamic-glazed berries to use as a glaze for pork tenderloin.  Leave out the cheese to make it vegan.  The possibilities are endless!
---
Cherry Balsamic Chickpea Salad
2-4SERVINGS
adjust servings
Ingredients
1

C cherries, pitted and halved

2

T balsamic vinegar

1

can (15 oz) chickpeas

2

C spinach

1

C cucumber, chopped

Juice of a lime

2

oz goat cheese

1/4

C mint, chiffonade

1/4

C basil, chiffonade

Salt and pepper, to taste
Instructions
Place cherries in a pan over medium heat. Once warmed, add the balsamic. Allow to cook until balsamic forms a reduction and the cherry halves soften (~7-8 mins).
Meanwhile, place the chickpeas in a bowl and give them a rough mash – just enough so that about half the peas are smashed. Mix in the cucumber and lime juice.
Remove the cherries from heat and toss with spinach. (I did this directly in the pan, allowing the heat to wilt the spinach.) Set aside, allowing to cool slightly.
Add the cherry mixture to the chickpeas, tossing with the herbs and seasoning with salt and pepper, to taste.
Top with crumbled goat cheese (I used Purple Haze, a Cypress Grove Chevre laced with lavender and fennel pollen).
Joining Deborah and Sarah for the Meatless Monday link up!
***
I should make extra to prepare for my knee for surgery Friday.  It's not that I don't trust Vegas to feed me, but… 😉
What's your favorite meatless protein source?
Are you a fruit + balsamic fan?