Those who eat a (mostly) plant-based diet are often asked about protein.
Those who eat a Whole Foods-based diet are no strangers to $100+ weekly grocery bills.
As someone who is into lifting weights, I am especially conscious of how much protein I get on a daily basis (click here for more).   While I DO eat meat when I'm dining out, I rarely prepare it at home.
My main sources of protein include:
Beans/legumes
Tofu/tempeh
Nuts
Dairy (Greek yogurt and cottage cheese)
Eggs
Protein powder
So how much bang for my whole paycheck buck am I getting at the grocery store?  And how many calories is that going to ring up?
A recent article on FitSugar answered both questions for me!  They looked at how to most efficiently get ~5 of protein from some common protein sources.  Several were really surprising!
The Highlights:
Least expensive, most calorie-efficient: Chicken ($0.37 for 28 calories)
Least expensive, vegetarian-friendy: Peanut butter; however, it's also the most caloric ($0.19 for 125 calories)

Least expensive, vegetarian-friendy, lowest calorie: Cottage cheese ($0.28 for 31 calories)
Most expensive, highest-calorie: Quinoa ($1.45 for 130 calories)
Click here to check out the full article.
_______________________________________________________________________________
One of my favorite sources of protein is chickpeas.  Surprisingly, they weren't specifically called out in the article (hummus was listed – $0.84 for 105 calories).
I do love hummus, but chickpeas are also a great salad base.  They add bulk (protein + calories), texture, and taste good with just about anything you can think of to put on your salad – like fruit!
I'm sure everyone has gotten the memo by now – it's cherry season!  If you happened to read my blog last Wednesday, you learned some of their benefits… and saw them appear in my oatmeal (predictable, I know).
We all know cherries make a great smoothie, muffin, or cobbler… did you know they also make a great addition to a chickpea salad?  Especially with a quick simmer in some balsamic.
Good-quality balsamic vinegar has a tart yet rich, fruity flavor that makes it a perfect mate to just about any fruit.
Here, a quick simmer in balsamic enhances the sweetness of the cherries, and creates a deliciously syrupy sauce for your salad.
Toss your cherries and chicks with some fresh herbs and creamy cheese and this salad will be the most decadent 10 minute lunch you'll ever taste.
No cherries?  Try this with strawberries or blackberries.  Prefer meat?  Serve balsamic-glazed berries over a pork tenderloin.
________________________________________________________________________________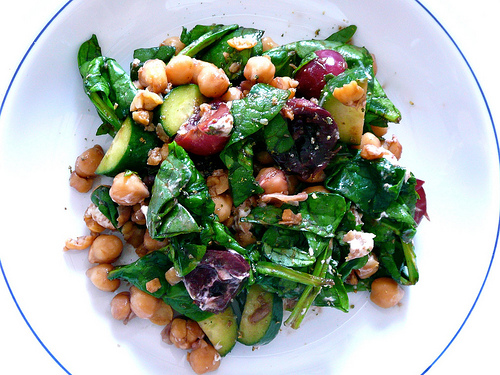 Cherry-Balsamic Chickpea Salad
1/3 C sweet cherries
1 T balsamic vinegar
1 C chickpeas
1.5 C spinach
1/2 C cucumber, chopped
Juice of 1/4 large lime
1/2 oz goat cheese
Mint chiffonade
Basil chiffonade
S+P, to taste
Slice cherries in half and pit.  Place them in a small pan on med heat.  Once warmed, drizzle with the balsamic.  Allow to cook until balsamic forms a reduction and the cherry halves soften (~7-8 mins).  Remove from heat.
Toss the still-hot cherry mix with spinach.  (I did this directly in the pan, allowing the heat to slightly wilt the spinach.)  Set aside, allowing to cool.
Place the chickpeas in a bowl and give them a rough mash – just enough so that half the peas are smashed.  Mix in the cucumber and lime juice.
Add the cherry-spinach mixture to the chickpeas, tossing with the herbs and seasoning with salt and pepper to taste.  Top with crumbled goat cheese (I used Purple Haze, a Cypress Grove Chevre laced with lavender and fennel pollen).
Makes 1 main salad or 2 sides.
***
Thank you to everyone for the comments on this past weekend's race!  Seeing those comments come through all day made Monday much more bearable. 🙂
What's your favorite protein source?
Did any of the cost per breakdowns surprise you?