A couple of weeks ago I was lucky enough to be contacted by Lightlife for an interview opportunity with Chef Cindi Avila.
Cindi's focus is on vegan and vegetarian cooking.  Recently she has been in the kitchen with Lightlife  creating new, seasonal recipes using Lightlife's line of meat alternatives
From her bio:
…Avila graduated from the Chef's Training Program at the prestigious Natural Gourmet Institute in New York City… where she learned about cooking meat-free food and took classes on nutrition. She has starred in the Food Network series "Chopped," been filmed cooking for "The Real Housewives of NYC," and won TLC's cooking competition reality show "Dinner Takes All." She has also taped several episodes of her self-produced show, "Green Goddess" and her recipes have been featured in The New Greengrocer Cookbook. 
Here is my Q&A with Cindi:
1. How did you come to adopt a vegetarian diet?
"When I was 15 I had to pick a charity for a class project. I picked PETA.  Once I saw pictures of how animals were treated on factory farms I gave up eating all beef.  After that I slowly gave up all meat and seafood."

2. What drove you to culinary?
"I was anchoring and reporting news for years.  Then one day I saw a listing for a dinner competition on TLC.  I loved cooking vegetarian food and had lots of TV experience, so I figured I'd give it a shot.  I ended up winning the show against four carnivores.  After that I decided to go to culinary school and combine cooking with my TV profession."

3. What are your thoughts on the recent "trend" toward vegetarian and veganism?
"I am thrilled more and more people are trying out a vegetarian or vegan diet, even if it's just one day a week. The Meatless Mondays trend has helped a lot of people try out a meat-free diet once a week and realize that it's so great and easy to incorporate every day of the week!"

4. Many people with plant-based diets don't like to eat meat alternatives.  What would you say to them?
"Try it, you'll like it.  Meat alternatives make eating meat-free so easy because the possibilities are endless when you incorporate them into your diet. They don't have to be the center of attention on your plate either if you are just trying them out for the first time. For example, you could add a slice of Smart Bacon® to your grilled cheese or tempeh on top of your tomato soup to add protein to both dishes."
5. Have the judges on reality shows been surprised at how delicious vegetarian meals can be?
"In one word, YES.  Even well respected Chefs misjudge vegetarian food as a bunch of flavorless vegetables.  People are always blown away when they realize how tasty my food is, and they tell me they don't miss the meat at all. That's always a great compliment!"

6. I think people are often hesitant to try new products because they simply don't know how to prepare them.  What Lightlife product is a good starting point, and how would you suggest serving it?
"I love using the Smart Bacon®, it's so easy to cook and extremely versatile.  All you have to do is take any recipe where you'd use traditional bacon and instead use Lightlife's Smart Bacon®. I make a great carbonara where you can't even tell the difference."

7. As you think about recipe development and new ways to use Lightlife products, what is your process?  Do you spend time brainstorming or jump in the kitchen and create?
"I just jump in the kitchen and start creating!  I usually try to take a dish that I've seen using meat and I make it meat-free using Lightlife.  I encourage everyone to do the same thing.  Just take your favorite meat dish, find out what Lightlife product works best with it, and then cook away! Take my breakfast sandwich for example – an everyday staple that everyone loves can be easily redone with a vegan twist.  I just use Lightlife's Gimme Lean® Sausage and Smart Deli® Ham with vegan cheese and no eggs."
8. How many times do you test a recipe before you settle on a "winning" version?
"I honestly usually just test a dish once.  I have a knack for thinking up a recipe on the fly.  It works 99% of the time."

9. What is your favorite Lightlife product to work with?
"I love so many.  The Smart Dogs are great for parties because I can whip up a quick Smart Dog in a blanket."  The Smart Sausage is so easy to throw in so many different pastas, etc.  It's just hard to choose one."

10. Do you think you could win a competition like "Chopped" using a meat alternative while everyone else is using the "real" thing?
"I would love for a reality competition to give me a shot using a meat alternative.  It would level the playing field and let my food rise to the top."

11. If you were to prepare a meal for a "die-hard" meat eater using Lightlife products, what would it be and why?
"I usually prepare my lemon caper cutlets for die-hard meat eaters who haven't eaten Lightlife before.  Everyone loves chicken piccata and you really can't tell the difference when you use the Smart Cutlets®."

12. Do you have any advice for people aspiring to develop their own recipes?
"My advice is always to just try to duplicate your favorite dishes.  You'd be surprised at how easy it actually is to cook when you just use ingredients you love.  People are usually scared to try, but once you get started in the kitchen you'll find out it's actually not that intimidating."
Thanks, Chef Cindi!
_____________________________________________________________________________________ 
Cindi inspired me to develop a recipe of my own using Lightlife's Smart Strips Chick'n.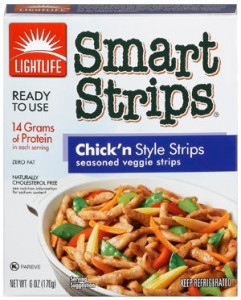 Winter has me craving Italian dishes.  Like risotto.  I'm not a big rice fan, but I do always have grains in my pantry.  This "risotto" creation uses barley – which worked surprisingly well!
My recent trip to Italy (and the copious amounts of wine-based risottos) inspired the use of wine in this dish.  I was gifted a half-empty (half-full?) bottle of Chilean Chardonnay that I'll never drink… perfect for use in cooking!
Roasted veggies added a great crunch which contrasted fantastically with the creaminess of the Pecorino-laced barley.  The chicken took on the wine flavor quite well, and added a punch of protein.  You know I love that!
_____________________________________________________________________________________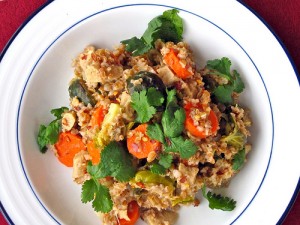 Barley Risotto with Winter Veggies and Chick'n
2 tsp extra virgin olive oil
1 tsp white wine vinegar
2 C brussel sprouts, halved
2 large carrots
1/2 C diced onion, diced
2 cloves garlic, minced
3 C cooked barley
1 package Lightlife Smart Strips Chick'n
1/3 C dry white wine (I used Chardonnay)
1 C vegetable stock (I used low sodium)
1 tsp dried oregano
1/2 tsp red pepper flakes
1/4 C shredded Pecorino cheese*
S & P, to taste
Garnish with cilantro (optional)
To pre-cook barley, bring 1 C raw barely to a boil in 3/4 C water and 1/4 C white wine (not included in above recipe).  Reduce to simmer, cover, and allow to simmer for 12-15 mins.  "Fluff" with a fork and set aside.  This can be done a day or so in advance and stored in the refrigerator.
Pre-heat oven to 350.
Coat brussels and whole carrots in 1 tsp olive oil, vinegar, salt, and pepper.  Cook in oven for 40 mins, tossing half way through.
Meanwhile, saute onions in large pot with remaining 1 tsp of olive oil until almost translucent (~5-6 mins).  Add minced garlic and cook, stirring until fragrant (~1-2 mins).  
Add barley and stir to combine.  Add the wine and stock, followed by the chick'n and veggies.  Cook, stirring often, until the grains coasted and the sauce is reduced.  
Stir in seasonings, then taste and adjust salt and pepper.  Add the cheese, stirring until mixture is creamy (like risotto).
Makes 5 servings (1 C each).
*Note: substitute vegan mozzarella cheese for the Pecorino to make this dish vegan.
***
Maybe Lightlife will hire me now! 🙂
Do you use Lightlife or other meat substitute products?
If you are vegetarian/vegan, what traditional meat dish would you most like to see re-created?  Or what have you re-created well?