Confession:
I haven't run at all this week because I pulled something in my calf area (still not sure how).
It is what it is… but now I'm about to walk out the door for a 5K.  I probably should still be taking it easy, I know.  However I'm all registered and I reallllly want to run after a week off.  Bring on the KT Tape and call me a glutton for punishment.
*Disclaimer: I don't think it's a serious injury.  I'm just going to prolong the healing process if anything.  I don't advocate being as stubborn as I am being right now.*
_____________________________________________________________________________________
Less controversial is the topic of peanut flour.  Particularly how fantastic it is.  I should have bought the 5lb bag.
In peanut sauce-form atop cottage cheese:
In the mix:
1/2 C cottage cheese
1/4 C raspberries
1 T peanut flour, mixed with…
1 T unsweetened almond milk
All that salty and little sweetness… it was like PBJ cottage cheese!
There was also a pea-nutty afternoon snack:
 Spicy Peanut Dip
1 T peanut flour
1 T unsweetened almond milk
1/4 tsp Sriracha garlic sauce
1/4 tsp ginger
1/4 tsp cumin
pinch of salt
Veggie sticks will never eaten the same way.
Now that you know I like peanut flour in with sweet, salty, and spicy twists…
_____________________________________________________________________________________
Here's even more than you ever wanted to know about me (borrowed from Gina @ Choosing Raw).
The ABC's of Me… the raw foodie's version (yes, I'm fully aware that I am not a raw foodist… but am a foodie and I like raw food!)
A) Preferred way to eat avocados: homemade guacamole… or in a smoothie.
B) Daily banana intake:  typically 1/2 in a breakfast (oats or smoothies) and half in an evening smoothie
C) Cacao or carob? Carob!
D) Durian? I'm told it's stinky, but I haven't had the pleasure of making it's acquaintance.
E) Essential to start the day: Water – I start everyday with a glass of ice water and a tsp of Bragg's Apple Cider Vinegar.
It's good for the the *ahem* digestion.
F) Favorite fruit: Watermelon or peaches
G) Guru you like: I march to my own drum.
H) Healthy meal: that's tough… I like so many things… and this should probably be raw… I made a mango-avocado gazpacho that rocked my world.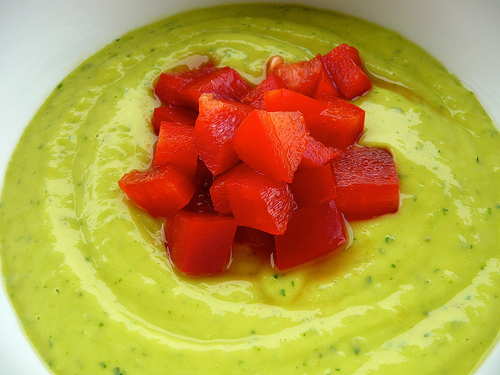 I) Ice cream base: Banana soft-serve.
J) Juice or smoothies? Smoothies!  I drink them almost daily.  With spinach, always.
K) Favorite way to eat kale: Marinated so it gets a little soft.  YUM.  This was a tasty one:
L) # of Lemons in your house right now: 2, plus a lime
M) Muscle testing: hoax or real? I'm a skeptic – hoax.
N) Nut butter: favorite kind? CHUNKY TJ's Roasted Flax Seed Valencia Peanut Butter or homemade Spiced Almond Butter
O) Organic or conventional? I make an effort to only buy organic or local produce.
P) Pickled veggies: Love them!
Q) Questions you get asked about your diet: You really put spinach in smoothies?  Ewwww!
R) Recipe you love: Keeping with the raw theme – there are so many great things made within the blogging community that it's hard to choose!  I'm going to have to go with one of Gena's (who I got the survey from).  I made her Cashew Cheese with Meyer Lemon and Dried Cherries and ate it like it was my j-o-b this winter.
S) Skin brushing? I have not a clue what this is.
T) Type of water you drink: Atlanta's finest (tap).  Extra lemon.
U) Unbelievable thing that's related to eating raw: That "high" feeling you get after a good raw meal.  And how amazing the glow is of raw foodists' skin!
V) Vegetable you love: Spinach!  My 10-year old self is judging me right now.
W) Why did you start eating raw? I don't eat all raw, but I do make an effort to eat a good deal of raw foods.  I think the more pure/clean we eat, the better we feel.  My energy level is signinficantly increased when I'm eating clean.
X) X-rated vegetable or fruit: X-rated?!  I have just the picture…
Y) Yummy food you make: Raw… Peach Cobbler Chia Pudding, Brazilian Flax Cookies, Asian-Spiced Flax Crackers,  Mexican Raw Bulgur Bowl, and – most recently – Moroccan Raw Carrot Salad
Z) Favorite use of zucchinis: Sliced into sticks and dipped into peanut butter.  Simple and delicious.
***
Time to run and then do something totally unhealthy… a food and wine festival.  😉
Do you make an effort to eat raw foods?
What are your ABCs?  Pick a couple and leave a comment!