Wonder Woman is my favorite superhero.
If you know me, this is probably no surprise.
Mind over matter is a very real thing.  I find myself being able to "will" myself to do more than I should be able to both in and out of the gym.  It's kind of fun to push yourself to do the (previously) impossible.  To me, this is Wonder Woman.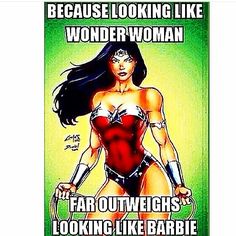 My inner Wonder Woman is especially channeled on leg day.  20 reps with 6 plates on the leg press?  No problem.  Well, yes a problem… but not one I couldn't handle.   My reward was going to the gym the next day and having a guy say (awkwardly) "Your legs have gotten bigger!  I mean… that's a compliment… you know what I mean…"
Only in the weight room could you say that to a woman and get away with it.  HA!
________________________________________________________________________________________
This WIAW was post-leg day fuel.  Rawr.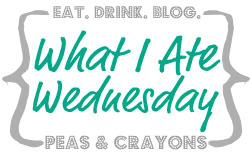 Read on for my eats, and then check out Jenn's blog for everyone else's delicious creations!
________________________________________________________________________________________
Breakfast:
My morning cocktail was followed by a small bowl of cereal before hitting the gym.
After a killer back day, I was really happy to have overnight oats in a jar.  If you haven't been using your almost-empty nut butter jars for this purpse, you're missing out.  Especially if it happens to be a chocolate Nuttzo jar.
Mid-Morning Snack:
A tasty shrimp salad.  Baby shrimps, cherry tomatoes, jicama, and honey mustard.
Lunch:
Since I can't grill in a condo I buy a few grilled items from Whole Foods to satisfy the craving.  This week it was salmon and veggies.  Those got shredded up into another seafood salad along with some mustard and hot sauce.  
There was also a muffin.  It was a baking fail that I'm eating anyway… but I'm not taking pics of that mediocrity. 
Mid-Afternoon Snack(s):
It's a protein salad day… but at least they're all different… right?!  Rotisserie chicken, cauliflower, and more hummus with hot sauce.  And red pepper flakes, because I put that shit on everything.
Dinner:
Brinner-ish dinner.  Savory Mexi-brinner?  Is that a thing?  I make some cauliflower rice and sautéed it with jalapeño, red bell pepper, and onion.  Then I lightly scrambled 2 eggs with cumin, turmeric, and garlic.  The whole thing got quesadilla'd with some goat cheese.
NOT what I had planned for dinner, but sometimes you have to go with your gut.  Literally.
Dessert:
My dessert bowl base was greek yogurt, peanut flour, carob powder, gelatin, cinnamon, and vanilla stevia.  Topping were homemade popcorn, a crumbled Zucchini Banana Protein Muffin, and trash-tastic Walden Farms sugar-free caramel syrup.
Note: I order peanut flour from iHerb.  Use my discount code – USO924 – for $5-10 off your order!
***
My work conference is next week.  I may or may not disappear for a bit while channeling my work-related Wonder Woman.
Wonder Women or Barbie.  Who's hotter?  
What's your favorite nut butter?