I've had lots of bad ideas.
I'm talking about recipes here… 😉
As I was mixing these up I thought "this is either my best or worst [waffle] idea ever."  Turns out, it was the best… in a strange way, of course. 😉
I've made a lot of unusual stuff with cauliflower.  One of my go-to is this pizza crust.  I also rocked some pancakes with this versatile vegetable.  So why not a waffle?
I decided on a savory waffle, but you can easily change up the spices to make it sweet.  For "brinner," savory seemed the way to go.  It's a thinner batter, but if you grease the waffle iron liberally it wont stick.  I used coconut oil cooking spray.
My veggie toppings were easily prepped while I was making the waffle.  I sautéed bell peppers, onions, and mushrooms.  It looked like a fiesta!
You could stop with the veggies to keep it vegetarian.  I used a little turkey to get more protein, and added a quick sauce made from hummus mixed with hot sauce and a little ACV.
---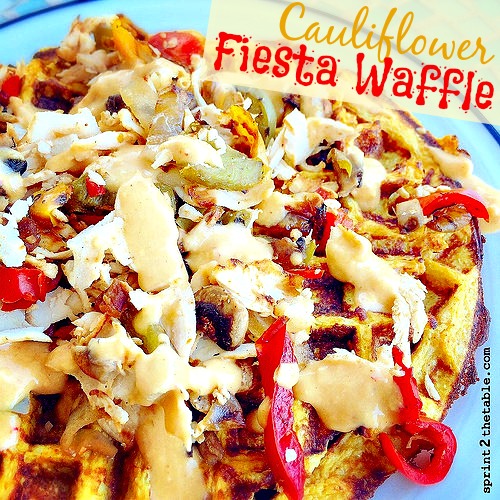 Cauliflower Fiesta Waffles
100g cauliflower
1 T nutritional yeast
1/2 tsp cumin
1/2 tsp turmeric
1/4 tsp cayenne
1/4 tsp garlic powder
6T egg whites
Preheat waffle iron.  Place ingredients in a blend or food processor and mix until batter is (mostly) smooth.
Grease iron very well (I used coconut oil).  Cook according to your waffle iron's instructions.
Plate and top as desired.  While my waffle cooked, I sautéed bell peppers, onions, mushrooms, and turkey to use on top.  I also sauced my waffle with a mixture of hummus, hot sauce, and a little apple cider vinegar.
---
How have you enjoyed making co-workers, friends, or family stare with strange but good creations this week? The link up rules can be found here or by clicking on "Strange But Good" in the menu bar above. In short, I want to see what concoctions have earned you weird looks from co-workers, family and friends! Post your Strange But Good creations, grab the logo below for your blog, and link up here.
Remember to use #strangebutgood in any Tweets and Instagrams of your creations. 🙂



***
I just realized… this is my 1,000th post! Thank you to everyone who's taken the time to read over the past (almost) 4 years!
What would you top a savory waffle with?
Did anyone try the sweet eggplant french toast (waffle)?