Curry leaves have been a mystery to me.
This only means it's a #strangebutgood creation WAITING to happen.
This actually isn't so strange.  It's just outside of my culinary comfort zone (yes, I do have one).  I've always loved using Indian spiced in my dishes.  Ginger is a staple – I once made this Ginger Tempeh Stir-Fry every night for a week.
At restaurants, I love to order the curry; however, I've never tried my hand at making my own.  Having seen curry leaves at my local farmer's market, my curiosity finally got the best of me.  Curry dinner = ON.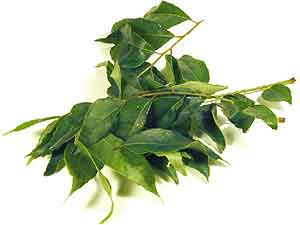 Curry leaves sort of look like bay leaves.  This begs several questions: Do you eat them?  Are they just for flavor?  Do you decorate with them?  Can you dry them?  
It turns out, you can eat them.  And they don't have to be fried in oil first (a popular preparation in Indian restaurants).  I also read that you can freeze them.  I'll have to report on that later.
Back to my dish.  It was amazing.  I know it's wrong to brag… but seriously.  I wish I had made 3 pots of this stuff.  Actually, I kind of did.  This is by far my most-tested recipe.  How come research wasn't this much fun in college?  
I worried about the flavors – there are a lot of spices in this!  Too much of this, not enough of that… and finally… juuuuust right!  I was amazed.  The list is long, but it does come together quickly.  Just line up your spices and dump 'em in the pot!  The curry leaves add an awesome dimension, but if you can't find it don't worry.  These spices are enough to stand alone.
I've made this several times now, with full-fat coconut milk and with the light stuff.  It is still ok with light, but it's 100x more flavorful with the real deal.  You can also use different veggies and protein.  I'm a huge cauliflower fan, so that's been my favorite.  The recipe below uses Swordfish, but I like it just as much with Escolar (fish) , chicken, and tempeh.
Like all good meals, this is best enjoyed with a good friend (who gave her stamp of approval) on a patio followed by a walk in the sunshine.  Spring has sprung.
These leftovers are what's making my Monday Marvelous.
That plus a hair cut and a clean house (a.k.a. best money I ever spent). 😉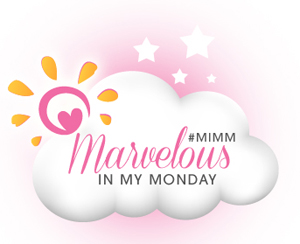 ---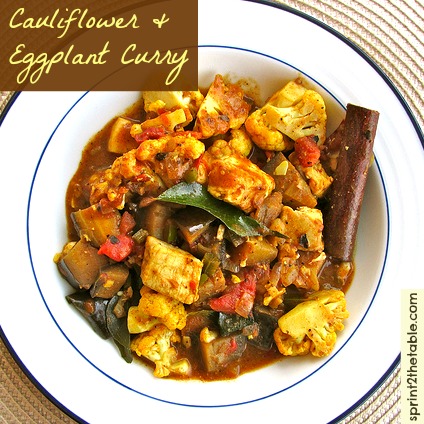 Cauliflower & Eggplant Curry
1 tsp garam masala
1/2 tsp cumin
1/2 tsp dry mustard
1/4 tsp coriander
1/4 tsp turmeric
1/4 tsp fenugreek
1/4 tsp cayenne
1 cinnamon stick, broken in half
1/4 C red onion, diced
1 jalapeno, seeded and diced
1 garlic clove, minced
1 inch piece fresh ginger, minced
10 curry leaves
1/2 C tomato paste
1/2 large eggplant, diced (~1.25 cups)
8 oz Swordfish (or other protein)
1/2 C coconut milk
200 g cauliflower florets (~1 small head)
Place the dry spices in a medium-size pot and toast over medium heat until fragrant, ~2-3 mins or until they start to pop.
Add the onion, jalapeno, garlic, and ginger.  Stir to coat in spices and cook until the onion is soft.  Stir in the curry leaves and tomato paste.
Add fish and eggplant to the sauce.  Pour in the coconut milk and cook until the eggplant is soft and fish is cooked through (~7-8 mins).
Finally, add in the cauliflower florets. Season and cook for a few more minutes until tender.
Spoon into plates and enjoy!
Makes 2-3 servings.
Note: This could easily be made vegan by eliminating the fish, or using lentils or tempeh instead.
***
Last week is was Indian Bison Burger creations, this week curry… my sister's in India and it apparently causes me to crave Indian food.  LOL!
What recipe have you worked the hardest on to perfect?
Do you like Indian food?  Have you ever had curry leaves?