Meatless Monday is back again!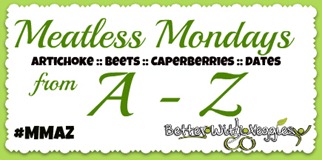 Heather has been doing a weekly Meatless Mondays from A-Z challenge.  Each week there is a certain ingredient to be used.  So far we've used artichokes and beets.
I created a Quinoa-Stuffed Artichoke and a Golden Beet and Tempeh Stuffed Poblano.  The artichoke included beet juice, and my beet stuffing included artichoke hearts.
This week I'm owning the overachieving.  The ingredient is capers, and my dish is a Caper-Beet-Artichoke Cauliflower Crust Pizza.
If you've checked out any of my WIAW posts, you've seen this crust before.  It is based on this blogger recipe.  I fell in love with it because it's the first "alternative" crust pizza I've been able to pick up and eat like a pizza.  It's crusty on the edges and chewy in the center – you would NEVER guess that the secret ingredient is cauliflower.
I've been playing with it for a few weeks and – after feedback from a couple of readers whose crust wasn't sturdy enough – I measured/weighed every ingredient so it is fool-proof.  *knock on wood*
The recipe seems long because I wanted to be very detailed.  It's really not as hard at it seems at first glance!  There are a couple of steps, but it is well worth it.  This is one of the best things I've made lately.  The recipes I repeat are few and far between; this deliciousness has been on my meal plan at least once a week for a month!
I included my toppings in the recipe below, but feel free to use you own favorites.  I have always loved artichokes, arugula, and eggplant on pizza.  This addition of capers was fun!
Typically I find capers too salty, but I quickly rinsed them under water before placing them on my pizza and it added just the right amount of tang!
This will make you feel like you're eating a cheat day meal, but there's nothing "bad" about it.  It is also gluten-free, and sugar-free, with a vegan option.
Bon appétit!
Recipe at bottom.
---
Workout Recap
Last week I mentioned a weird heel pain.  Its still there.  I went to the chiro who said bad ankle mechanics and some calf stuff may be causing it.  A week later, it still feels bruised.  It looks like this week I'll be going to visit my podiatrist!
After attending my first show this weekend, I am more motivated than ever to be figure competition ready.  With heel pain, it's impossible to effectively do squats and lunges with significant weight.  Not wanting to fall behind, we focused on what I could do leg-wise.  That involved a lot of work on the leg extension and leg curl machines – both of which I'd always looked at with some relief.  Both seemed so much easier than squatting 200 lbs or doing god knows how much on hack squats (I don't even look anymore).  Obviously, my trainer had to prove me wrong and came up with some truly sadistic combinations to keep us making forward progress.
Workout Recap (8/13 – 8/19):
Monday – Chest/Biceps, Calf raises
Tuesday – Legs
Wednesday – Back/Triceps, Calf raises
Thursday – Rest, 150 push-ups, 1 mile walk
Friday – Shoulders/Butt, Calf raises
Saturday – Chest/Biceps
Sunday – Legs (w/ trainer)
---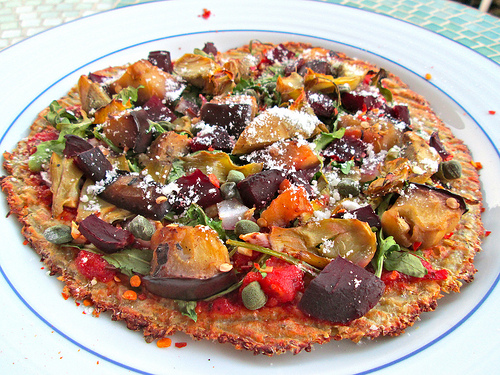 Overachieving Cauliflower Crust Pizza
For the Crust:
 100g cauliflower (~1 C de-stemmed)
1/4 C egg whites (use flax egg to make vegan)
1/4 C quinoa flakes
1 tsp fresh rosemary
1/2 tsp fresh thyme
1/4 tsp dried oregano
Freshly ground pepper, to taste 
My Toppings:
Red onion
Garlic
Tomato Sauce
Arugula
Eggplant (dices and pre-cooked)
Artichoke hearts
Red Beets
Capers
Pre-heat oven to 425 degrees.
Place raw cauliflower florets in a food processor or blender.  Blend until it is "riced" (in very small rice-like pieces).
In a small bowl, combine cauliflower, quinoa flakes, egg, and spices.
Cut 2 circles of parchment paper the size of a 10 inch pizza stone or baking sheet.  Press your "dough" onto one sheet of parchment, spreading to create a thin crust (1/8-1/4 inch thick).  Place other sheet on top of crust and  bake for 20 minutes.  
Note: You may not need the sheet on top if your oven is more moist.  Since I got a gas stove, I haven't needed it.
Meanwhile, sauté onions and garlic with a bit of olive oil until fragrant.  Chop other toppings to desired size.
When crust is done (should have turn slightly golden and firmed up), remove from oven and flip over so that the bottom is now to top.  Remove the top sheet of parchment.
Top crust with tomato sauce (or pesto, or oil… whatever you prefer) and veggies.  Return to oven and bake for 15 more mins.
Remove from oven and sprinkle with your favorite additions.  I used (vegan) Parmesan and red pepper flakes.
Note: If crust doesn't seem done after the first 20 mins, remove top sheet and bake ~5 mins more before adding topping.
Makes 1 serving.
***
I'm drafting this while watching Extreme Makeover Weight-loss.  It makes me want to eat cookies.  What is wrong with me?!
Have you tried a cauliflower crust before?
What are your favorite pizza toppings?