Recipe Googling isn't necessarily sophisticated inspired.
Google's Zeitgeist (a yearly report of the most searched items), inspired Bon Appetit to research the most-Googled recipes in the US for 2011.  According to their article, Americans are pretty dull in the kitchen.
Chicken
Meatloaf
Banana Bread
Chili
Pancake
Lasagna
Pork Chop
Guacamole
Cupcakes
Cream Cheese Frosting
I'll give you the cupcakes because they are awesome, but meatloaf?!  Gross.
How is pizza not on the list?  It appears people prefer to have theirs made for them.  In the most searched restaurants category the top 3 restaurant searches were: Pizza Hut, Dominos, and Papa John's.  In that order.
Maybe the next party I cater will be a pizza theme… People need to know there are better options than Pizza Hut!
---
Thank you, thank you, thank you for all of the well-wishes for my first catering job.  I am proud to announce that I survived the party!
There will be more to come on the whole experience.  Today I'm still recovering and swamped at work, so this is a short one to report that everything went swimmingly despite me waking up at 5am multiple days in a row having mild panic attacks.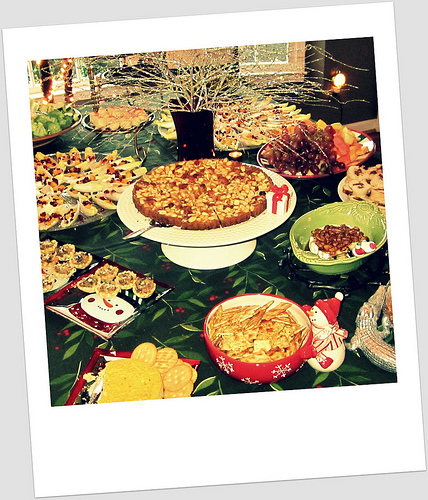 What I didn't expect was how gratifying it would be to watch people enjoy food I made.  Listening to their comments/conversations about each dish was so much fun!  Thank god they were positive comments.
Over the next week or so I'll be sharing recipes from the event.  Today I'll start at the beginning – the cheeses!
Often the most-eaten items at a party, I planned 2 different cheese dishes.
The first was inspired by my friend Jenn @ Peas & Crayons.  She made this Pumpkin Basil Cheesecake Spread a couple of months ago and I've made it 3 times since she posted the recipe!  For this party, I made a Pumpkin Rosemary-Basil version of this spread.
My modifications:
Add 1T of fresh rosemary 
Increased the basil to 10 huge leaves
Used 1/2 tsp of palm sugar
Didn't make the Ritz crust
Like every other time I've made it, this spread was a hit.  It's a great, savory cheesecake–like spread that is wonderful with some salty crackers.  The addition of rosemary was a good one – I may try it again with just rosemary and sage!
The second was a simple sugar-nut-whiskey baked brie.  Yes, its old school.  Be honest though – who doesn't love warm, gooey, decadent brie?
What I love about the whiskey is the melted caramel-like texture (think ice cream topping caramel) is takes on when heated with the brown sugar.  No need to use fancier spirits here (not that there's anything wrong with Jack) – the sugar takes the edge of the alcohol taste and leaves you with the underlying sweet-smokiness.
Recipe after the Monday fitness re-cap.  Much-needed fitness after that brie. 😉
---
Google's Zeitgeist also looked at how people worked on their fitness.  The most popular workout search was the Thor Workout and the top diet was the Dukan Diet.  I must be out of touch – I don't know what either of those are!
My hectic week forced me to take 2 "rest" days… but I have absolutely no regrets about it!  Here's what my week looked like:
Workout Recap (12/12 – 12/18)
Monday – This BodyRock, Ab Ripper X, 100 push-ups
Tuesday – This BodyRock (again), Kickboxing, Legs
Wednesday – 100 push-ups
Thursday – Bis/Back with 1.5 miles in intervals, 100 push-ups

Friday – Kickboxing, 100 push-ups
Saturday – 100 push-ups
Sunday – Elliptical intervals (60 mins), Shoulders, 6 min planks
---
Jacked Up Brie
1 round (14 oz) brie
1/4 C brown sugar
1/4 C pecans, chopped
1 T (heaping) Jack Daniels (or other whiskey)
Combine sugar, nuts, and whiskey in a small bowl.  Cover and place in fridge, allowing flavors to combine overnight.
Pre-heat oven to 350 degrees.
Place brie in an oven-proof dish and bake 7-8 mins, until softened.  Remove from oven and pour topping over the brie.  Return to oven for 3-4 mins.
Serve with bread, crackers, and apples.
***
After being so focused on this party, it felt weird to be sitting on the couch without any food prepping to do last night!
What is your favorite cheese or cheese dish?
What has been the best food/dish you've had at a holiday party this season?