This was the sort of weekend where you stay so busy you aren't really sure it ever happened.
Not that I'm complaining – catering and cupcakes iced with a little chillaxing is a good time.
This week I am looking forward to sharing some fun new recipes with you, but for today I'll stick to the highlights.  Here is the Top 5 from a weekend so crazy that I was in bed by 11p last night (that's unheard of for me).
1. Say Cheese
Though I spent a lot of time prepping Saturday's catering gig, I took a little break to make a hummus, veggie, and cheese board.
A wandering afternoon in the cheese department while was supposed to be catering-shopping lead to the discovery of a new favorite cheese.  Mitica Quadrello di Bufala (buffalo's milk cheese).
I'm not ashamed to admit… I couldn't stay vegan for the love of cheese.
2. Wedding Shower Catering
This was my second "official" catering job and it went really well.  The event was a was a joint wedding shower for a bride and groom.  I was asked to come up with a "Southern" menu for ~30 people.
On the Menu:
Chipotle Roasted Corn Hummus (remember this from last summer?) with veggies and chips
Spring Endive Boats
Caper and Chive Deviled Eggs
Mac 'n Cheese Minis
Whiskey BBQ Turkey Sliders
Chocolate Cupcakes with Nutella Frosting
If it's any indication of success, there was hardly any food leftover. 🙂
Recipes coming throughout the week!
3. Easter Bunny
Sunday I woke up still exhausted from the previous day's catering; however, I was energized by the fact that the Easter Bunny had come!
I will always spend the night at my mom's on holidays.  Shameless.
4. Poolside Mimosas
A girl's day by the pool with my mom and baby sister was just what I needed.  That and a tasty mimosa.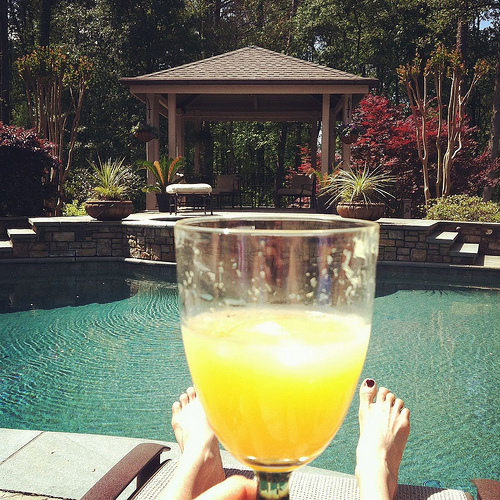 We laid out, talked, and ate a poolside Easter lunch of watermelon salad, endive salad, pretzel bread, carrot soufflé, and mac 'n cheese.  I was too busy chillaxing to take pics of any of it. #fail
5. More Cupcakes
4 dozen Chocolate-Nutella cupcakes in one weekend clearly wasn't enough.  We came in from the pool and wanted something sweet.  Being a good kid, I whipped up some vanilla bean cupcakes to go with the last but of Nutella icing.
This recipe will be coming soon!
---
This week I was all about the P90X.  I'm still not following the prescribed program, but I did a workout with Tony Horton just about every day this week.  Good thing because my diet was abysmal.
#PROOF
Workout Recap (4/2 – 4/8):
Monday – P90X Shoulders/Arms, Ab Ripper X
Tuesday – This Tuesday Trainer Tabata workout from Lindsay (50 sec work, 10 secs rest, 2x), 6 min plank rotation, 100 push-ups
Wednesday – P90X Tris/Chest, Ab Ripper X

Thursday – P90X Cardio X, 100 push-ups

Friday – P90X Biceps/Back, Ab Ripper X

Saturday – 100 push-ups, 90 squats, rest/cater
Sunday –  P90X Plyo, 100 push-ups
***
And now the reveal you've all been waiting for.  What was the "lie" from Friday's post?  #9 "Monday night I ate octopus for the first time."  
Many of you guessed the right answer, but for the wrong reason.  I have NEVER eaten octopus.  The tentacles creep me out.
Did the Easter Bunny come visit you?
What food prevents you from ever going vegan/vegetarian, or – if you are vegan/vegetarian – what food was hardest for you to stop eating?