Overnight oats are the fastest breakfast I rarely make.
That's going to stop.
I was telling Vegas about my Tiramisu Protein Parfait overnight oats and she mentioned she had NEVER had overnight oats.  The horror.
So, today's strange but very good creation is an overnight oat recipe.  Carrot Cake Overnight Oats, because spring.

People think shredding a carrot is a pain, but it's super easy.  I just use a handheld grater and go to work.  Takes like 25 seconds.
Besides, don't you want your hands to have a nice tanned tint?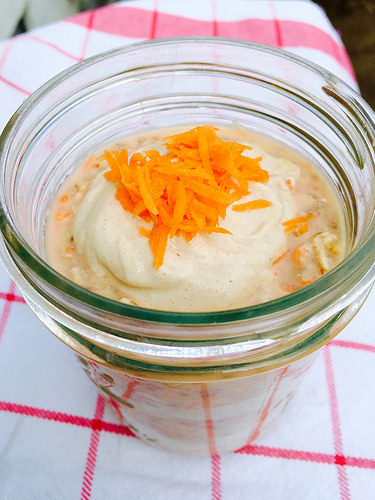 I love the way rolled oats get all chewy and soft when they've been soaking overnight.  For me, the key to making really good overnight oatmeal is to use high quality oats.  None of that stuff that's on sale in the $1 bin.
I picked up Farmer Direct Co-op Organic Oats at Whole Paycheck last week and am really loving them.
Side note: they're good sprinkled raw on top of smoothie bowls too.
The oats are fantastic, but the cheesecake cream is what makes this recipe.  If you don't have cheesecake flavor, you can always add vanilla extract.  But trust me – you need this in your life.
I found it at a cooking store in Atlanta a couple of years ago, but I've been ordering it online since moving to San Diego.  It's amazing in so many things.
I don't think I need to tell you how many calories are in a slice of actual carrot cake.  While I would LOVE to eat that for breakfast, I think my trainer would prefer I eat this instead.
---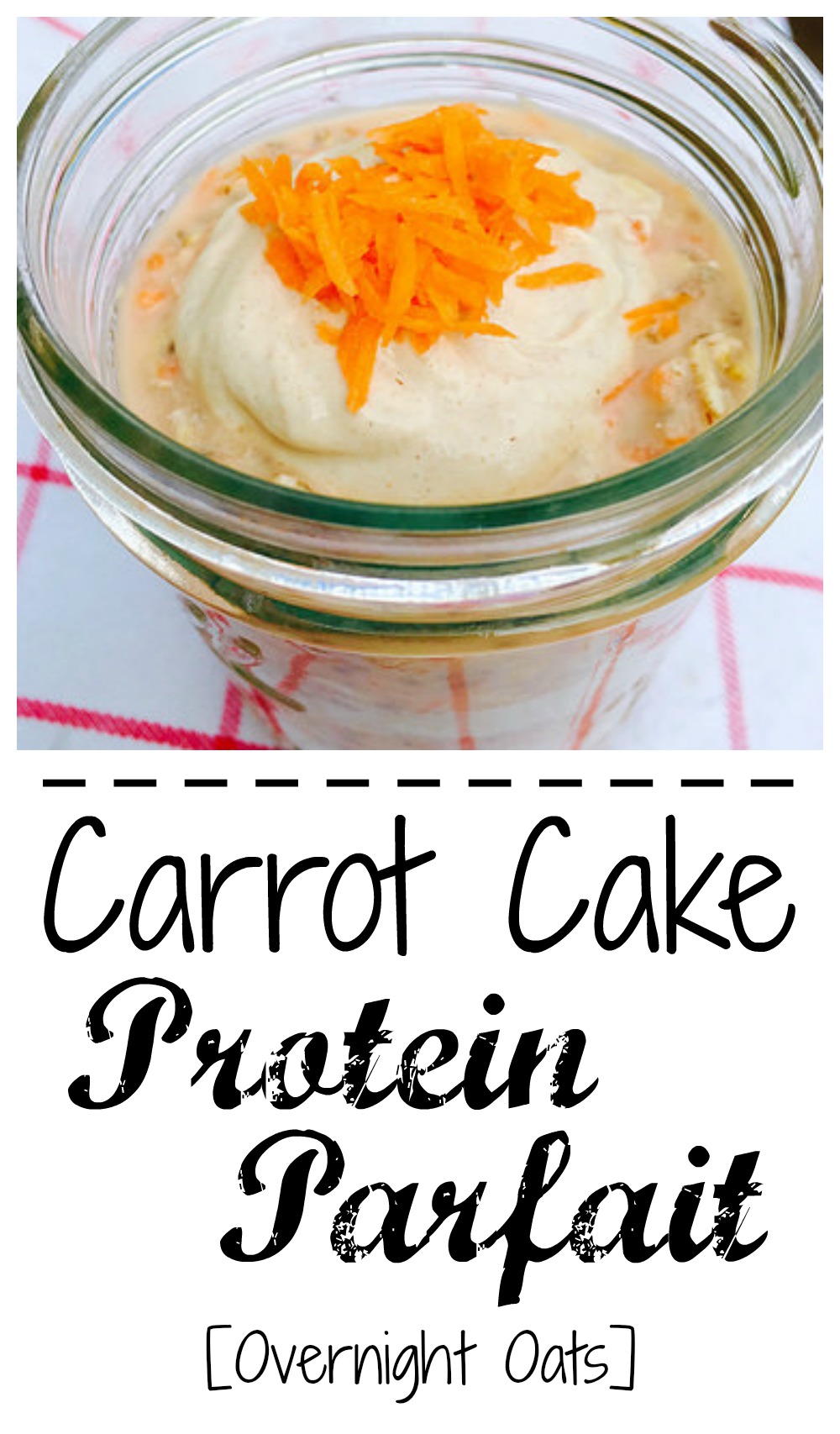 Carrot Cake Protein Parfait
For the Oats:
1/3 C rolled oats
1 small carrot, shredded
1/2 tsp pie spice
1 T

chia seeds

1 T

coconut flour

1/2 – 3/4 C unsweetened almond milk 
1/2 tsp vanilla extract
8 drops liquid stevia (adjust to desired sweetness)
For the Cheesecake Cream:
Combine oat ingredients in a bowl and refrigerate overnight (or at least 2 hours).
In a small bowl, combine yogurt, stevia (or zest,/extract), protein, 1/4 tsp cinnamon, and cheesecake flavor. Stir until well combined.  This can be done the night before, or at time of serving.  
In the morning, remove the oats from the fridge and stir.  Add additional milk to thin, if needed.
To assemble, place a spoonful of the oats in a cup, followed by a spoonful of the yogurt mixture.  Repeat until you're out of each.  
Optional: Top with additional shredded carrot.
Makes 1 serving.
---
How have you enjoyed making co-workers, friends, or family stare with strange but good creations this week? The link up rules can be found here or by clicking on "Strange But Good" in the menu bar above. In short, I want to see what concoctions have earned you weird looks from co-workers, family and friends! Post your Strange But Good creations, grab the logo below for your blog, and link up here.
Remember to use #strangebutgood in any Tweets and Instagrams of your creations. 🙂



***
Vegas approved.  AND she wants to try my tiramisu version.  #winning
Do you make overnight oats often?
Which would you prefer for dessert – a slice of carrot cake or tiramisu?