If you have been reading for a while, you know that I LOVE Indian flavors.
Wednesday night I tried a much-hyped new Indian restaurant in Atlanta, Cardamom Hill (1700 Northside Dr.NW #A6, Atlanta, GA 30318, 404.549.7012).
The owner, Asha Gomez, is locally-famous for her underground supper clubs.  She wanted to share her food with a broader audience, thus Cardamom Hill was born.  I'm sad to have missed her Supper Clubs, but am excited to see where she takes the restaurant.
They don't have their liquor license yet, but they do keep some beers in the back to share.  Thus, I tasted my first Schiltz. It wasn't as bad as I had imagined… though that's not saying a lot.  They did have a Sweetwater IPA in the cooler that the server mercifully graciously brought me after I couldn't handle anymore Schlitz.
The food was MUCH better than the beer selection. 🙂  I'm really kidding – it was great of them to offer my friend and I anything at all.
We started with a beautifully plated salad of arugula, starfruit, radish, cucumber, and papaya.  It was dressed in a tamarind vinaigrette.  Each item on its own was flavorful and fresh; however, my companion and I both felt it lacked something to pull it together.  I also thought it was slightly over-dressed (normally I ask for dressing on the side – my mistake!).
Our second app was on the house.  Beef and Potato Croquettes seasoned with ginger, garlic, and green papaya salad.  I nibbled on the potato part of the croquette (trying to stick to the veg thing) and wasn't blown away.  I loved the (pickled?) ginger and garlic served with it.  I wish that had been used in a salad!
For my entrée I chose the Vegetable Trio, served with coconut rice.
Part 1 of the trio was Sweet Potato Verka sautéed in coconut oil with mustard seeds, shallots, and curry leaves.  It was absolutely fantastic.  A little oily, but honestly… that just made it better.  Perfectly balanced between the sweetness of the potato and the subtle heat from the spices, I could eat this dish all day every day.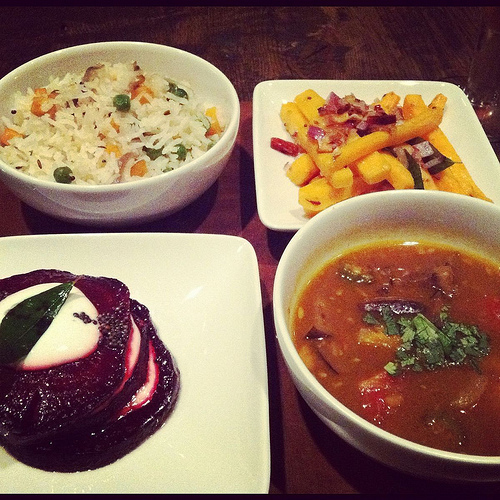 As good as that was, Part 2 of the trio topped it.  It was a "Seasonal" Thoran, which is listed on the menus as a stir-fry but (as the waiter described) this more accurately identified as a soup.  A phenomenal soup.  The broth was just spiced enough with dried red chillies.  It contained bite-sized pieces of carrot, eggplant, potato, and tomato.  I'm not sure what sorts of other spices were in this, but whoa.  My friend and I agreed it was the best dish of the night.
Dear Asha, Please keep this on as an appetizer soup.
Lastly, I had a Beet Pachadi.  3 warm beets layered with housemade yogurt (ask for it to be left off to make this dish vegan) and mustard seeds, topped a curry leaf.  It was also good, just not quite as stand-out as the first 2 items.
My friend had the Braised Short Ribs with roasted coconut sauce, served over umpa (like fried polenta, but made from semolina).  It was nice… but I was happy I stuck with the veg.
We couldn't pass up a traditional dessert.  I have no idea what this is called, but it was a warm coconut milk soup with toasted coconut, cashew halves, cardamom seeds, ginger, and rice noodles.  It was one of those dishes you keep eating but you're not entirely sure you love.  The flavors were just so interesting!  We wondered if it would be better (albeit non-traditional) cold?
If you're in the Atlanta area, I do recommend trying Cardamom Hill.  The service was solid and it has a lot of potential.  This isn't the typical curry-laden Indian food many of us are accustomed to.  Dishes from the Southwest Indian state of Kerala are laced with interesting spice blends and not heavy on the heat.  It just enough spice to detect.  You know the balance of flavors much be great if I'm not begging for more heat.
Don't miss the Vegetable Trio, try the dessert for fun… and do make sure to BYOB.  There's no corking fee while they await the liquor license.
***
I just realized it's friday the 13th!  Some people shudder, but 13 is my lucky number and this is my lucky day (knock on wood).
Do you like trying authentic food from different cultures?  Panda Express doesn't count.
Who's doing something fun this weekend?