Have you guys been following the cell phone news?
They may cause brain cancer.
Lovely.  As someone who spent the better part of college with a phone glued to her ear, I'm not amused.
I turned to NPR (dork).  Apparently the culprit is the radio frequency electromagnetic fields cellphones give off.  They could be carcinogenic.  Could be.
Know what else could be carcinogenic?
Coffee
Pickled Vegetables
Alcoholic Beverages
Ultraviolet Rays
Talcum Powder
Hormone Replacement Therapy
Basically, I'm a goner.
Honestly, I don't like talking the phone anymore.  Can you grow out of that? I use mine primarily to text and email.  And tweet.
___________________________________________________________________________________
In happier news, I've had a great time this week eating green foods!  Despite how it may look from the smorgasbord I posted yesterday…
1. Tami's Green Gazpacho:
My modifications included the addition of 2 jalapenos, using a whole cup of  cilantro, and reducing the water by a cup.  I also bypassed the bread and topped it with Greek yogurt (which was amazing!).
Next time I'd reduce the salt a bit, but other than that it was a fantastic summer soup. The perfect cool lunch with insanely hot weather!
2. Salad… con mucho color.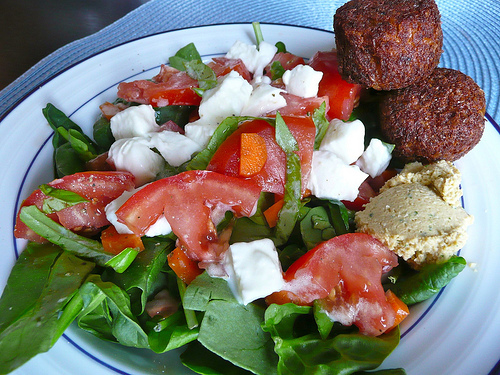 I had some fresh mozzarella left over from my Peach Caprese Salad, so I used that to make this Spinach–Carrot–Tomato-Caprese-Salad.  With hummus.  And… an embarrassing item.
See the falafel-looking things?  Those are "Chicken Bites."  They are made by a company called Happy Bites.  They make sneak veggies into their frozen kids snacks… yes, I'm almost 28 and I buy over-priced children's foods. You can find them at Whole Paycheck Foods… the Veggie Tots are good too.
3. Averie's Avocado Banana Ice Cream.
You guys know I love avocados in smoothies – it makes them deliciously creamy.  Why not in ice cream?  I trust Averie.
Did I mention it's VEGAN ice cream?
I used So Delicious unsweetened vanilla coconut milk, omitted the sugar, added 1/2 a packet of Stevia, and used maybe 1/2 C of ice cubes.  My Magic Bullet blended it like a champ.  Then I threw it in my mini-ice cream maker.  And immediately devoured 1/2 of it.  Before dinner because I'm not a Happy Bite-eating kid.
***
I'm off for a morning run before A) it reaches 90 degrees and B) Souper Jenny's Underground Supper Club tonight. It's so underground that I don't even know where it is or who the chef is yet!
Do you like to talk on the phone? Will you change your usage habits in light of the potential cancer-risk?