Getting up and seeing the moon makes me tired.
I dutifully packed my bag and headed to the Midwest.
Perfected packing for a one day meeting:
Breakfast
Sweater (conference rooms are COLD)
BlackBerry (try not to lose it… again)
Heels (wear flats for running through the airport)
Laptop
Charger
Files to bake into cake later 
16 hours later I was back home in that South after a successful day of meetings!
I did forget one thing… I didn't take pictures of anything I ate after breakfast.  Breakfast was really the only thing picture-worthy though.
Instead I'm posting a WIA Sunday-thru-Tuesday for WIAW.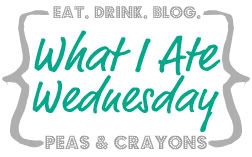 ---
Breakfast:
I brought my own… but treated myself to Starbucks while waiting to board the plane and eat.  Technically the client treated me, but who's counting.
Tip: add a little sweet in your coffee without adding much in the way of sugar and calories by ordering a black coffee (in this case an Americano) with light whip on top.
Sprinkle with a bit of cinnamon and nutmeg to add a little "fall" flavor.
Need other ideas to entertain yourself while waiting to board?  Take pictures of unsuspecting travelers in matching Hawaiian shirts.  Priceless.
Upon boarding, it was time to enjoy BYOB on a plane.  That's bring your own beer breakfast.
I finally copied took the advice of Sarah @ Smart Kitchen and made my own yogurt in a recycled cup.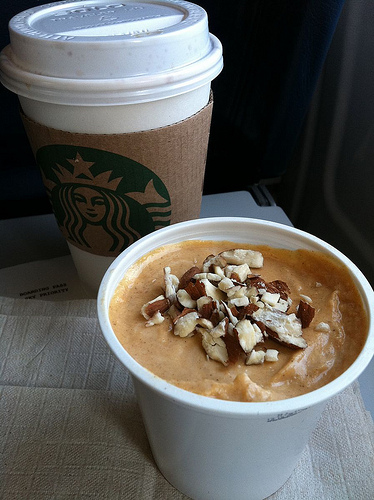 This container of orange fall deliciousness is Sweet Potato Greek Yogurt.  I don't understand how every yogurt maker out there doesn't offer this flavor – it may be the best idea ever.  Do you hear me, Atlanta Farm Fresh???
Add some vanilla, cinnamon and nutmeg and it's like pie filling you can shamelessly eat for breakfast.  Recipe at the end of this post.
Lunch:
Here's the part where I add some previous meals to replace the eats that weren't worthy of picturing. 🙂
Vegetable Chickpea Soup.  Vegan, gluten-free, and damn good.
This recipe will be up tomorrow!!!
Snacks:
Not pictured, but snack time was pretty junky good:
Chocolate-Toffee Think Thin bar (side note: I'm sad – they changed the recipe and they aren't as good.  I won't be buying them again. 🙁 )
A few of my co-worker's chips
Fun Size M&Ms (free in first class)
Beer (again, cheers to the upgrade!)
Dinner:
I was craving pasta on Sunday night so I took a little trip to Decatur to give No.246 another chance (I was totally underwhelmed the first time).  Round 2 was much better!  I sat at the bar, which turned out to be a great decision. The bartender, Brenda made some great suggestions and I enjoyed our conversation
I began with a tasty salad of radicchio, endive, granny smith apples, walnuts, and bacon (not pictured).  The pasta I chose was a Trofie.  Trofie is made with flour and water (no eggs).  It's hand-rolled into little squiggly shapes.  246 serves it with a chicken liver, pork, and beef bolognese.
At first it was just good…  then Brenda gave me some chili infused olive oil.  That kicked it up and notch and gave the dish the "pop" it needed to succeed.
Pairing: Nebbiolo, Damilano, Alba 2008 – this was a great suggestion from Brenda.  It is a bigger wine, stony/earthy taste.  It stood up well to the meaty pasta dish.   OMG I'm going to be in Alba in a couple of weeks!!!
No. 246 is on it's way.  The basics are there, the kitchen just need to get over this apparent fear of spices.
For a more delicious eats, check out the round up at Peas and Crayons!
---
Sweet Potato Greek Yogurt
Combine everything in a blender (I used my Magic Bullet) and mix until smooth.  You may need to add more liquid to achieve desired consistency.
Top with nuts of your choice and enjoy!
Note: you can make this ahead – I did.  The flavors melded and intensified overnight.
***
Can you tell I'm ready for fall by the looks of these dishes?!
What foods (if any) do you bring on planes?  
What's your favorite pasta dish?