It's FoodBuzz Festival weekend!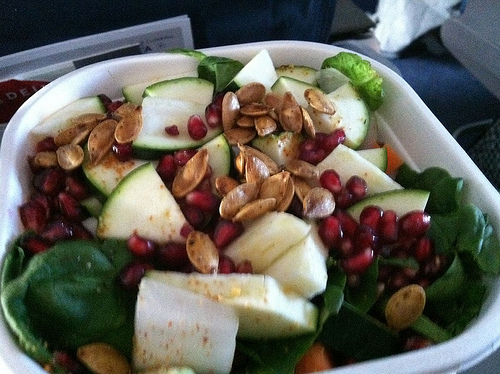 People stared at my airplane lunch, but I bet it tasted better than hers!  Endive, spinach, S&P pumpkin seeds, carrots, zucchini, and pomegranate.
I arrived in San Francisco and braved the BART to get to the hotel.  I was so excited to meet my roommate – Sarah from The Smart Kitchen.  (She says "Hi, Everyone!")
Also exciting was the rubber ducky in our bathroom.
One quick costume change and we were off to the opening dinner.
More details (and better pics) later, but here's what I managed to get on my iPhone:
It was really neat to meet in person the people whose blogs  I've been reading, and discover new blogs.  I can't wait to meet more today!
But first Sarah and I are off for a quick workout before beginning day 2 of FoodBuzz.
On the agenda:
3 panels
Tasting/Expo
Tyler Florence demo!!!!
Dinner banquet
***
I love food.
What are you doing this weekend?
Is anyone else excited for the LSU/Alabama game?