For such a "blah" weather week, it sure is flying by!  I can't believe it is Wednesday already!
I even have things to look forward to: much-needed massage tonight (thank you, Half-Off Depot), a rare 2 evenings free of plans (nevermind that I'm going to have to work), a nectar of the gods wine tasting Friday, and an awesome road-trip Saturday. 🙂
Do you find that the week tends to drag when you have fun plans?
______________________________________________________________________________
Like many items I've made lately, these biscuits were borne out of the need to use some ingredients in my fridge.
I made butternut squash a few days ago and needed to use the remainder along with my last big sprig of rosemary.  It seems everyone has been making sweet potato biscuits lately.  So I said to myself, "Self, why not make a butternut squash version?"
Enter: Butternut Squash-Rosemary Drop Biscuits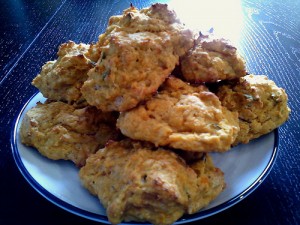 Added bonus: these are VEGAN if you use Earth Balance in place of the butter!
_____________________________________________________________________________________
Butternut-Squash Rosemary Drop Biscuits
1 C white whole wheat flour (I used King Arthur)
1/4 C pastry flour
3 1/2 tsp baking powder
1/4 tsp salt
4 T salted butter, chilled
1 C mashed roasted butternut squash
1/2 C applesauce
1/4 C unsweetened vanilla almond milk
1 T maple syrup
2 T fresh rosemary
1/2 tsp ground coriander
Preheat oven to 450F and line baking sheet with parchment paper.
Sift flours, baking powder and salt into a medium mixing bowl.  Cut in the cold butter with a pastry cutter or your hands until you have a crumbly mixture.
In a large mixing bowl, stir together butternut squash, applesauce, almond milk, maple syrup and coriander until smooth.  Fold in the dry ingredients until just mixed.
Drop the dough onto baking sheet by the spoonful (~2 T), leaving about an inch between the biscuits.
Bake in preheated oven for 15 mins, or until lightly golden.
Makes 14 medium-sized biscuits.
Approx. Nutritional Info: 81 calories, 3.6 g fat, 11.7 g carbohydrates, 1.7 g fiber, 1.7 g sugar, 1.6 g protein.
These are also loaded with Vitamin A!
***
Almost massage time!
What's your favorite "treat" to look forward to?