Book Club dinners when you're on a cleanse are hard.
They're even harder when you're hosting and therefore responsible for food.  The icing on the cake is that the theme is French (to go with this month's book selection).  Who ever heard of French vegan food?!
This may have had me sweating a bit.
So I said to myself:  Man up.  You can do this thing.  I think. 
Predictably, I'm got a late start today so the details will have to come later, but it went really well!  Like, 100x better than I expected.
The menu included:
Provençal Spread and Veggies
Salade Niçoise with Tempeh "Tuna"
Oven-Roasted Tomatoes Stuffed with (vegan!) Goat Cheese
Roasted Eggplant Bruschetta
I warned everyone ahead of time that it would be a clean dinner… and they subsequently brought meats, desserts, and wine. 🙂
French wine Dessert was the saddest thing for me to miss.  There are so many possibilities for making French desserts that would have been fun to create.  There will be many other dessert opportunities in my life though.  And bottles of French wine.
In order to feel a little less left out, I created my own dessert to enjoy.  And you know what… I can honestly say it was satisfying.  (But I did swoon a little over homemade banana pudding.)
---
Chia pudding has long been a breakfast favorite.  As of last night, it's been upgraded to dessert.
No this isn't chocolate cake.  But it is good.
Made like a traditional chia pudding (chia + liquid + congeal in the fridge), the twist here is the sweet squash and a quick blend at the end.
The cocoa-flavored stevia did give it notes of chocolate-y goodness.  I also loved the classic pie flavors the vanilla, cinnamon, and nutmeg lent the dish.
A spin mix in the Magic Bullet at the end smoothed out the chia to make this like the pudding you grew up eating,  (Thanks to Kasey @ Power Cakes for the idea!)
Yes, you can have your pudding even if you don't eat your meat.
---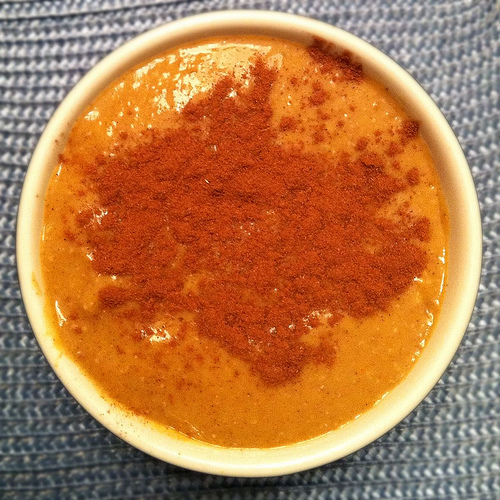 Butternut Squash Chia Pudding
1/2 butternut squash, roasted
3/4 C unsweetened coconut milk
1 T chia seeds
1 tsp vanilla
1/4 tsp cinnamon
1/8 tsp nutmeg
7-8 drops cocoa stevia
Shake of salt
In a small bowl, mash up butternut squash until it becomes a puree (some small pieces are ok).  Stir in remaining ingredients.  Cover and refrigerate for at least 30 mins (or overnight for breakfast).  The chia will absorb most of the liquid.
Place mix in a blender (I used my Magic Bullet) and blend until smooth (about 20 seconds).  Remove, place in bowl, and enjoy!
Note: This would make a great post-workout snack!  Just add a scoop of protein powder and increase the amount of liquid you mix in.
Unfamiliar with the benefits of chia?  Click here for my post on why they rock!
***
I cannot wait to share the rest of the meal with you all!
For those with diet restrictions, do you ever feel left out in food-centric social settings?  How do you navigate?
Has anyone ever been to France?  I'm thinking that may be this year's big trip…