We're half way there… whoaaaa, livin' on a prayer…
Last Wednesday I shared with you all that 2 friends and I began the Standard Process Cleanse.  Which means this is another super-clean What I Ate Wednesday (WIAW).  And by Wednesday, I mean Tuesday. 🙂
10 days in to the cleanse (half way – woot!), I can honestly say that I haven't been hungry one time.  Veggies are really filling!  Admittedly, eating and plant-based diet with no processed foods or breads is more time consuming.  The key is to be sure you are prepared.
For instance, on Sunday I roasted beets, butternut squash, and spaghetti squash.  Easy fixin's for smoothies, salads, and "pastas."
Don't forget to check out Jenn's blog to see what everyone else at this Wednesday during this veggie-centric month!

___________________________________________________________________________________
Breakfast:
Ice cream isn't legal, but that didn't stop me from a Neapolitan smoothie.
It didn't stay so pretty after it was fully mixed… but these things happen when you mix green, red, and orange.
Trust me, it tasted better than it looks here:
Butternut Squash-Cherry Bomb Smoothie
1 C spinach
1/2 C butternut squash, roasted
1/2 C black cherries
1/2 C unsweetened vanilla coconut milk (a la So Delicious)
1 scoop vanilla protein powder
5-6 drops vanilla stevia
1 tsp vanilla
1/4 tsp cinnamon
1/8 tsp guar gum (optional)
Shake of allspice
Shake of salt
Looks bad, taste good. 🙂
Lunch:
The deliciousness below is brought to you by a new (to me) blog: The Vegetable Centric Kitchen.
Rande makes some delicious-looking, vegetarian dishes.  This is her Zucchini Pasta with Lemon Tahini Sauce and Roasted Crimini Mushrooms.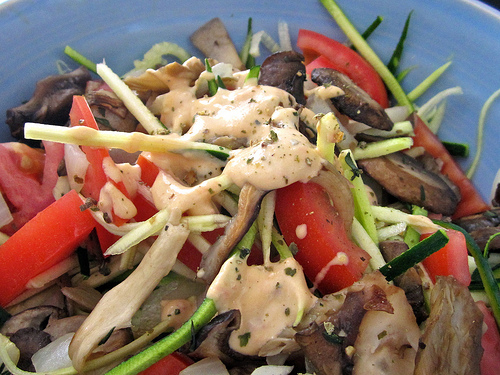 Since I don't have a spiralizer, I used the nifty orange tool picture below to peel my zucchini.  I'm not sure what it's called other than a peeler with razor teeth, but thanks to OXO from gift from the FoodBuzz Festival!
My tweaks:
Used a mix of crimini, oyster, and shiitake mushrooms
Sautéed my mushrooms and onions in coconut oil
Edited the sauce: 2 T tahini, 1/2 lemon juiced, 1 garlic clove (pressed), heaping 1/4 tsp sriracha, S+P, and a bit of water to thin it out.
I'll be making this on the regular – especially that sauce.  It's going to be making an appearance as a sauce for broccolini tomorrow night!  Thanks, Rande!
Snacks:
More veggies! (Try to hide your surprise.)
This dip was ah-mazing with my celery and flax cracker (flax seeds are cleanse-legal!).  Recipe to come! 🙂
Pre-dinner snack was another shake – this time with avocado!  Nothing earth-shattering in this one…banana, avocado, protein powder, almond extract, cinnamon, vanilla stevia, water, and ice.  You've seen it all before… I'm scared my shakes are going to bore you! 🙂
Dinner:
I mentioned yesterday that I had some super-cool Valentine's Day plans cleanse dinner with by best friend!  And her baby boy.  And her mom.  These are some of my favorite people in the world, so it was actually a really nice way to spend Valentine's Day.
This un-photogenic brown soup was my contribution.  It's a Sweet Potato-Pineapple-Eggplant Curry soup served over wild rice.  I'd had it pinned to try for a while, but it was just ok.  I'd try again to tweak it to my liking… but honestly it was so time-consuming I don't think it's worth it.  That takes A LOT for me to say.
More delicious was the raw French green bean salad Mallory made.  She tossed them with olive oil, lots of lemon, dill, and a few other herbs.  It was fantastically light and the dill was wonderful.
Note to self: use dill more often!
Lastly, I received the nicest surprise – Mallory's mom brought us both flowers!  I was the lucky Valentine's recipient of a gorgeous bouquet of white tulips.
Overall, it was a nice V-Day.  Even if it was chocolate-free.
***
I'm driving to AL for a client meeting with my boss.  It's my first one to lead in this role… nervous!!!
What was the best Valentine's treat/dish you had yesterday?
Do you prep food for week on Sundays?