CONGRATULATIONS to everyone yesterday who shared their accomplishments!  I am sooooo proud for you!  Don't stop – keep sharing your victories with friends/family/bloggers unless you's a public figure and it involves questionable pictures.
Let's talk about Maturity.
We all grow up and are expected to achieve a certain level of maturity/self-monitoring.  I tried – really – to be the bigger person and only laugh at the "Weiner" scandal in the privacy of my own home.
I mean, how can you not chuckle at the newscasters trying their damnedest to read the "Weiner-gate" stories off the teleprompter with a straight face?!*
You'll have to excuse me.  In honor of Gay Pride month and my love of irony – I couldn't pass this up this one.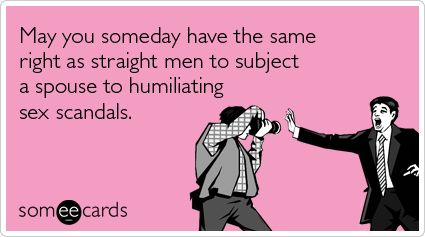 *Disclaimer: Weiner's actions are NOT a joke.  He hurt is (pregnant!) wife and is an embarrassment to Congress.  He should be ashamed of himself.
Speaking of maturity… 2 days in a row I have gotten out of bed and doubled the mileage I promised myself I'd run!
Stats:
Distance – 4 miles
Time – 32:48
Pace – 8:12
I'm a morning runnin' machine. 🙂
_________________________________________________________________________________
It's time for the reveal of the mystery glob!  A couple of you guessed the main ingredient – expert foodies!
***cheesy drumroll***
Butternut Rosemary Hummus
Is hummus without beans still a hummus?  It has tahini.  It has a hummus-like texture.  It involves lemon and a little olive oil.  No beans about it.
Would a hummus by any other name smell taste as sweet?
Who cares? This is good.  And it's mine, so I'm deeming it worthy of the title of hummus.
Butternut hummus has a creamy hummus texture, but a lighter feel.  (Read: You could eat the entire container in one sitting.) The nutty tahini taste compliments the squash and rosemary well.  Red pepper flakes and lemon give it a satisfyingly spicy tang.
My recipe calls for roasted garlic.  You could use regular garlic (I'd reduce to 2-3 cloves if using fresh), but I loved the added depth the roasted garlic gave this dip.
Many people avoid roasting garlic due to the time it takes, but I've found a great way around that: roast several heads at a time and FREEZE them whole!  They retain all of their flavor and are a great, unexpected flavor-enahncer to have on hand!  (Great tutorial on roasting garlic can be found here.)
_________________________________________________________________________

Butternut Rosemary Hummus
1/2 butternut squash, cubed (~2 C)
1 T extra virgin olive oil
1 tsp red pepper flakes
5 cloves roasted garlic
juice from 1/2 large lemon
2 T fresh rosemary, chopped
1.5 T tahini
1/2 tsp cumin
S+P, to taste
Preheat oven to 300 degrees.  Scrape out the seeds from squash and peel.  Cut the squash into 1 in cubes.  Put the cubes on a foil-lined baking sheet.  Drizzle with olive oil, sprinkle red pepper flakes, and mix to coat evenly.
Roast the squash in the oven for ~40 minutes or until tender, tossing once half way through.  Remove from oven and allow to cool.
Once cooled, transfer squash to a food processor until beginning to smooth.  Add the roasted garlic, rosemary, cumin, lemon juice, and tahini.  Mix in processor until smooth.  Add salt, pepper, and more red pepper flakes to taste.
Makes 8 servings of 2 T each.
Approximate nutrition: 48 calories, 2.4g fat, 6.8g carbs, 1.1g sugar, 1g protein
***
I can't believe it's already Thursday!  A week flying by is such a special gift unlike a political sext.
Have you made a "hummus" out of something unexpected?  What was it?