Get excited.  The mystery breakfast is about to be revealed.
You were holding your breath, I know… 😉
I loved seeing all of the guesses on Instagram and in Wednesday's post comments.  They gave me a ton of ideas for new iterations!  It wasn't quinoa, TVP, chickpeas, or tofu… however, you can easily make it vegan with any of those subs.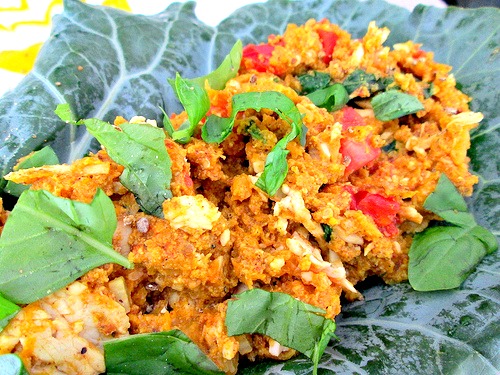 This creation was two days in the imagining process.  It started as a BLT in a collard wrap and by the time I actually got into the kitchen it had become a Butternut, Collard & Tomato Wrap.  Thinking of my Sweet Potato Pan-lette from my very first #strangebugood post, it further evolved into an egg-laced scramble.
Mashed butternut squash creates quite the voluminous scramble when combined with egg!  That subtly sweet squash with a few fun spices provides you with a fluffy flavor explosion, all neatly wrapped in a giant, raw collard leaf.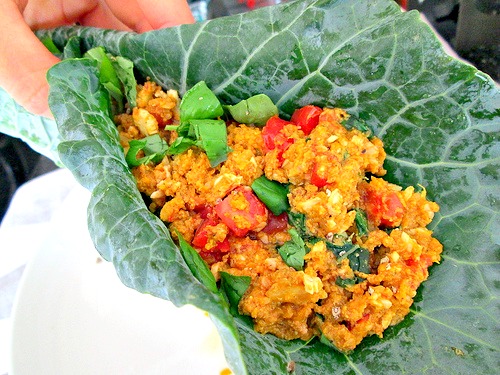 The nutritional yeast adds the "cheese" factor, while the tomato adds to the Indi-Mex (that my new food style – Indian and Mexican fusion) flavor profile.  Now that we all know that sesame seeds, garlic, and basil are detoxifying, I was sure not to leave those out of the mix.
I couldn't help myself – I added some turkey to the scramble for even more protein.  Like I said above, any of the guesses would make excellent subs to keep this dish meat-less.
________________________________________________________________________________________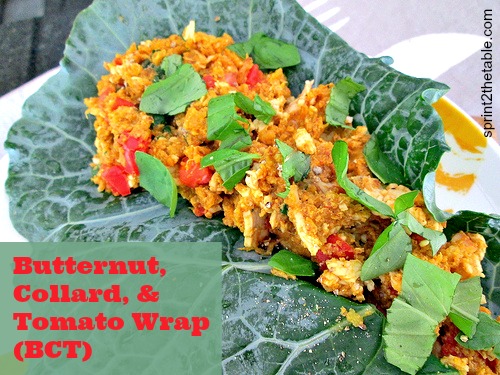 Butternut, Collard & Tomato Wrap (BCT)
1/2 tsp sesame seeds

1/2 C butternut squash, mashed

1 egg white

1 garlic clove, minced
1 tsp nutritional yeast
1/2 tsp cumin
1/4 tsp smoked paprika
1/4 tsp turmeric
1/4 tsp black pepper
Pinch of cinnamon
Juice of 1/4 lime
1 small tomato, diced
1/4 C basil, chopped
Optional: turkey or other protein
Raw collard greens
In a pan, lightly toast sesame seeds until golden.  Set aside.
Meanwhile, mash butternut squash in a bowl.  Add egg while and scramble together.  Add garlic, nutritional yeast, and spices, stirring to combine.
Place mixture in a coated or non-stick pan over medium-high heat.  Scramble as you would an egg, cooking until mixture begins to fluff (this indicated the egg white is cooked).  
Add lime juice, tomato, basil, and any desired proteins.  Cook 2-3 mins more, until warmed through.
Remove from heat and scoop butternut mixture into collards.  Sprinkle with toasted sesame seeds.
Enjoy!
________________________________________________________________________________________
 How have you enjoyed making co-workers, friends, or family stare with strange but good creations this week?
The link up rules can be found here or by clicking on "Strange But Good" in the menu bar above. In short, I want to see what concoctions have earned you weird looks from co-workers, family and friends!
Post your Strange But Good creations, grab the logo below for your blog, and link up here.
Remember to use #strangebutgood in any Tweets and Instagrams of your creations. 🙂
 Loading InLinkz …
***
I know my site has had some issues loading, and I apologize for that!  It will come up eventually… I'm working to get it sorted out ASAP.  Technical stuff isn't my specialty.  #strangebutnotgood
Do you ever go to bed thinking about a breakfast idea?  It's my version of counting sheep.
Have you ever had squash or sweet potato for breakfast?