There is something in the water.
Ok, there are probably lots of things in our water… I don't think about it.
This weekend I must have been drinking the 'roid water because I was hitting PRs all over the gym.  I don't feel any different in terms of ability, but for some reason the weights were lighter these past few days.
My Saturday PRs were: (unassisted) dumbbell chest press, include bench press with a twist, and pullovers.  Then on Sunday I PR'd on the read delt machine.  I'd been stuck at the same weight forever… but I turned up the music and told the thing is was going to move Cee Lo-style.
The only thing I've changed is to make sure that immediately following a workout I have whey protein with a complex carb.  That works for me because my favorite post-workout snack is a protein shake.
I had not been making many – it's too cold – BUT Heather gave me a good reason to being them back into my life with her Meatless Monday A-Z ingredient: Xanthan Gum!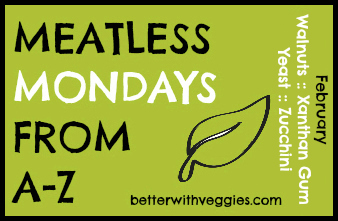 Xanthan gum is a thickening agent and it prevent separation.  These qualities make it a perfect smoothie/shake addition!  If you read the ingredient list for most ice creams and milkshakes, you'll find Xanthan gum, as it gives these desserts a fabulous creamy texture.
Bananas are often used to make shakes thicker in the healthy-living community.  I used it in my Oatmeal Cookie Shake!  Never one to settle for "normal," I began using alternatives like butternut squash or sweet potatoes to thicken my protein-laced creations.  What I never thought to do until this weekend was use BOTH.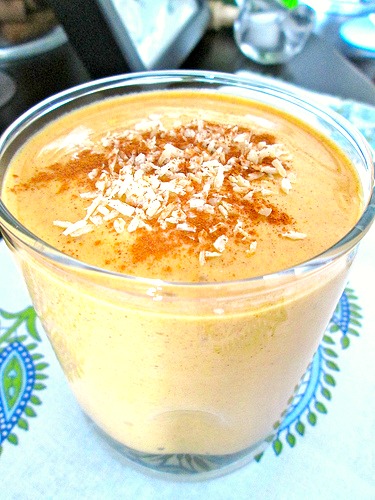 Sweet banana and butternut make for one fabulous combination.  It's almost like a cold pie filling!  I loved it with the almond extract – it makes everything taste like cookies to me.
This shake is especially good to have post workout – you get your 20g of protein from the powder, carbs from the banana and butternut, potassium for muscle recovery from the banana, and anti-inflammatory benefits from ginger and cinnamon.
A little bit of Xanthan goes a long way here with the already-creamy banana and butternut combo.  What results is a treat so fantastically thick you'll need to eat it with a spoon.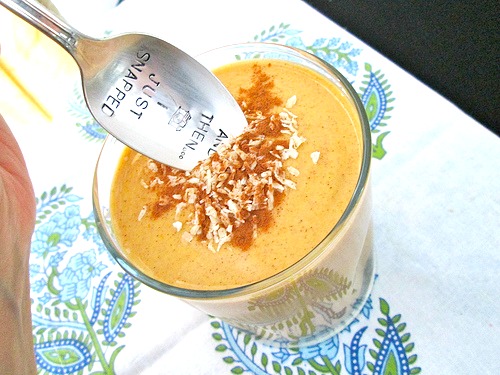 If you're so inclined – and I am ALWAYS inclined – you can toss in some spinach for an extra serving of greens.  You can't taste it.  Don't be scared.
Yes, I put this back in the blender after taking pics the "normal" colored shake.
---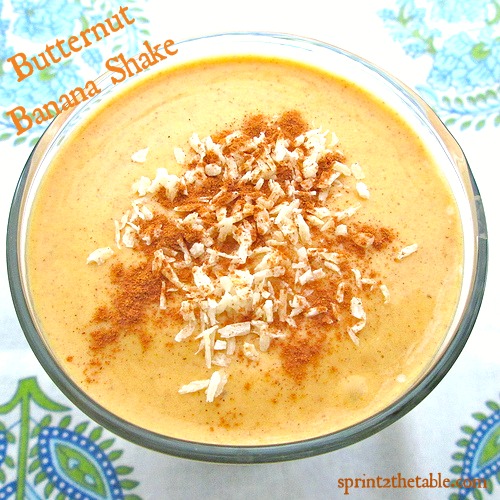 Butternut Banana Shake
1 scoop vanilla protein powder
1/3 C butternut squash, pre-cooked
1/2 banana
1/2 tsp cinnamon
1/2 tsp almond extract
1/2-1/4 in piece fresh ginger
1/8 tsp Xanthan gum
6-7 drops liquid Stevia (optional)
Spinach (optional)
Ice + water, to taste
Place everything in a high-speed blender (I used my Vitamix) and blend until smooth.  
Transfer to a glass and enjoy!
***
I know some one will ask… that spoon is from this Etsy shop.  Good luck.  I spent an ungodly amount of money on spoons.
Can you name a food that starts with an X?  I think I can name 2… I have NO idea what Heather's going to do for the next few rounds!  
Have you ever used thickeners for before?