Breakfast is my favorite meal of the day.
My breakfast is usually some sort of protein shake to follow a workout; however, I've been working out at night more and decided to shake up my breakfast routine.
Lat year I experimented with a raw bulgur – it's not so different from overnight oats!  You simply soak the bulgur in water for 15-20 minutes and add whatever mix-ins you like.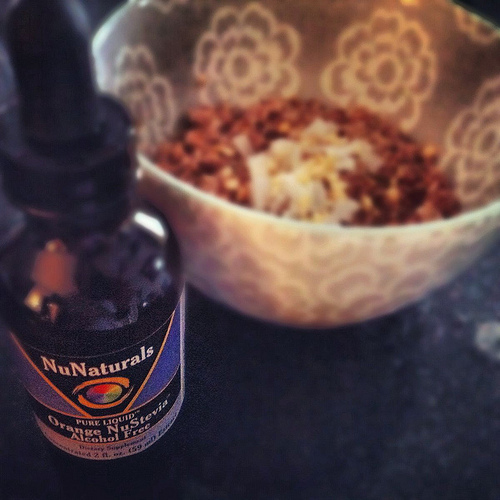 When NuNaturals reached out to me to check out a few of their new orange and lemon liquid Stevia products I was particularly inspired by the orange-flavored liquid Stevia.  I could smell it before I even opened the bottle!  The best part was that is actually smelled like oranges (i.e. not like some your granny's potpourri) – both of the new products use real lemon and orange.
I decided it would be perfect for breakfast in my raw bulgur bowl.  The bright orange sweetness went perfectly with cinnamon and a bit of cardamom.
Topped with fresh coconut, I felt like I was having breakfast on a tropical island rather than in the early morning dimness of my condo. Recipe at the end of this post.
NuNaturals would like YOU to try out their new products too – the lemon liquid Stevia (I used here in this vegan Alfredo sauce) and this orange liquid Stevia.
4 winners will be chosen!  Receive up to 3 entries by:
Follow me on Twitter or Subscribe to the Sprint 2 the Table RSS feed or email
Tweet: You could say something like: I've entered to win 1 of 4 chances to win the @NuNaturals giveaway at @sprint2thetable http://wp.me/p16jDn-1gY #giveaway

Be Social: Facebook Like NuNaturals, Twitter Follow NuNaturals, Pinterest Follow Me and/or Pin Something of Mine, Instagram Follow Me
Comment: What is your favorite Stevia flavor?
Please leave a *separate comment* for each entry!
Contest ends at 11:59pm EST on Thursday, April 26th.  The 4 winners will be announced on Friday, April 27th.
 ***You may also order Stevia directly from NuNaturals, and receive a 15% discount using the code BLG0612. (effective until JUNE 30, 2012).***
_____________________________________________________________________________________
Let me start be saying I am NOT complaining but…
I finally got a referral to an orthopedic doc for my knee.  I took the first available appointment (May 22!).  THEN on my walk Saturday I realized I was feeling pretty good and decided to try running.  5.5 miles later, my knee was still fine!  Now, I didn't run all of that 5.5.  I didn't even try to run more than 1/2 a mile at a time, but all told I think I ran 2.5 miles… wayyyy more than I've been able to do since January.
Did simply making the doctor appointment cure me?!  
Workout Recap (4/16 – 4/22):
Monday – Tris/Chest, Bike intervals
Tuesday – This Pinned workout (2x), Bike intervals, 6 min plank rotation, 100 push-ups
Wednesday – This Pinned workout, Bis/Back, Ab Ripper X, 2 mi walk

Thursday – This Pinned workout, Shoulders, 2 mi walk, 100 push-ups

Friday – This Pinned workout, 2.25 mi walk, Lindsay's leg workout

Saturday – 5.5 mile run/walk, 100 push-ups
Sunday –  5.6 mile run/walk, 30 mins bike intervals, 100 push-ups
_____________________________________________________________________________________
Orange and Coconut Raw Bulgur Breakfast Bowl
1/4 C bulgur, uncooked
1 T chia
1/4 C + 2 T water
5-6 drops NuNaturals Orange Liquid Stevia
3/4 tsp cinnamon
1/4 tsp cardamom
2 T unsweetened coconut
2 T chopped nuts
Mix together everything except the coconut and chopped nuts.  Allow to soak for 15-20 mins.
Stir and top with coconut, nuts, or other toppings as desired.
Note: You could sub a bit of orange extract and your preferred sweetener here if you don't have the NuNaturals orange liquid Stevia.
***
My Sesame Baked Tofu made the FoodBuzz Top 9 this weekend.  Thank you for the Buzz!!!  Check out the Top 9 here.
Have you ever eaten bulgur (or other grain) raw/soaked?
Did you enjoy the sunshine this weekend?  Any races?