The human body is pretty incredible.
25 days ago (pre-cleanse) I was nowhere near the abs I wanted.  My diet was not terrible, but could use improvement.  I was lifting weights, but had hit a plateau with my upper body and all but neglecting legs.  It was time to take the next step in building a better me.
The pictures below are my progress:
The top pic is upper body.  I've managed to up my weight on many exercises, not the least of which is lat raises.  Those has always been a weak point for me.
The bottom left ab pic was taken at week 2 of the cleanse and the right was taken yesterday (11 days later… I promise I washed this outfit in that time).  I wish I'd had a before!  I've ALWAYS wanted 6-pack abs and I'm so close right now it hurts.
This is thanks to 25 days of pushing harder and building a solid foundation with a clean, plant-based diet.  It can be done!
Believe in yourself and anything is possible.
I also have to make a confession – I almost didn't post the ab pic.  In fact, yesterday I posted it on Instagram and purposefully didn't like it to Twitter.  I was scared to share my progress with a larger audience!
Then I remembered this post by Lindsay where she showed off her incredible abdominals.  She posted her post-baby ab pic to celebrate hard work, to motivate, and because she was PROUD.  And she should take pride in her hard work paying off!
---
Change is hard!  It's overwhelming to begin cleaning up your diet.
In the spirit of building, here's how I built a healthy lunchtime wrap.  At least it was supposed to be a wrap… I got a little carried away with the fillings. 🙂
Step 1:
Prep veggies and slather a tortilla with spread.  I used my Raw Sweet Potato Hummus.
Step 2:
Layer your veggies on the tortilla.
My Fillings:
Kale
Broccoli and mustard sprouts
Beets (raw)
Asparagus (raw)
Onion
Carrots
Lentils  – ***These are key to making your wrap filling.  Lentils are prepared for the week every Sunday so I can quickly add bulk and protein to veggie dishes.***
Step 3:
Attempt to wrap the monstrosity up!  I had to eat the carrots in the side to make way for the lentils.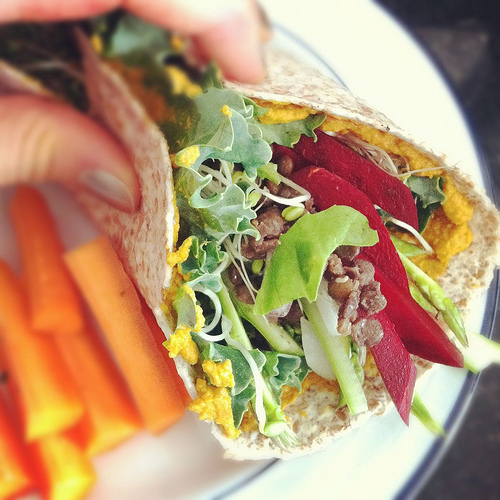 Step 4:
Devour.
***
Tomorrow I am trying out CrossFit for the first time!  I love a new workout. 🙂
Have you ever tried CrossFit?  Do you have any tips to share?
Celebrate Friday with some self-love – What accomplishment are you proud of?