Apparently there's a Brussels gene.
I got the version that is addicted to them.
For the New Years Eve pairing dinner I co-hosted, I made Brussels and Prosciutto Skewers.  People loved them… except I was told by one person that there is a gene (like the cilantro gene) where some people think they taste bitter.
Apparently about 50% of the world has this gene.  If you're not one of those unfortunate people, you'll love this recipe. (Recipe at the bottom of post.)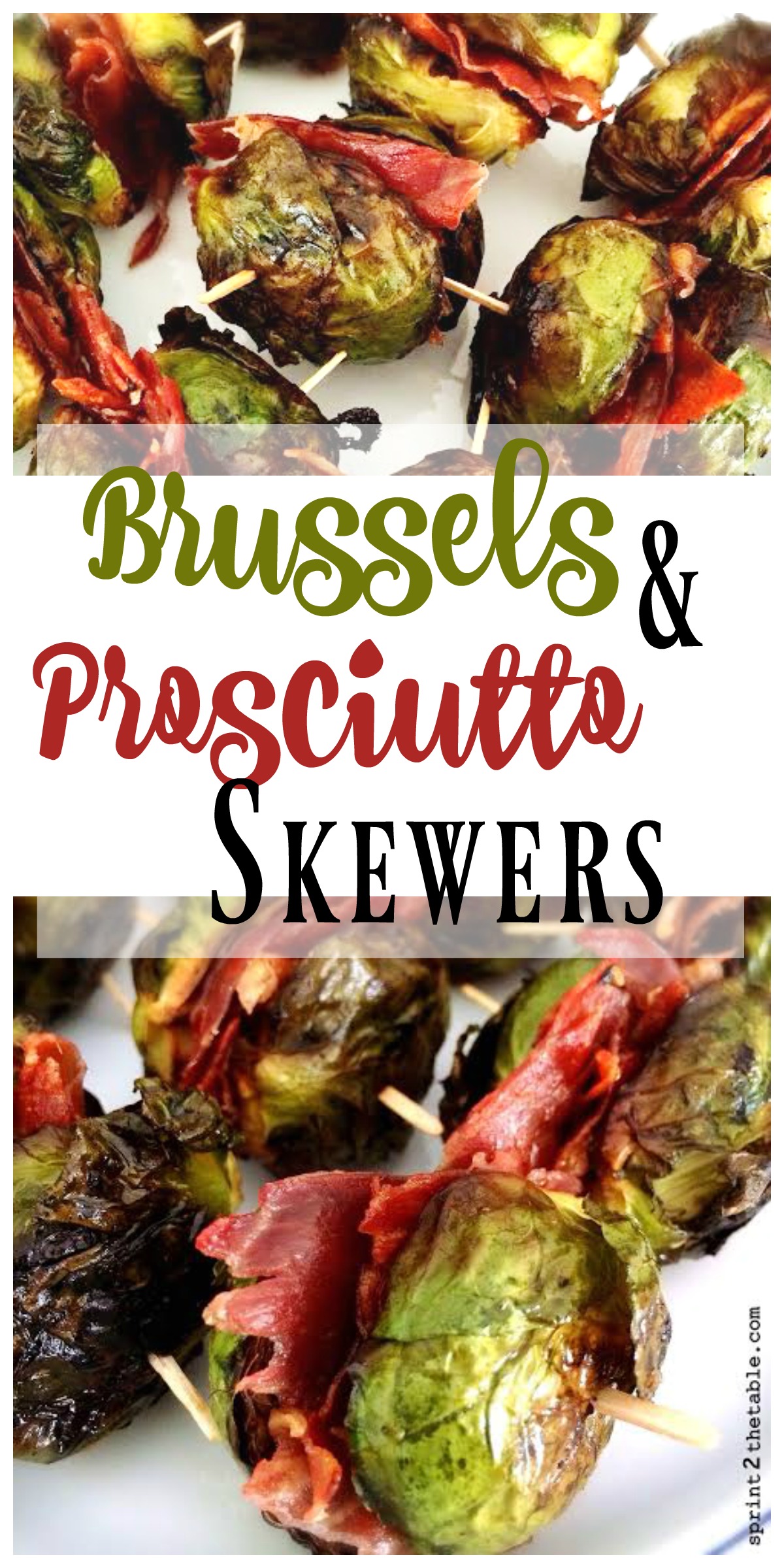 The crispy, slightly sweet Brussels are fabulous against the salty prosciutto.  If you don't eat meat you could use a vegan bacon.
The best part is that these are insanely easy to make, but will impress everyone with its look and taste.  There were multiple choruses of "how cute!!!"  Who doesn't love food on a stick?!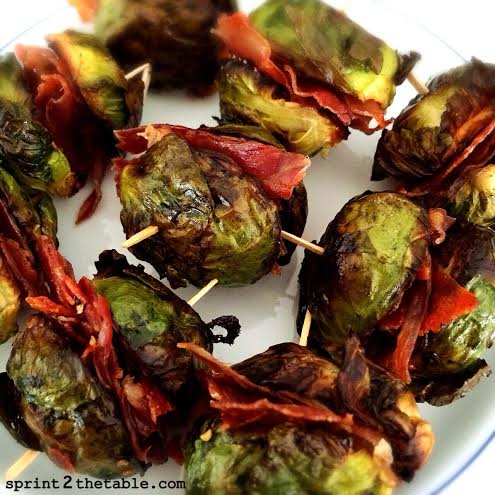 The rest of the New Years Eve meal was wonderful as well.  We ate in courses.  Munchies were first and included  these skewers, Black-Eyed Pea & Roasted Garlic Hummus with veggies, and a baked brie layered with a mix of roasted garlic, paprika, and sun-dried tomatoes.
Then we enjoyed a salad course where I served my Roasted Grape & Kabocha Kale Salad.  The main was co-host Karen's creation – Sriracha pulled pork sliders with slaw and an aioli, both made with Sriracha.  Karen received the Sriracha cookbook for Christmas.  I want a copy!
Dessert was this (vegan) Caramel Apple Blackout Cake.  As advertised, it wasn't a pretty cake.  What it lacked in looks, it made up for in taste.  Surprisingly, it isn't too sweet!  It was the perfect end to a big meal.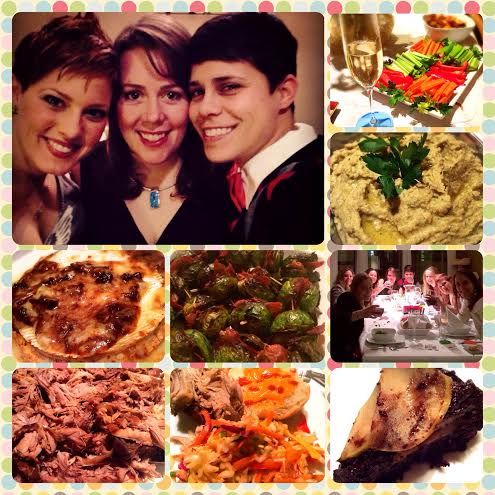 There was also a lot of bubbly and the obligatory midnight toast.
And then I walked across the street to my place and passed out.
My girl Katie would agree it was pretty marvelous.
---

Brussels and Prosciutto Skewers
Brussels sprouts, rinsed
Drizzle extra-virgin olive oil
Freshly ground black pepper
Thinly sliced prosciutto
Preheat oven to 400.
Trim just the smallest edge of the ends of your sprouts – don't trim much because you want them to hold together.  Slice the Brussels sprouts in half, lengthwise.
Toss the sprouts on a parchment (or foil) lined baking sheet with the oil and pepper.  Bake for 30 minutes total, tossing them half way through.
While they roast, chop up the prosciutto into small bits.  Heat a skillet over medium-high heat.  Sauté the prosciutto until crispy (~5 mins).  Set aside.
Remove the sprouts from the oven and let them cool enough to touch.  Slide on a sprout half, skewer it onto a toothpick, add a couple of slices of prosciutto, then end it with the other sprout half.  Repeat until you have the desired amount of skewers.
Arrange on a platter and serve immediately.*
*Note: You can make these in advance and re-heat them under the broiler for a couple of minutes (until warmed through) before serving.
***
After the glory of holiday indulgence, I celebrated this weekend by doing the biggest food prep I've done in a long time.  Time to get back on track!
Do you like Brussels?  Have you ever heard of the bitter Brussels gene?
What did you do New Years Eve?