I'm a sweet and salty girl.
Literally and figuratively.
A bacon and peanut butter combo may sound strange to you, but they are are soul mates in my book.  Unfortunately those two alone do not a dinner make.  I came home after a beer or two with my boss in need of treat-tooth satisfaction.  Bacon and peanut flour* sauce were an obvious choice, but I needed protein and carbs.
*I order my peanut flour from iHerb.  It's my favorite because there are NO additives – just de-fatted peanuts.  Use discount code USO924 for $5-10 off your order!
Brinner is the best of treats.  All the sweet and savory you can eat!  I put my bacon in a pan to cook up slow and crispy while I prepped the rest.
The prep was easy.  I stuck my cocoa-cayenne-cinnamon kabocha under the broiler to bake while I mixed up the peanut flour sauce.  Next I whisked the eggs with maple extract.  Then I changed a light bulb… and by that time the bacon was done.  I reserved the grease for a later TBD use and cooked the eggs in the pan with the salty bacon remnants.
Are you disgusted yet?  I'm not.  I layered it on a plate, crumbled my bacon like sprinkles, and topped it off with shredded coconut.  There weren't real measurements, just a pile-on of satisfaction.
It was the Brinner of Champions.  I was disgusted that it had to end.
_________________________________________________________________________________________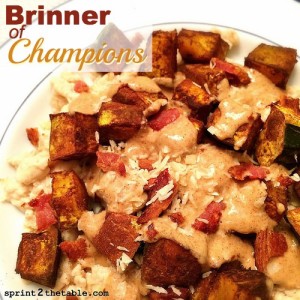 Brinner of Champions*
Bacon
Egg whites
1/4 tsp maple extract (can use vanilla or maple syrup)
Coconut shreds (optional)
Cook bacon over medium heat.  Be patient – the slower you cook it, the crispier it gets!  Meanwhile, prep the kabocha, mix peanut sauce, and whisk eggs with maple extract.
Plate the eggs, top with kabocha, bacon, peanut sauce, and coconut flakes.  Devour.
*There are no measurements to this.  Make as much bacon and eggs as you're hungry for!
_______________________________________________________________________________________
How have you enjoyed making co-workers, friends, or family stare with strange but good creations this week? The link up rules can be found here or by clicking on "Strange But Good" in the menu bar above. In short, I want to see what concoctions have earned you weird looks from co-workers, family and friends! Post your Strange But Good creations, grab the logo below for your blog, and link up here.
If you're not a blogger, you can still share your recipes on Instagram with the #strangebutgood hashtag.
Remember to use #strangebutgood in any Tweets and Instagrams of your creations. 🙂

***
I'm co-hosting a challenge with Heather for the month of July!  Stay tuned for details next week… there are going to be some awesome prizes from a few of our favorite brands.  Get excited, y'all. 😉 #movehappy
Do you like a sweet or savory brinner?  I clearly like a combo.
What is your Brinner of Champions?