Today is a tribute.
Friday seems like the perfect time to celebrate some fantastic bloggers who have inspired some of the best meals I've had.  This list is not at all exhaustive, but it's what I've had lately for breakfast, lunch, and dinner.
Breakfast:
These fluffy, lemon-flavored chia muffins were based on this Lemon Chia Cake created by Lisa @ Healthful Sense.  I've made several of Lisa's recipes and have never been disappointed.  She's also the only person more obsessed with sweet potatoes and peanut flour than I am.
They are gluten-free and vegan – great for breakfast or an afternoon snack.  Next time I make them I'll add some poppy seeds too, as that's what the chia bites reminded me of.  Who doesn't need a little opium first thing in the morning?
My modifications:
Used brown rice flour rather than millet
Replaced Stevia with NuNaturals Fiber Baking Blend
Reduced vanilla extract to 1/2 tsp
Added 1/2 tsp lemon extract
Used a full 1 tsp of cinnamon
Made 6 muffins rather than cake (baking time = 15 mins)
You should try these.  Like now.
Lunch:
When I can work from home, lunch is my favorite meal of the day.  I can cook something fresh AND use the daylight for picture-taking.  Even though I was too lazy to whip out the good camera for this pic.
Sweet potatoes.  Smashed and coated with goodness.  I took the idea from Pinterest – this recipe for Hot Crash Sweet Potatoes pinned from Donalyn @ DLYNZ.
My modifications:
Rather than her spice mix, I used this one created for use in my Babaganoush Soup… fitting because the blend was from another blogger, Cara @ Cara's Cravings
Brushed sweet potato slices with a mix of olive oil and rice wine vinegar.  
Skipped the boiling step (increased baking time to 20 mins on each side using convection bake)
These "crashed" sweet potatoes tuned out beautifully, and my Middle-Eastern spice blend went perfectly with the Coconut Curry Marinated Tempeh by Turtle Mountain I had in the fridge.  Nom.
Dinner:
After an orange lunch, I needed a green dinner.
Janet @ The Taste Space created a Spinach Dal Palak that couldn't be any greener if it tried.  If you don't already follow Taste Space, check it out.  There isn't a day where I don't drool over a post.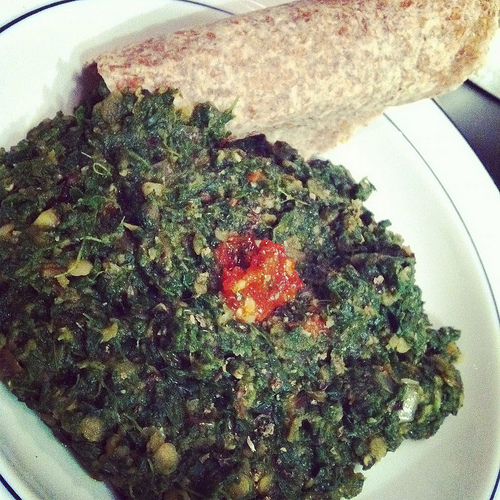 My modifications:
Short on spinach, I reduced the recipe to make a single serving
Increased cumin
Used

ground

ginger (I'm out of fresh – use it if you have it on hand!)
Added more red pepper flakes (because I'm not happy 'til my nose is running)
Served with sriracha and an Ezekiel Sprouted Grain Tortilla.  Pinned and will be making again soon!
Dessert:
I have a bajillion blogger desserts marked to try… but tonight was my own.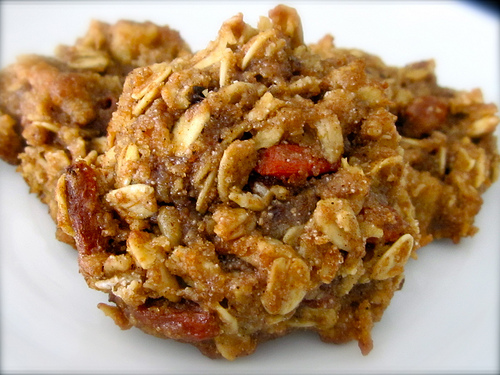 These Chewy Granola Cookies (not limited to dessert – momma texted me to say she had 2 for breakfast with Greek yogurt) with a glass of "Chocolate Milk."
___________________________________________________________________________________
"Chocolate Milk"
Mix in cocktail glass and serve with ice.
***
Yes, I realize such a simple drink shouldn't count as a recipe… but it was good, so I'm going to milk it.  (Tee hee… milk it… get it?)
What blogger recipe have you made lately and loved?
What do you use to bookmark recipes?  Pinterest?  Reader?  Delicious?